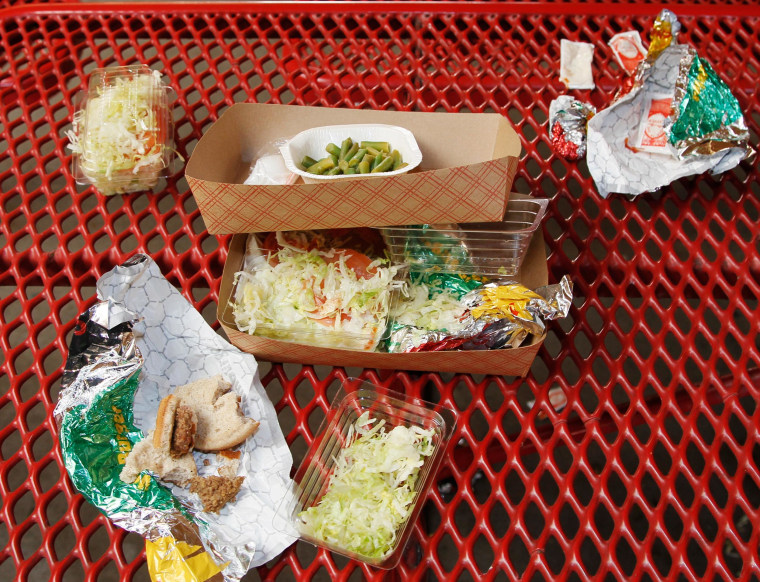 Empty plates and half-eaten scraps on thousands of cafeteria trays offer the first tangible evidence that new federal standards on school meals are sprouting healthier eating habits, a new study claims.
Based on before-and-after inspections of more than 1,000 trays at four schools in an "urban, low-income" district, students chose 23 percent more fruits and consumed 16 percent more vegetables after the U.S. Department of Agriculture updated its rules in 2012, researchers from the Harvard School of Public Health reported Tuesday.
And if a nutritional reset is occurring among American students, baby carrots may be the gateway food, the researchers say.
"We were surprised by the vegetable findings," said Juliana Cohen, lead author and a research fellow at Harvard. "We thought perhaps it was because students were eating more potato-based products like French fries, which count as a vegetable (in federal standards). We were very surprised to see that potato-based products weren't being served on study days. Kids loved fresh vegetables, especially baby carrots."
The federal guidelines are meant to reduce sodium and fat on school menus. Researchers will not name the city in which the schools were monitored, revealing only they are in Massachusetts.
Researchers weighed serving samples then recorded what foods sat atop test trays as students paid for meals. Later, those trays were collected and remaining foods were re-weighed.
At the same time, however, the Government Accountability Office reported Thursday that participation in the National School Lunch Program dropped by 1.2 million students, or 3.7 percent, in 2012-13 when compared to 2010-2011. Analysts cited the veggie-heavy guidelines.
According to the GAO, "state and local officials reported that the changes to lunch content and nutrition requirements … influenced student participation" and that almost all states reported "that obtaining student acceptance of lunches that complied with the new requirements was challenging."
"Implementing change to a national program is complex and no one should expect every district or school across the country to instantly make it work," said Dr. Howell Wechsler, CEO of Alliance for a Healthier Generation, a nonprofit that combats childhood obesity. The group works with 22,000 schools that meet or exceed the USDA rules. "There seems to be no reason why all school districts can't meet federal nutritional guidelines."