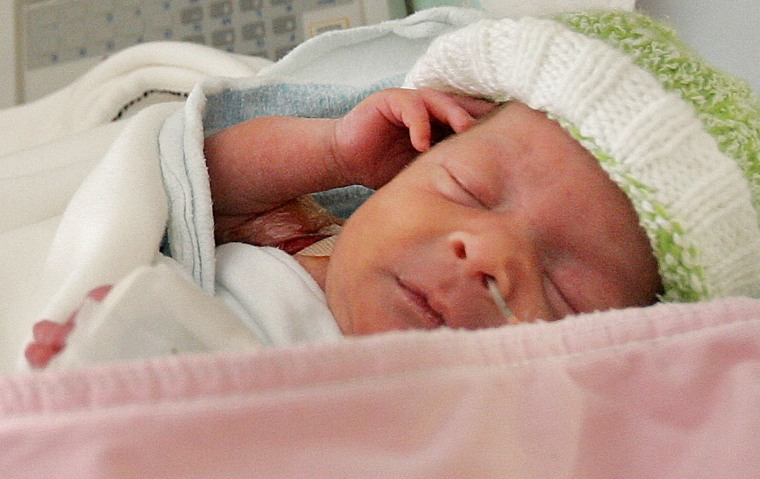 The U.S. infant mortality rate, an important measure of a country's overall health, fell just a little bit in 2010, federal health researchers reported Wednesday.

Birth defects and low birth weight were the two leading causes of newborn death, the survey by the National Center for Health Statistics found. And babies born to teenage mothers were the most likely to weigh too little, the NCHS, part of the Centers for Disease Control and Prevention, said.
They report that the U.S. infant mortality rate was 6.14 infant deaths per 1,000 births in 2010, which is just 4 percent lower than the rate of 6.39 in 2009. This adds up to 24,572 babies who died at or around birth in 2010.
The United States may be one of the richest countries in the world, but has a very high rate of infant mortality compared to other wealthy countries — and compared even to some not-so-rich countries. The Organization for Economic Cooperation and Development (OECD) consistently finds the U.S. near the bottom of its list of 34-member countries on this measure.
The U.S. infant mortality rate is well above the OECD average of four deaths per 1,000. In Iceland, just 1.6 babies out of every 1,000 die and in Sweden, Japan, and Finland, it's around two per 100,000. 
Save the Children found in a report released in April that more newborns die in the U.S. than in 68 other countries, including Egypt, Turkey and Peru.

"The three leading causes of infant death — congenital malformations, low birth weight, and Sudden Infant Death Syndrome (SIDS) — accounted for 46 percent of all infant deaths. In 2010, 35.2 percent of infant deaths were 'preterm-related,'" the report says.
Babies born at 37 to 38 weeks of gestation were 62 percent more likely to die than those born at 39 to 41 weeks, the report finds. And 12 percent of all U.S. babies born in 2010 were pre-term.
More than 2.5 percent of babies born as part of a multiple birth died in 2010, compared to half a percent of single births. The more babies, the more dangerous it is — the infant mortality rate for triplets was 10 times the rate for a single birth and quadruplets are 21 times more likely to die.
Many deaths can be linked to poor nutrition and health care during pregnancy. "In reality, women with one risk factor often have other risk factors as well," the report said. "For example, teenage mothers are more likely to be unmarried and of a low-income status; mothers who do not receive prenatal care are more likely to be of a low-income status and uninsured."
And they're more likely to have their babies too early. "The gestational age of an infant is perhaps the most important predictor of his or her survival and subsequent health," the report reads. "Infants born too small or too soon have a much greater risk of death and both short-term and long-term disability than those born at term." Two-thirds of all U.S. babies who died were pre-term.