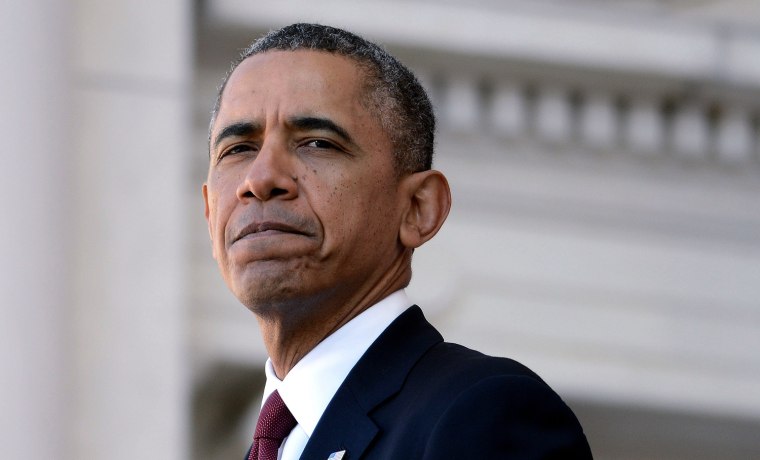 What should have been a minor issue affecting fewer than a quarter of the people without health insurance — less than half a percent of the population — is threatening to derail the entire health reform effort, advocates fear.

Two left-leaning groups, Moveon.org and Democracy for America, sent letters to supporters over the weekend with grim subject lines like "Obamacare in serious trouble". They're trying to raise money, of course, but the letters reflect a deeper fear.
"It's clear to everyone that rollout has been badly botched — and now Republicans smell blood in the water. They think this is their chance to undo the whole thing," MoveOn.Org said in an email sent to subscribers. "There's no sugar-coating it: Obamacare is in serious political trouble. And progressives need to step up and start fighting to save it right now."
Anna Galland, executive director of MoveOn.org, says the problems have given opponents of Obamacare a chance to argue that the whole law — which has been implemented in stages since 2010 — is flawed. "It's manufactured political crisis that we really have now and not an actual crisis," she said in a telephone interview.
For weeks, Republicans in Congress and other critics of the 2010 Affordable Care Act have been pouncing on the disastrous debut of the HealthCare.gov website. They're not done yet – there was another hearing Tuesday of a subcommittee looking at the site's security.
And while enrollment numbers are fairly dismal — in October, just 26,000 people managed to sign up using the federal website that's the only choice in 36 states — some of the states are doing better and the federal government claims it is increasing capacity.
Even if the site does get fixed and people start to sign up for health insurance in droves, there's another problem: the cancellations of millions of private health insurance policies.
These cancellations might not have been so bad. The administration and outside experts both point out that they mostly involved private, individual insurance policies, which are usually short-term and which frequently get canceled, anyway.
They also only involve some of the estimated 11-19 million people in the private insurance market – compared to 149 million people who get insurance through an employer and 97 million who get government coverage through Medicare, Medicaid or the Children's Health Insurance Program (CHIP).
But President Barack Obama had repeatedly promised Americans that "if you like your health plan, you will be able to keep your health plan."
That's political dynamite. Last week, Obama said he would free insurance companies from having to cancel private policies that didn't meet the strict new requirements of the health reform law.
His move didn't stop the House from voting to pass a bill that would allow insurers to keep offering individual health coverage plans in 2014 that don't meet the minimum requirements of the Affordable Care Act. And it didn't stop 39 Democrats from voting with Republicans to pass the bill, which has no chance of becoming law because the Democratic-controlled Senate won't touch it.
The votes worry Galland nonetheless. "I think there is a Pandora's box that we are concerned about (that comes) once you start opening up the law to any legislative changes," she says. "We don't want to undo Obamacare."
Neil Sroka, spokesman for Democracy for America, agrees. "What worries me and what worries progressives is that Democratic bedwetting could get in the way of a program that has the potential to do real reforms in health care," Sroka says. "In a lot of ways, Democrats' biggest enemies may be themselves as they worry about the truly, truly short-term."
By short-term, he means the elections. Members of the House of Representatives are all up for re-election in 2014, and a lot of Democrats will struggle to keep their seats against strong Republican challenges.
The House has voted more than 40 times to repeal Obamacare – even though its individual provisions are popular. Voters love that it allows young adults aged up to 26 to stay on their parents' plans, that it stops health insurance companies from imposing coverage limits and that it forces insurers to take all comers, regardless of preexisting conditions.
A third of the Senate is also up for re-election , and if Republicans can take the majority there, they'd be in a position to pick away at the law. That could mean the law fails, Galland says.
"A failure would be going back to the bad old days where 40 million Americans didn't have an answer to the question of where they can get health insurance coverage from," Galland says.
House minority leader Nancy Pelosi, a California Democrat, says it's a blip. 
"You can't be knocked for a loop just because somebody is playing politics,' she told NBC's Meet the Press.
A United Technologies/National Journal poll published Tuesday shows only 38 percent of Americans support repeal of the law, although 74 percent of Republicans do. 
But Americans have seemingly changed their minds on one issue, and that's whether the government should make sure everyone has health coverage. 
A Gallup poll published Monday found that 56 percent of U.S. adults say it is not the federal government's responsibility to make sure all Americans have healthcare coverage. And this change of heart predates the debate over HealthCare.gov's messy rollout.
"Prior to 2009, a clear majority of Americans consistently had said the government should take responsibility for ensuring that all Americans have healthcare," Gallup said in a statement. "Attitudes began to shift significantly in 2007, and continued to change through the time President Barack Obama took office in 2009."