/ Source: msnbc.com news services
Sri Lanka's hawkish prime minister, Mahinda Rajapakse, was proclaimed winner of the presidential election on Friday and vowed to forge an "honorable peace" with Tamil Tiger rebels.
Thursday's poll was seen as a referendum on how to rescue the island's faltering peace process and tsunami-hit economy, but a rebel boycott helped Rajapakse by keeping away ethnic Tamil voters who had been expected to back opposition leader Ranil Wickremesinghe.
"I will bring about an honorable peace to the country, respecting all communities," Rajapakse told a news conference after the election commissioner confirmed his victory.
"Democracy will be strengthened and law and order will be established in the country," he added. "For me, power is not an ornament, but a means to serve the people."
Rajapakse polled 4,887,152 votes, or 50.29 percent of the vote, and Wickremesinghe 4,706,366 votes or 48.43 percent.
Wickremesinghe's camp demanded a partial repeat of the vote in areas affected by the boycott. But government officials said Rajapakse would be sworn in as president on Saturday.
Left-winger Rajapakse has allied himself with hard-line Marxists and nationalists from the mainly Buddhist Sinhalese majority who detest the Tigers.
He rejects the rebels' demand for a separate homeland for minority Tamils, wants to tighten the terms of a 2002 truce that halted two decades of civil war and pledges a "national economy," which some investors fear is code for protectionism.
Violence erupts
Violence erupted again in the troubled east on Friday. At least three people were killed and more than a dozen wounded in Akkaraipattu when two hand grenades were thrown into a mosque during dawn prayers, police said, blaming Tiger rebels.
Another body was found by the roadside outside the eastern town of Batticaloa, hands tied behind his head. Police said he was probably a victim of factional fighting between rebels.
During the election Thursday in the north and east — territory of the feared Tamil Tiger rebels — grenade attacks, roadblocks and fear kept many Tamils from voting. Others heeded a boycott called by pro-rebel groups that complained neither of the main candidates would help them win a homeland in northeastern Sri Lanka.
The Tamils, whose plight is at the heart of a civil war that has lasted more than two decades, make up just under 20 percent of Sri Lanka's 19 million people but were potential kingmakers in the tightly contested election.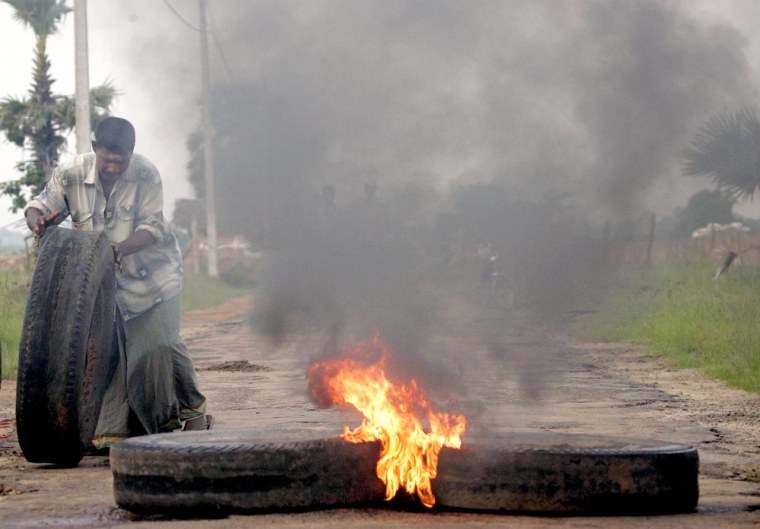 Right-winger Wickremesinghe, who brokered the ceasefire with the Tigers, had been seen as best placed to reach a lasting peace deal and was the market favorite because of his free-market policies.
But the poll underscored the deep divisions in the country surrounding the peace process.
"I think it shows that a large number of Sinhalese people had reservations about Wickremesinghe's approach to negotiations with the LTTE (Tigers), this perception that he was too soft on the LTTE," said Rohan Edrisinha of the Center for Policy Alternatives in Colombo.
"It looks as if the LTTE has played a major role in determining our next president. In the north and east they didn't just boycott. They prevented people from voting as well."
Analysts say the rebels are in no hurry to reach a final peace deal, instead using the truce to regroup and play a longer game towards a separate homeland for the mainly Hindu Tamils.
Analysts say Sri Lanka's civil war, which has cost 64,000 lives, is unlikely to resume. But the peace process is at its lowest ebb since the ceasefire, especially after suspected rebels assassinated the country's foreign minister in August.
Investor panic
Sri Lanka's stock market plunged around 7 percent on the news.
"The market had been going up expecting a (Wickremesinghe) victory which didn't come through, so this is what we've ended up with," said Harsha Fernando, chief executive of brokerage SC Securities in Colombo.
"There have not been any clear economic policies put forward, they are talking of not going ahead with privatization's with (Marxists) playing a key role," he added.