/ Source: The Associated Press
Cars and trucks returned to Iraq's roads Saturday as authorities eased tight security imposed for the parliamentary election, and the main Sunni Arab alliance said it was open to forming a governing coalition with a religious Shiite bloc.
With Thursday's voting held peacefully, Iraqi officials also reopened border crossings, except on the frontier with Syria. They said the Syrian crossings would resume in a few days, but did not say why there was a delay.
There were few violent incidents reported for a third day. In four shootings, attackers killed a former Iraqi air force officer, a member of a prominent Shiite party and two policemen, authorities said. The U.S. command also reported the death of a Marine from a non-hostile wound.
Although no official vote figures have been released, authorities estimate just under 70 percent of Iraq's 15 million registered voters cast ballots Thursday.
Big turnout brings optimism
The big turnout — particularly among the disaffected Sunni Arab minority that boycotted the election of a temporary legislature last January — have boosted hopes that increasing political participation may undermine the insurgency and allow U.S. troops to begin pulling out next year.
"It is a great thing that the election was violence free, contrary to many elections in the world," Adnan al-Dulaimi, a former Islamic studies professor who heads the main Sunni Arab bloc, said at a news conference.
His Iraqi Accordance Front is expected to significantly increase the Sunni Arab presence in the 275-member parliament, where Sunnis won only 17 seats Jan. 30.
Powell sees U.S. troops remaining for years
On the heels of the parliamentary election, former Secretary of State Colin Powell said in an interview to be broadcast Sunday that the U.S. will have a military presence in Iraq for years, although a gradual withdrawal likely will start in 2006.
In the BBC interview, Powell said he did not believe the U.S military could sustain its current deployment in Iraq "for an extended period."

"So one way or the other, I think a drawdown will begin in 2006," he said.

"But essentially just to walk away, to say that we're taking all of our troops out as fast as we can, would be a tragic mistake. It's going to be years."

Powell also insisted that U.S. intelligence services had not revealed their doubts to the Bush administration about the reliability of information on Iraq's supposed weapons of mass destruction.

"What really upset me more than anything else was that there were people in the intelligence community that had doubts about some of this sourcing, but those doubts never surfaced up to us," Powell said, according to a transcript of the BBC interview.
'We have to forget the past'
Meanwhile, a day after saying he might be able to form a ruling coalition from Sunnis, secular Shiites and Kurds, Al-Dulaimi said he also would consider working with the now governing United Iraqi Alliance, a religious-based group whose supporters come from the country's Shiite majority.
"For the sake of Iraq, there is nothing impossible. We have to forget the past and we extend our hands to everybody," he said.
U.S. officials view al-Dulaimi as a possible intermediary who could persuade some Sunni-led insurgent groups in restive Anbar province to give up violence and join the political process. President Bush planned to make a broadcast address on Iraq on Sunday night.
Al-Dulaimi predicted Friday that the Shiite religious parties will be unable to put together a government even though they are widely expected to hold the largest number of seats and thus have the first chance at forming a coalition.
His optimism remains to be seen, however. Shiites account for about 60 percent of the country's 27 million people, compared to 20 percent for Sunni Arabs, and turnout in the Shiite heartland of southern and central Iraq was reported high.
Jawad al-Maliki, a prominent Shiite legislator with the United Iraqi Alliance, said there was "no doubt that initial results show that we will be the strong bloc," but he conceded a coalition would probably be required.
"We would like to participate with our Sunni brothers and form a national unity government. We have been waiting for them," he said. "We welcome forging an alliance with them."
Vote counting continues
Shiite Arabs and Kurds, two groups that were oppressed under the Sunni Arab-dominated regime of Saddam Hussein, allied to form the interim government that has ruled since last spring.
An election official in Baghdad said it could be 10 days before results of Thursday's voting are announced and urged Iraqis to be patient.
"We want to announce the elections results as soon possible so that the public can rest," Abdul-Hussein Hendawi said. "But ... there must be precision in the announcement."
He said there was no official date for the release of results because the commission was "taking the needed time to review the complaints" already received about voting problems and expected to get more.
Hendawi said about 200 complaints had been made so far, including alleged violations at some of the 15 polling stations outside Iraq. One of those was the failed attempt to burn down a polling center in Sweden.
Radical Shiite cleric Muqtada al-Sadr, in a speech in the city of Najaf, warned against possible fraud in the election results and called for an independent committee to be formed to count the ballots, Al-Hurra television reported.
Al-Dulaimi also noted irregularities. "We will demand that the elections be carried out again if violations in some areas are proven by the electoral commission," he said.
But Hendawi ruled out repeating the vote in some areas.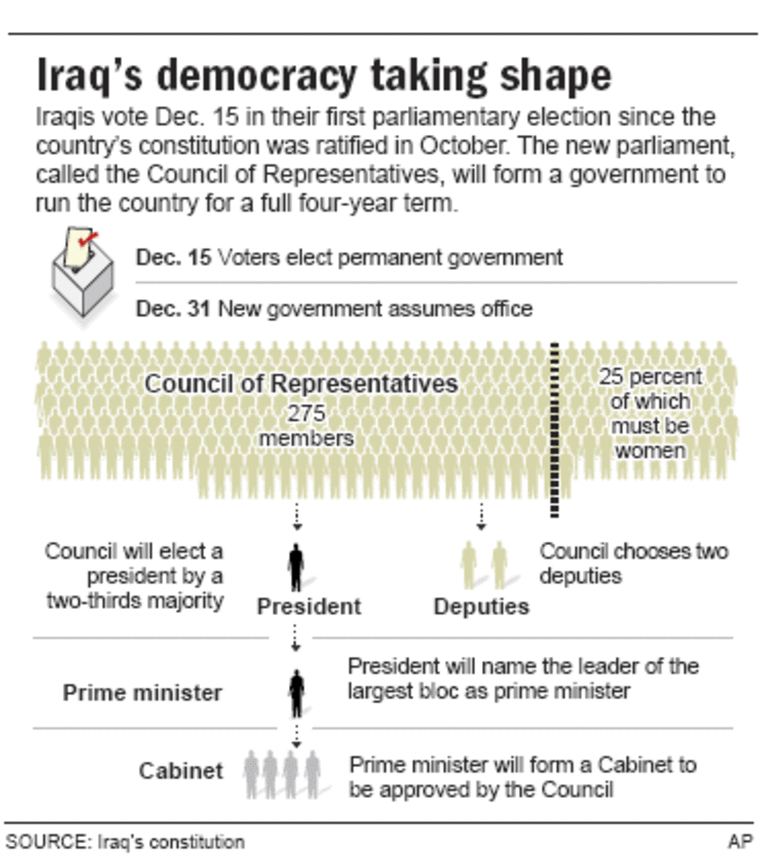 Prime Minister Ibrahim al-Jaafari, speaking in a nationally televised speech in Najaf, said that "the Iraqi people are sparing no effort to make the democratic process work."
The election thwarted the plans of those who wanted "to replace sectarian coexistence with a sectarian war," he said. "Iraq has proven to the whole world that its keenness to preserve national unity is more than anything else."
In violence Saturday:
—Sheik Kerim Al-Asadi, a member of the Supreme Council for Islamic Revolution in Iraq, was shot to death outside his home in eastern Baghdad, police said.
—Gunmen killed Maj. Gen. Mushriq Ibrahim Abdul Hamid, a former Iraqi air force officer, near his home in the capital's Sadiyah neighborhood, police and hospital officials said.
—In separate attacks, a policeman was slain near his home in west Baghdad, and one officer was killed and another seriously wounded in the northern city of Kirkuk, police said.
U.S. authorities reported that a Marine assigned to the 2nd Marine Logistics Group in Fallujah, west of Baghdad, died Friday from was described as a non-hostile gunshot wound.
At least 2,155 American military personnel have died from combat and other causes since the beginning of the Iraq war in March 2003, according to an Associated Press count.