/ Source: The Associated Press
On the prairie of northeast Colorado, Roger Stumpff stands in a muddy lot and looks at the pieces of a giant blue-and-white drilling rig that have become the heart of his business.
Decades ago, Stumpff's Industrial Welding & Supply spent most of its time building parts for the surrounding farming community; today, it's nearly all oil-and-gas work, as much as the small company can handle.
Stumpff has nearly doubled his work force to 77 employees, and crews work long hours piling up overtime building mud tanks and other parts for drilling contractor Ensign USA. Still, he says, "We're not nearly big enough to do everything."
The energy business is booming, particularly in the Rockies, but there is a shortage of rigs. Companies are looking abroad and contractors are scrambling to build new rigs by salvaging parts from scrapped, aging equipment. And for the first time in decades, they are building new rigs to bore deep into the earth.
It is a gamble for those who can invest upward of $20 million in a single rig, keeping an eye on natural gas prices as they work to line up multiyear leases. Many recall the oil bust of the 1980s when their useless rigs were stacked across the country.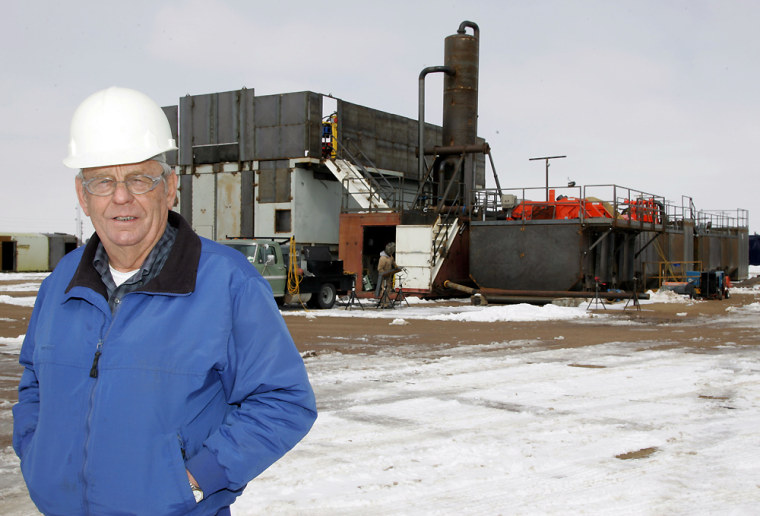 "For most of the '80s and all of the '90s and the first part of 2000s, the industry economically could not afford to make this type of investment," said Richard Mason, publisher of The Land Rig Newsletter in Lubbock, Texas. "We've entered a new era here. This is the first major retooling effort in 30 years."
In Gillette, Wyo., Patrick Hladky of Cyclone Drilling Inc. said he can't keep up with the demand for his 25 rigs, fielding calls from as many as seven different companies in one day.
"It doesn't matter where you're at, they need rigs," he said. "Everywhere there's a drilling rig standing, there's one that's needed."
With its fortunes tied to the energy price roller-coaster, the U.S. rig manufacturing industry long dominated the global market after World War II. It reached a U.S. high of 4,530 rigs in service in December 1981 during the height of a boom, according to Houston-based Baker Hughes, an oil field services company that has kept track of the count since 1944.
When prices fell and production plummeted, demand dried up and left contractors with thousands of rigs that were stored or sold for parts or scrap as many companies went bankrupt. The U.S. rig count dropped to its lowest point of 488 on April 23, 1999, Baker Hughes said.
"Lots of people went out of business, rigs got cut up, consolidation took place," said Tom Schledwitz, operations director for Ensign USA in Denver, a subsidiary of Ensign Energy Services Inc. in Calgary, Canada, one of the largest drilling contractors in North America.
"It was a bust and a lot of people lost their jobs, lost their houses and all those kinds of things," Schledwitz said.
The bust began a 25-year downturn from which the industry just recently has begun to emerge. It finds itself in short supply not only of parts for rigs but of experienced crews to operate them.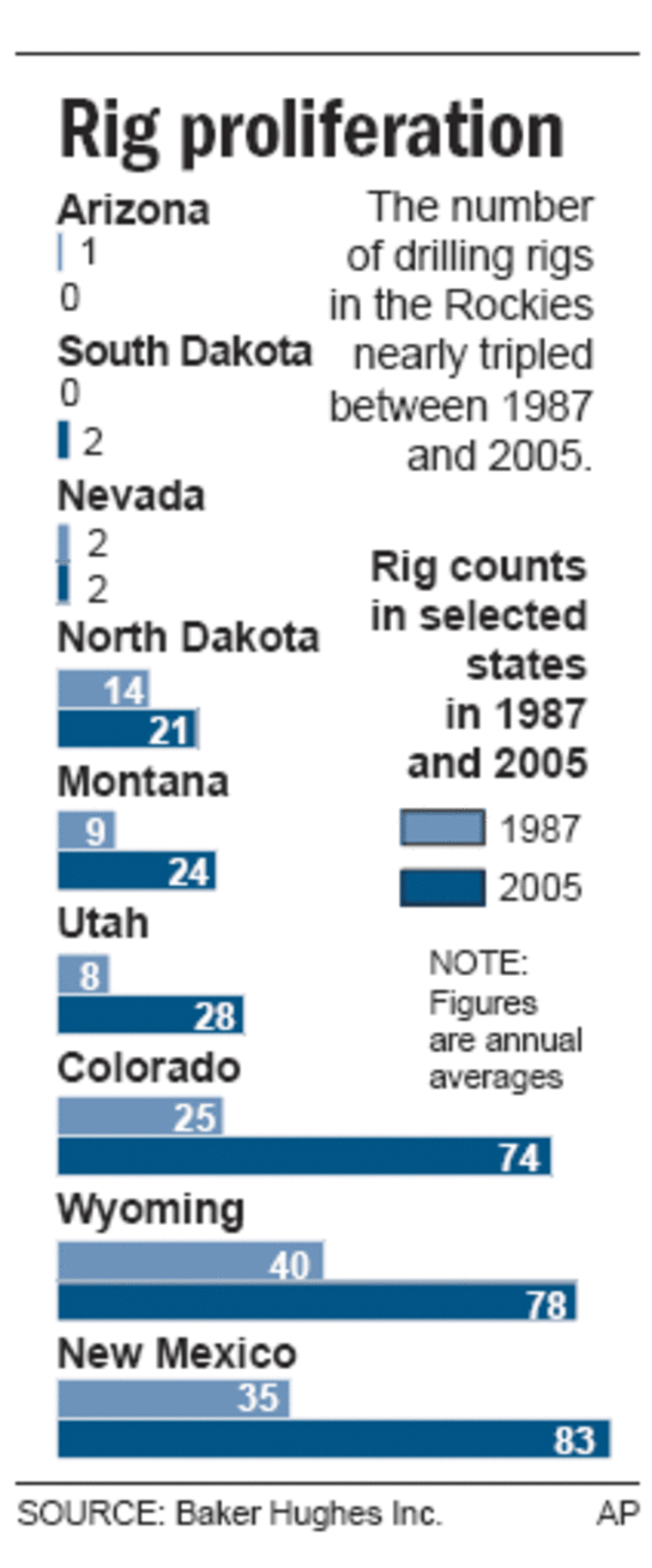 Rigs are made up of components built by different manufacturers to create a self-contained portable system that generates its own power and can be easily moved in rugged locations. Typically, a contractor leases a rig to a producer and supplies a crew to operate it, moving it from field to field as needed.
Many newer rigs are being used to tap so-called nontraditional resources such as coalbed methane or shale, where producers hunt across a broad expanse of land and then fracture the rock to free up oil or gas. Newer versions are being adapted with more power to pump pressure in the ground and to have the capacity to drill both vertically and horizontally, Mason said.
On site, a rig is staffed 24 hours a day with a five-person crew working 12 hours on and 12 hours off.
"It's hard work," says Jim Wildemann of SST Energy Corp. in Denver and Casper, Wyo., which has 13 rigs in the Rockies. "It could be snowing at midnight and you could be out working in it."
Steep prices
The rigs are expensive: They can cost anywhere from $8 million to a high-tech device that will be more than $20 million, take as much as a year to 14 months to build and take three years to recoup the investment, contractors said.
From 1987 to 2005, rig counts in the Rockies have nearly tripled from 134 to 312 led by New Mexico, Wyoming, Utah and Colorado, Baker Hughes said.
Today, there are only a handful of companies that build drilling rigs, prompting some producers to look overseas for equipment from China, Canada, Italy and possibly Russia.
"We are having to scramble to catch up," Mason said. "This is a demand-driven scenario, and that's the first time in the last 100 years ultimately that we've had to face this type of situation."
Mason expects 400 rigs — about half refurbished and about half newly built — to be added to the market by the end of 2007.
The short supply also means producers pay more to lease the rigs. Mason said a ballpark national average is about $13,500 a day, nearly triple the $5,000 a day in 1995.
Meantime, the contractors are just trying to keep up as they watch the fluctuating energy prices and try to guess how long this boom will last.
"Too many of us have been through the downturn so consequently we're saying that if this takes another downward spiral and we're left with large debt, where are we going to be?" said Wildemann of SST Energy. "We're cautiously optimistic."