You can't blame them for trying.
Amidst a seemingly endless avalanche of bad news — including years, decades even, of creative decay, market-share erosion, international acquisition and, particularly of late, the very existence of quintessential keystone U.S. corporations like General Motors and Ford being called into question — at long last, domestic automakers are getting creative.
That's one conclusion to be drawn from the first day of press conferences at the 2006 New York International Auto Show, held at the Jacob K. Javits Convention Center in Manhattan.
The most far-reaching attempt at a radical transformation evident during the auto show came from Saturn, a General Motors company. Until recently, in popular culture lore, men were from Mars, women were from Venus, and Saturn was from Spring Hill, Tenn. That was the factory town where Saturn owners were encouraged to take folksy pilgrimages to visit the company plant and mingle — car club style — with brother and sister Saturn drivers and laborers.
That homespun reputation and business practice was one part marketing, another part the result of being a quasi-independent business unit based far south of Detroit. That's changed now, with Saturn shutting the Spring Hill plant and shuffling Saturns to other production lines. GM is also enabling design collaboration between their European Opal line and Saturn, which is being positioned as an import alternative.
The early results from this major course correction are on view in New York, as Saturn showed off a quartet of vehicles during an 18-hour-or-so stretch. Three cars and trucks were unveiled Tuesday night in Times Square at the Hard Rock Café. The fourth debuted Wednesday morning at the auto show.
The four new Saturns are:
2007 Saturn Sky Red Line, a higher-horsepower version of the Red Line, which itself is Saturn's own restyled version of the acclaimed, economical and still flashy Pontiac halo car, Solstice. The Sky Red Line is tuned to achieve 260 hp, thanks to a two-liter turbo engine.
2007 Saturn Aura, a sports sedan based on a two-year old concept vehicle, which gets 224 hp and 220 pound-feet of torque and sits on standard 17-inch wheels. Later this calendar year, a hybrid version will be available.
2007 Saturn Outlook, a large crossover utility vehicle that rides on GM's crossover platform and delivers 267 hp as well as seating for eight people.
Saturn PreVue concept, a smaller, more muscular, wagon-looking (complete with sloping roof rack) vehicle designed with side air intakes and a tiny straight lip of a real spoiler. This is the first example of a start-to-finish Opal-Saturn design collaboration.
GM Vice Chairman Bob Lutz said during Saturn's NYC press conference that he's bullish on the four new rides and what they represent about his automaker as rising phoenix. "Saturn is the place to look," Lutz said, "if you're wondering if GM is serious about winning the North American market."
Lutz added: "Sky, Aura and Outlook all raise the bar significantly."
Reinvention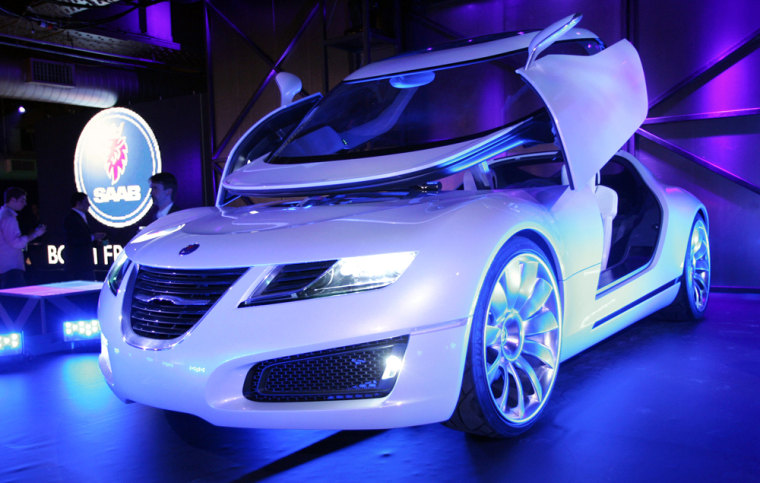 Saturn isn't the only more boutique GM-owned label seeking reinvention. Saab, the once quirky, once Swedish aeronautics firm, has floundered since being acquired by the U.S. goliath. Recent advertising campaigns have sought to invoke that jetting heritage, and a vehicle introduced in Geneva earlier this year making its North American debut this week in New York reinforces that message. The Saab Aero X concept clamshell cockpit indeed has a silhouette reminiscent of a fighter plane's, or perhaps Luke Skywalker's Land Speeder from the original Star Wars. Either way, the concept vehicle is a far cry from older, more humped Saabs such as the 900.
The futuristic look of the Aero X is matched by an of-the-moment fuel source: ethanol. The Aero X possesses a BioPower V6 twin-turbo engine. Ethanol use is another recent and strong GM development push, via their "E85" initiative.
Ford, the other of the remaining Big Two U.S. automakers, has a less substantial presence at the auto show but is still working creatively, even though in one case the company is reviving a previously effective idea from four decades ago.
Ford showed off the 2006 Shelby GT350H, an updated version of the "rent-a-racer" cobra Mustang that was available exclusively from rental-car agency Hertz during 1966-67. The 40th anniversary 350H — as in Hertz — is the latest design from that man in black, the endlessly tinkering Las Vegas-based innovator Carroll Shelby.
Here, Shelby takes a pony, adds a Ford Racing Performance Parts kit and his telltale paint job — twin broad stripes that run from head to tail — and ends up with a hulking 325-hp and 330 pound-feet of torque black-and-gold painted stallion.
Ford's overall attempts at revitalization are moving smartly but cautiously, according to the automaker's executive vice president, Mark Fields. "Inside Ford, I like to compare what we're doing to rewiring the house with the electricity on. You take it carefully, step by step," he said.
DaimlerChrysler may no longer qualify as the last of the once Big Three U.S. automakers — hello, Kirk Kerkorian — but the legacy of Lee Iaccoca's company lives on all the same.
Jeep, a Chrysler brand, made two major announcements in New York: It debuted a pair of vehicles, one in particularly dramatic fashion, perhaps appropriately, given the Convention Center's location, a less-than-10-dollar cab ride from the theaters of Broadway.
Grand entrance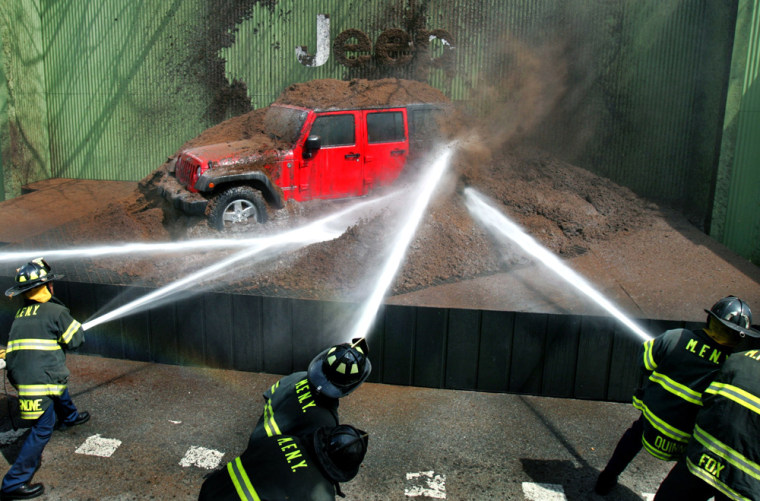 Jeep rented out the entire Javits North Pavilion and filled it with faux trees, ramps and a general facsimile of nature herself. Outdoors, a fire engine, four city firefighters, a big pile of dirt, balloons filled with mud and film star Eva Mendes came together to christen the 2007 Jeep Wrangler Unlimited and the 2007 Jeep Patriot.
The Unlimited features a first-ever for Jeep, doubling the typical number of Wrangler exits to four. At its auto-show debut, the vehicle was covered in a cone shaped pile of dirt. The firefighters entered and hosed enough of the soil off the vehicle to reveal the two drivers-side doors, as well as the grill, hood and windshield. Photographers in the grandstand wore garbage-bag raincoats.
The new Wrangler carries a 3.8-liter V6 engine that produces 205 hp and 240 pound-feet of torque; Jeep claims the vehicle includes more interior room to go with that increased power.
The Patriot, meanwhile, is an even more radical departure for this traditionally trail-going brand. The vehicle with the freedom-loving, stars-and-stripes moniker is a small, entry-level SUV crafted on top of a car — and not a truck — platform. That's likely heresy to certain purists, but again, a bold move from an American maker.
The Patriot will cost less than $16,000 when it arrives, along with the new Wrangler, at dealerships later this calendar year. Jeep's announced product line has now increased from three vehicles to the current seven, all in about one year's time.
ForbesAutos.com will be providing daily coverage of the media previews for the 2006 New York International Auto Show. Check here for more news and photos.