/ Source: The Associated Press
Energy Secretary Samuel Bodman said Tuesday it could take months to resume normal shipments of Alaska oil, but that there are adequate supplies to make up for the loss to West Coast refineries.
"My sense is we're in pretty reasonable shape," Bodman told a news conference.
He said there are relatively high inventories of crude oil in the system and that oil can be diverted from other producers, including Saudi Arabia and Mexico, to meet refinery needs.
About 400,000 barrels a day of Alaska crude oil is expected to be lost because of a shutdown of North Slope operations, following corrosion problems with pipelines.
Bodman said that officials at BP Alaska told him it would "take probably months to fix" the pipeline problem "so we are going to have to deal with the issue at hand."
BP Alaska was forced to shut down its North Slope oil field because of expensive corrosion in two of three feeder pipelines that transport oil into the trans-Alaska pipeline. The field accounts for about 400,000 barrels of oil a day, half the amount from the North Slope.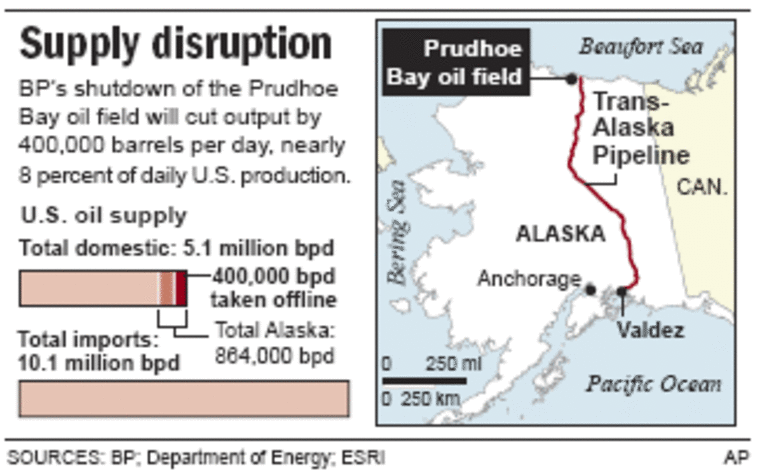 But Bodman said, "a complete shutdown of the Prudhoe Bay system may not be necessary." He said company officials had told him they may be able to make repairs to some of the damaged lines while continuing production.
Bodman gave an upbeat assessment on the supply picture for West Coast refineries, which rely heavily on Alaska crude.
"Substitutions for Alaska crude oil, we believe, are available," he said.
The secretary cited a new report released Monday by the Energy Information Administration that showed oil inventories at 5 million barrels a day higher this July than at the same time a year ago.
In addition, said Bodman, there are indications that other producers, including Saudi Arabia, have spare capacity and can divert oil to the West Coast, if necessary. Also, the government is prepared to make available oil from the Strategic Petroleum Reserve, if necessary, he noted.
"We believe we know how to handle this type of situation ... There appears to be adequate supplies," Bodman said.