/ Source: The Associated Press
A Russian passenger jet carrying at least 170 people — including 45 children — crashed Tuesday in eastern Ukraine after sending a distress signal, killing all aboard, authorities said.
Russian authorities said they had ruled out terrorism, and Ukrainian officials said there was bad weather in the area at the time of the crash.
The Pulkovo Airlines Tu-154 was en route from the Russian Black Sea resort of Anapa to St. Petersburg and disappeared from radar screens while flying over eastern Ukraine around 2:30 p.m., Russian and Ukrainian emergency officials said.
The plane's tail section and other burning debris were found north of the city of Donetsk, about 400 miles east of Kiev, by residents about two hours after the distress signal was sent, said Mykhaylo Korsakov, spokesman for the Donetsk department of Emergency Situations Ministry.
Anatoly Simushin, deputy director of the St. Petersburg-based carrier said that there were 170 people on board, including 45 children.
"Unfortunately, we believe that no one managed to survive," Russian Emergency Situations Ministry spokesman Irina Andriyanova said in televised comments.
A thunderstorm was raging in the area at the time of the crash, said a spokeswoman for the Ukrainian Emergency Situations Ministry in Donetsk, who identified herself only as Yelena. She said there was lightning and heavy wind.
"It was not a terrorist attack," said Leonid Belyayev, acting director of Russia's Emergency Situations Ministry in St. Petersburg.
Fire on the plane
Interfax quoted Ukrainian Emergency Situations Ministry spokesman Igor Krol as saying a fire broke out on the plane at 32,800 feet and that the crew decided to try to make an emergency landing. Interfax also quoted Russian aviation official Alexander Neradko as saying that the plane might have run into strong turbulence.
Andriyanova said she received information that "the plane most likely was hit by lightning."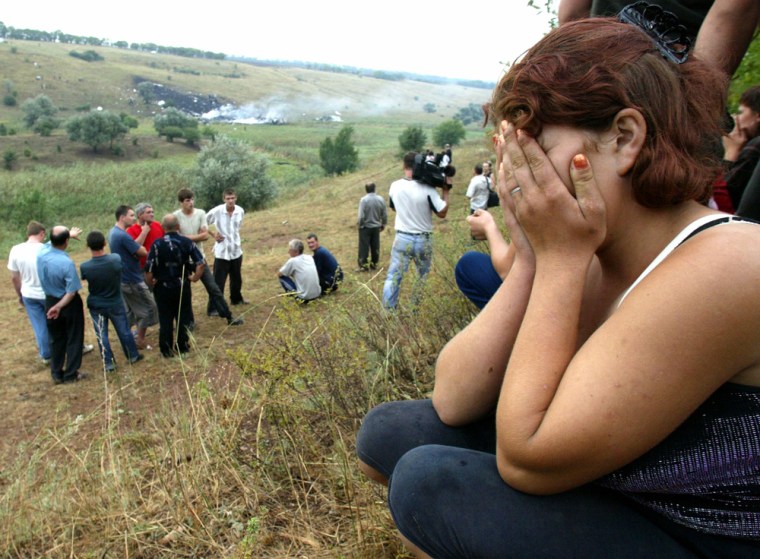 "There was no damage on the ground. After it fell, it broke apart and burst into flames," Andriyanova said in televised comments.
Interfax cited other witnesses as saying the plane was intact when it hit the ground.
"It was falling down like a petal," an unidentified woman told Channel One, waving her hand from side to side. "It was floating, it circled around, then it went down and then there immediately was an explosion ... and smoke started rising."
The plane disappeared from radar screens two minutes after the crew sent a distress signal, said Yulia Stadnikova, another Russian spokeswoman.
Simushin said the pilot sent a total of four distress signals as he tried to climb above the storm, then descended to the exceptionally low altitude of 9,800 feet.
Pulkovo Airlines is among Russia's largest carriers.
It was the third major plane crash in the region this year, and came less than two months after at least 124 people died when an Airbus A-310 of the Russian carrier S7 skidded off a runway and burst into flames on July 9 in the Siberian city of Irkutsk.
On May 3, an A-320 of the Armenian airline Armavia crashed into the Black Sea while trying to land in the Russian resort city of Sochi in rough weather, killing all 113 people aboard.
Russian-made Tu-154s are widely used by Russian airlines for many regional flights.