Last year, the long-time boyfriend of Olivia Newton-John—a man named Patrick McDermott—disappeared after an overnight fishing trip.
The circumstances were odd, and so was the fact that no one reported him missing for nearly two weeks. But what's probably the strangest thing of all is that so many people believe Patrick McDermott isn't missing. That he's alive and well.
If so, why would he disappear? And, where is he?
Nick Papps, Australian journalist: This is a big story... the biggest story that I've done since I was here.
The celebrity in this puzzling tale is Olivia Newton-John, the sweet-voiced singer from down-under who rose to superstardom in the 1978 blockbuster, "Grease."   
Olivia, in song, dance and skin-tight pants, turned tough-guy John Travolta into mush and they became celluloid sweethearts forever.
But in real life, Olivia hasn't been so lucky in love. Her marriage disintegrated in divorce, and various other relationships did not end happily-ever-after, despite the best wishes of her fellow Australians.
Papps:  We've always had this marvelous affection for her.
Nick Papps was the Los Angeles bureau chief for Australia's Herald Sun and other newspapers.
Papps: She makes us feel good about being Australian because she's making it really big in America. So she's carrying a whole country with her at the same time.
And so, after all her highly-public troubles with men, Australians seemed genuinely happy for her when she began seeing a dashing Hollywood lighting technician named Patrick McDermott... and kept seeing him.
They'd been an item for eight years when, in 2004, McDermott appeared on Australia's "This is Your Life," a TV show about Olivia, and sent her a big, wet kiss via satellite.
McDermott to Newton-John during the TV show: "You truly are an incredible human being and someone so special to this whole planet. And if we could all just be a little bit like you, we'd all be a little better off. I love you with all my heart. Enjoy this evening, and I'll talk to you later. Bye." (kiss)Papps: Finally she's found love. And, you know, everyone's delighted for her. But it maybe wasn't all that we think.
What can we know really about the most private doings of public people? And what's a person to think of the strange business that's attracted the attention of Nick Papps and so many others in Olivia's native land?
It was just an overnight fishing trip on that boat "The Freedom," and it ended in mystery and heartbreak. There are secrets out there in the deep, and one of them is, "Where is Patrick McDermott?" A man linked to a famous star, a man last seen on that boat. The Coast Guard is treating it as a missing person's case. But is he missing at all?
Frank Liversedge was one of the last to see him. Liversedge runs the 22nd street Marina, near Los Angeles, in San Pedro, California, where McDermott often signed up for overnight fishing trips.
Frank Liversdege, marina manager: He was a regular. To me, Patrick McDermott seemed like a very sort of reserved person. He was kinda quiet.
Sometimes, said Liversedge, McDermott brought his teenage son along.
But not that time.  June 30, 2005. That time, he came alone.
On that Thursday night, McDermott signed the manifest and boarded the freedom with 22 other fishermen for the 10 p.m. departure. According to those on the boat, there was nothing out of the ordinary during the 22-hour voyage, a low-key mixture of relaxation and deep-sea fishing.
Papps: And the boat comes in and that's when it gets interesting.
Well, not right away.
And that's part of the mystery.
It wasn't until July 11, 2005, 10 days after the freedom docked, that Patrick McDermott, 48 years of age, was reported missing.
Keith Morrison, Dateline correspondent: Who reported him missing? Was it Olivia Newton-John?Papps: No it wasn't. Which is interesting isn't it? Morrison: Who did?Papps: His ex-wife.
His ex-wife, Yvette Nipar, called Frank Liversedge at the marina, asking about Patrick because he failed to show for a July 6 visit with their son.
There was no head count when freedom's passengers disembarked, so Liversedge had no reason to think McDermott was missing, until Patrick's ex-wife mentioned items he often took on these trips.
And, in fact, an unopened fanny pack had been unclaimed in Liversedge's office, in the lost-and-found, since it was discovered on The Freedom 10 days earlier.
Liversedge:  And I said, "Yeah, I have one. Do I have your permission to open this thing up?" She said, "Yeah."
Inside were McDermott's driver's license, wallet and car keys. Liversedge matched the keys to a car at the far end of one of the parking lots. Sure enough, Patrick's car was still there, 10 days after his ill-fated boat ride.
Liversedge: I came back to the office, I called the police, called the Coast Guard. I said, "I got what looks like a potential problem."
The Coast Guard launched a missing person's investigation.
But as crew members from the freedom were questioned by a grand jury in Los Angeles, investigators cast a wide net, looking into all possible theories, including foul play.
Morrison: Was he pushed, did he fall, or did he try to kill himself? You've got three possibilities may have happened.Papps: It could have happened. But there's a pretty strong reason why I don't think it happened.
Both Nick Papps and Frank Liversedge were skeptical of the various lost-at-sea scenarios. They backed another, hard-to-imagine theory—McDermott had gone missing on purpose.
Papps: In all likelihood he got off that boat without telling anyone.Morrison: How could he have done it?Papps: There's a mad scramble when they get off the boat. No one's paying much attention to who's getting off and where Patrick's gone.Morrison: What do you think? What could have happened to the guy?Liversedge: There are a million things that could've happened. Could a giant squid come up and grab him off the side of the boat and taken him down; or an alien spaceship abducted him; or any of a million (laughs) trillion things. Anything is possible on the ocean. But do I believe that happened? No.  I believe Patrick got off of that boat when he tied it to my dock and walked off.
When Olivia Newton John's long-time boyfriend went missing after a fishing expedition, Australian journalist Nick Papps started digging.
Nick Papps, Australian journalist: We got some very, very strong suspicions about what happened.
Neither he nor the operator of the marina bought the idea that Patrick McDermott fell overboard and drowned.
And as evidence, they both pointed to the same thing—
Frank Liversedge, marina manager: You have the numbers. You have what they bought.
McDermott's galley tab. It had been checked off as paid  for a drink  and two hot dogs, noted by the abbreviation "H.D."
Papps: The tab's an interesting point because the tab's paid about an hour before the boat comes in.Liversedge: And from that point back to this dock, it's almost a million to one odds that a guy could fall overboard, jump overboard, be pushed overboard, without half of the boat seeing it.Keith Morrison, Dateline correspondent: Because everybody's up on deck—Liversedge: Everybody's up on deck right outside the back doors to the galley. And the boat's going forward. Anyone fell overboard, they would become visible.
But why would McDermott want to vanish in thin air, devastating his family, his friends and Olivia Newton-John?
Well maybe, according to Nick Papps, it was about the money.  Or, more accurately, the lack of it.
Appearances, apparently, are not always what they seem.
Patrick McDermott was not exactly a successful Hollywood lighting technician after all.
Papps: You gotta understand, his life was going very, very badly. This is a man who's making no money. His job as a lighting tech was going nowhere. He's got debts. Only one thing to keep him here is his son.Keith Morrison: That's a pretty powerful incentive to stay. Probably the most important person in his life. To abandon him, to leave the country, to leave him potentially penniless. What kind of a man would do such a thing?Papps: A man that's clearly not very happy.
According to court records, McDermott filed for bankruptcy in 2000. He still owed child support payments in 2005.
Elaine Lampert, Patrick McDermott's friend (MSNBC interview): He was happy go lucky, playing tennis.
Yet this friend of McDermott's says he showed no sign of depression. And she insisted, talking to Dan Abrams of MSNBC, that Patrick was far too devoted a father to ever abandon his son.
Lampert: He seemed fine. He was happy. He's a good tennis player, he's a wonderful father, and nobody can believe he just disappeared.
And then she spoke from the heart, an on-air plea, just in case he was out there, alive ... 
Lampert: "Your family misses you. Olivia misses you. All your tennis friends are worried about you. You have to call home."
His friend's public appeal turned out to be unusual for this case... a case which simply didn't follow the normal script, the one that says more publicity can mean more leads and, one would hope, more answers.
Papps: Now normally when someone goes missing, you try and do everything you can to get people to say, "Yeah, I've seen him." or "Have you seen this person?" All that sort of stuff.
Olivia was in Australia on business when McDermott went missing, but Papps's journalistic antenna went up after it took more than seven weeks -- 52 days—before she said anything publicly about the man she dated for almost a decade, a man she called "my treasured friend."
Papps: We all feel for her. But why doesn't she use her celebrity to try and find this guy?
In her first comment in August, 2005, Olivia said: "Out of respect for his family, I have chosen not to make any public statements until now. For those of us who know and love him, it has been a truly heartbreaking experience and we've chosen to deal with it privately."
Then, says Papps, tongues began wagging. There were questions about their relationship before he went missing.
Morrison: You heard reports that maybe they weren't so close anymore. Papps: There were reports that came to surface that maybe, maybe they'd broken up in the weeks before he disappears.
Dateline hoped to get Olivia Newton-John's views on all this, but our interview requests were declined.
And so the story seemed to hit a dead end… another unsolved missing-person's case with many more questions than answers.
And then? Well, something very strange.
Morrison: It might have ended there, but for what?Papps: I got a tip off that McDermott had been seen in Mexico on the Baja Peninsula.
Tourists flock to the shores of Baja California for its sand, surf and sun.  It's a great place to hang out or hide out, if you're so inclined.
Nick Papps, Australian journalist: There's a lot of people down there that are there for a reason. They want to escape the past. They don't want to be bothered with anyone.
The Naja peninsula is something of a haven for ex-patriate Americans with a yen to get away. Could Olivia Newton-John's boyfriend, Patrick McDermott, be one of them?
Australian newspaperman Nick Papps believes he is—that McDermott, who was declared missing in July 2005, ran down here to escape his child-custody debts in Los Angeles and try to start a new life.
Papps: If you got nothing here for ya, what's the point of staying here? So where do you go? You hop in a car, you drive through Mexico, where no one checks your passport. And you go to the Baja Peninsula. Which is known as a sunny place for shady people.
This spring, Papps got a tip that Patrick McDermott had been spotted in southern Baja. And so, armed with his wits and a photo of McDermott, Papps went big-game hunting.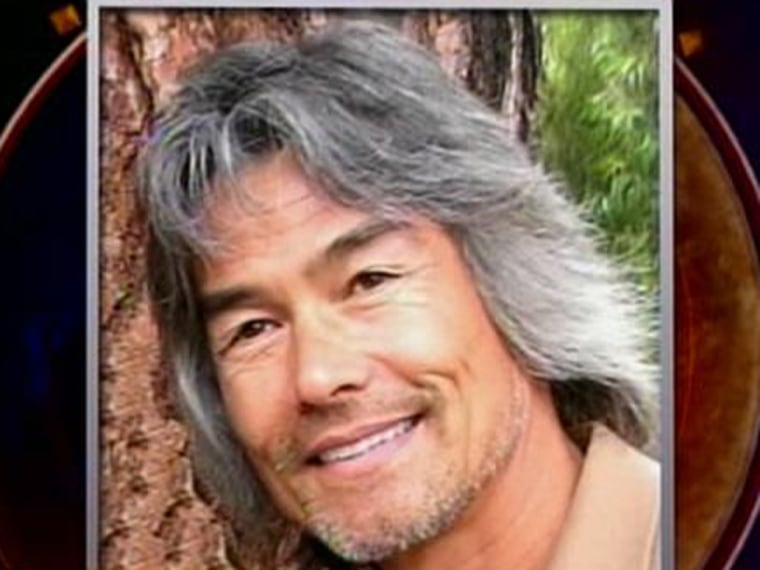 Keith Morrison, Dateline correspondent: What would you want to say to him if you found him?Papps: "Patrick McDermott I presume?" Would be one. (laughs)
Papps claimed to have found six people who said they saw McDermott in the resort town of Cabo San Lucas and in the nearby artist's community of Todos Santos.
Papps: I got people saying, "Yeah, I've seen him. This is what he was wearing. This is who he was with. This is the car he was driving."
Could Papps's spotters be right?
In August, Dateline decided to travel to Baja and find out. And, sure enough, we also found people who claim they've been around Patrick McDermott.
We showed Mcdermott's photo to this man, the manager of a restaurant in Cabo San Lucas. He said he saw him drinking a beer.
Ismael, bar manager: I am absolutely positive. Truthfully, there aren't many people who could look like this man.
Another bartender, who works in the town of El Pescadero, even remembered the chair where McDermott supposedly sat.
But one man's claimed encounter with Patrick Mcdermott was unlike any reported so far.
Eduardo Mejia, the son of a cafe owner in El Pescadero, says he recognized McDermott after a local reporter showed him a photograph.
But, perhaps even more significant, Eduardo said a friend later took him to visit McDermott.  Here's Eduardo's story:
Eduardo (translated): The first thing he did was when I told him that some people came to ask for him, he grabbed a black bag from his car, sat down on a table, took out a checkbook, and then he tells me, "How much does your silence cost?"  I don't want money, I answered him. 
Eduardo said he assured McDermott he would not reveal where he was.
Eduardo (translated): He is not interested in talking with anyone.  He is not interested in giving a trace or a sign that he is doing well or not.  I can tell you he is doing well.
And, according to Eduardo, the man he believed was Patrick McDermott had changed his appearance, though not through surgery.
Eduardo (translated): He's made some modifications of his hair, face, all those things.
Months earlier, a local reporter named Kathy Aviles had heard that McDermott was in Baja. So she started snooping around. She talked to Eduardo's mother at her cafe.
Kathy Aviles, local reproter: She remembered him distinctly and that he just went on and on about how great her fish tacos were, but that when he left he had forgotten his hat.
The hat is a pink visor with the words "Key West" on it. On her own, Kathy sent the visor to coast guard investigators in Los Angeles.
Papps: I think the question I'd be asking the Coast Guard is, "You got the hat? Right. You get DNA off it? Did you compare it with Patrick's DNA? Have you asked Olivia Newton-John if she's ever seen Patrick in this hat?"
A Coast Guard spokesman told dateline that no DNA testing was done and the visor had no value as evidence. The Coast Guard sent the visor back to Kathy.
Morrison: You know maybe their attitude is the correct one. Why should anybody care about this guy? What's he done wrong? He just disappeared. Big deal.Papps: Big deal. He's someone's father. He's a father of a 14-year-old boy. Does that not matter?
And he still owes thousands of dollars in back child support.
The Coast Guard says the case remains open as a missing-person's case.
So what does Olivia Newton-John believe about the man she'd called her "treasured friend"?
Recently, she appeared on the today show. In a brief interview with Meredith Vieira, she didn't talk about McDermott's disappearance, but said working on her new album had been therapeutic for her.
Olivia Newton-John (on the Today show): Music helps calm the body and heal, and it's helped me heal.
Then she sang the album's title song, "Grace and Gratitude."
However, days earlier, in an interview with people magazine, Olivia said she believes McDermott didn't fake his death, if, for no other reason, than to not hurt his son.
But she acknowledged that reports of McDermott sightings have made her uneasy. "It creates that, 'What if?' and I don't know," she told the magazine.
So what are we left with? One day he boarded a fishing boat with the now ironic name "Freedom."  And then he was gone.
Morrison: Or, maybe he was dead all along.Papps: Maybe. But I don't think so.
The woman who now owns the house Patrick McDermott used to rent, says she still gets his mail, some addressed to him, and some addressed to his production company—"Twice-Alive Productions."