A small, and increasingly threatened, section of Africa houses more than 1,000 species native to the area — including the highest concentration of native animals anywhere in Africa, according to two new scientific studies.
About the size of Rhode Island, the remote area is inside the Eastern Arc Mountains of Tanzania and Kenya.
"The wild areas of the Eastern Arc Mountains are pockets of Eden — the last remaining safe havens for over 1,000 plants and animals found nowhere else on Earth and some with ancient lineages stretching back in time over millions of years," Neil Burgess, lead author of the two studies, said in a statement.
"Side by side, these species and their human neighbors struggle for survival as more and more people need more and more farmland for food," added Burgess, a University of Cambridge biologist.
Dozens threatened with extinction
Published in the January issue of the journal Biological Conservation, one study found that the mountains are exceptionally important because:
At least 96 animals, 832 plants and hundreds of invertebrates — including 43 butterflies — live only there and nowhere else on Earth.
Another 71 animals are found only within a limited range including these mountains and nearby areas.
Of these 1,000 species, 71 are classified as threatened with extinction by the International Conservation Union.
At least 16 animals are new species never before seen, among them a new genus of monkey named the "Highland Mangabey."
The study also found that some of the species are genetically ancient. "DNA analysis of forest birds indicates that some species have lineages stretching back 25 million years and some are most strongly related to birds in Southeast Asia than birds in Africa," the World Wildlife Fund said in the statement. The group helped underwrite the studies and Burgess is a paid WWF staffer.
"Some plants and animals — like tiny little shrews with elephant-like trunks known as elephant shrews and nocturnal primates with large eyes known as bushbabies — are thought to have evolved early in the species lineage,'" the group stated.
Population pressure
A second study by Burgess and colleagues looked at growing pressure from humans on the remote area. Farms are expanding, sometimes into existing reserves, the study found.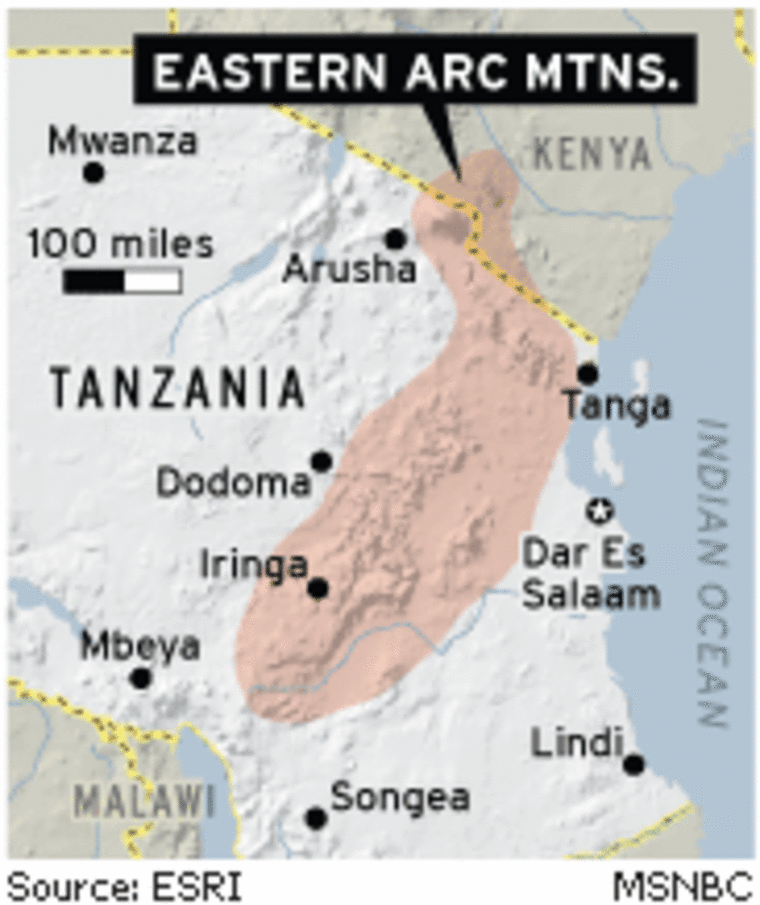 The area also provides drinking water for most of Tanzania and dams there generate 90 percent of the country's hydroelectric power.
The World Wildlife Fund said that it's exploring the idea of asking Tanzania to divert some of the funds charged for water to conservation efforts in the mountains.
Burgess noted that Tanzania is expected to created seven reserves protecting 153,000 acres inside the mountains. The government might also ask the United Nations to declare the area a World Heritage Site.