/ Source: The Associated Press
Orders to U.S. factories for big-ticket manufactured goods rose in December by the largest amount in three months, led by a huge jump in demand for commercial aircraft and the biggest increase in orders for cars and trucks in more than two years.
The Commerce Department reported Friday that new orders for durable goods rose 3.1 percent last month to a seasonally adjusted total of $221.9 billion. The gain followed a 2.2 percent November increase and was the strongest showing since an 8.7 percent September advance.
Orders for commercial aircraft surged by 26.5 percent, reflecting the sizable 212 plane orders that Boeing Co. booked during the month. There also were gains in a number of other industries, providing evidence that manufacturing is working its way through last year's economic slowdown.
The auto sector, which struggled last year with rising gasoline prices and stiff foreign competition, saw a 6.8 percent rise in orders for vehicles and parts, the biggest one-month gain since August 2004.
Demand was also strong for military aircraft, which saw a 20.5 percent jump in orders.
All transportation sectors rose by 4.8 percent last month after an even bigger 10.2 percent increase in November.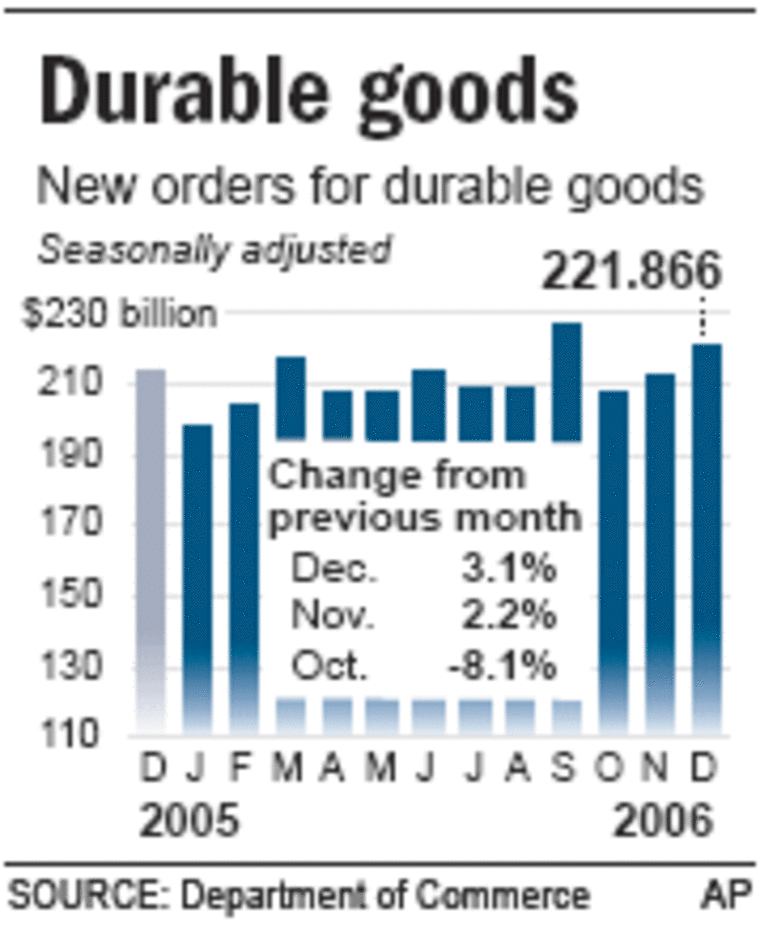 Excluding transportation, orders for durable goods posted a solid 2.3 percent increase, the best showing in this category since last March.
For all of 2006, new orders rose by 7 percent, a slight slowdown from an 8.6 percent increase in 2005. Orders had risen by 6.9 percent in 2004 after having fallen in 2002 and 2003 as the country was struggling to emerge from the 2001 recession. Manufacturing was the hardest hit sector in the last downturn.
In addition to aircraft and autos, other sectors showing strength in December were primary metals, including steel, which posted a 4.5 percent increase, the best showing since May, and orders for machinery, which rose by 5 percent, the strongest increase since March.
Demand for nondefense capital goods excluding aircraft rose by 2.4 percent, the strongest showing since March. This category is closely watched for the signals it provides for business investment plans.
Economic growth slowed to a lackluster 2 percent in the July-September quarter, raising concerns that the steep slump in housing could trigger an outright recession.
However, in recent weeks a number of reports have shown the year ended with stronger-than-expected activity, easing worries about such a general slowdown.