Starbucks Corp. Chairman Howard Schultz told executives in a memo last week that measures taken to fuel the coffee shop chain's rapid expansion had led to a "watering down" of its iconic brand.
Schultz, who is credited with building Starbucks from niche player to international phenomenon, wrote on Feb. 14 that automatic espresso machines, bagged coffee and "cookie-cutter" store designs had led to a sterility at the chain that had invited competition from fast-food companies and others.
The memo, posted on the Web site http://www.starbucksgossip.com, was first reported on by the Wall Street Journal on Friday. Starbucks spokeswoman Valerie O'Neil confirmed the authenticity of the memo to Reuters.
"In order to achieve the growth, development and scale necessary to go from less than 1,000 stores to 13,000 stores and beyond, we have had to make a series of decisions that, in retrospect, have (led) to the watering down of the Starbucks experience, and, what some might call the commoditization of our brand," Schultz wrote in the memo.
In the memo, which was sent to Chief Executive Jim Donald and other members of senior management, Schultz said he took "full responsibility" for past decisions.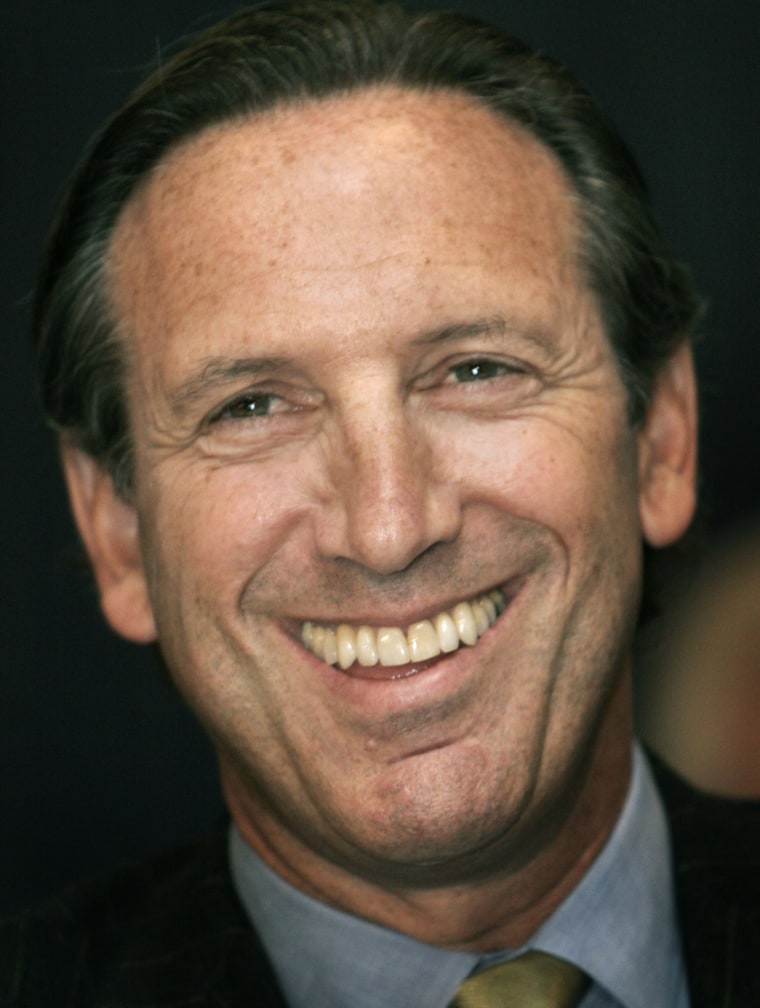 "We desperately need to look into the mirror and realize it's time to get back to the core and make the changes necessary to evoke the heritage, the tradition, and the passion that we all have for the true Starbucks experience," he said.
As examples, Schultz said automatic espresso machines had made service faster, but had removed "much of the romance and theatre that was in play" with traditional espresso makers, which required baristas to pull each espresso shot themselves.
Streamlined store designs, which "satisfy the financial side of our business," meant stores "no longer have the soul of the past ... some people even call our stores sterile, cookie cutter," he said.
O'Neil said she was not aware of any specific changes that would be made to the business, adding that the memo was part of a long-standing commitment by Schultz for Starbucks to remain true to its roots.
"It is not a one-off," O'Neil said. "Some people are thinking that this is a sign of something. No, this is just something that (Schultz) does."
In the last decade, Starbucks has grown from 1,100 stores to more than 13,100 — and the company's rate of expansion keeps increasing. It plans to open 2,400 stores this year.
At the same time, however, sales increases at Starbucks stores open at least 13 months have slowed.
Same-store sales rose 7 percent in fiscal 2006, compared with a rise of 8 percent in 2005 and 10 percent in 2004.
In the United States, the company has faced stiff competition in the past two years as restaurant chains like McDonald's Corp., Dunkin' Donuts and Burger King Holdings Inc. have upgraded their coffee offerings.
In the past, Starbucks has said it sees those moves as positive for its business because they help to increase consumer awareness and demand for specialty coffee.
But in last week's memo, Schultz said Starbucks' "current state of affairs" had allowed competitors "to position themselves in a way that creates awareness, trial and loyalty of people who previously have been Starbucks customers. This must be eradicated."