/ Source: Forbes Traveler.com
As screen legend Greta Garbo famously put it, "I want to be left alone." Most celebrities would concur — especially when they're on their honeymoon. "The number one thing celebrities look for are secluded and private places, out of the reach of the paparazzi," said noted wedding planner Mindy Weiss, who has organized nuptials for luminaries like Jessica Simpson, Gwen Stefani and Adam Sandler. "Often this is the first vacation they have had in a long time and they typically choose a location where they can just veg."
Hence the popularity of the spectacularly beautiful Bora Bora, where most of the hotels are on their own private island, miles away from prying eyes. "The American GIs who were stationed here started spreading the word that Bora Bora was paradise on earth, and that really stuck," explains Eléonore Petin, sales and marketing manager for Bora Bora Nui Resort & Spa, where Christina Applegate and Johnathon Schaech honeymooned.
"When Hotel Bora Bora opened in 1961, they had the first overwater bungalows in the world, and that set a benchmark for the romantic type of accommodation."
Imagine glass panels in the floor so you can watch the fish swimming underneath — talk about aquatic theater. Petin adds that there's an untouched and pristine quality to the lagoon. "Picture a spectacular shade of blue and green that you can't find anywhere else, and it's set against our beautiful mountain, Mount Otemanu, that rises out of the water."
French Polynesia is more accessible than ever. Air Tahiti Nui flies non-stop from and . And still the islands receive just 50,000 U.S. visitors a year — fewer visitors than Hawaii receives in a 10-day span.
Any day of the week, chances are that you'll find a few private jets at Nadi airport. "Customs and immigration offer VIP services," said Ili Matatolu, Director of the Fiji Islands Visitors Bureau. "They'll facilitate entry into the country, making it seamless so you're whisked away to your private island getaway."
It's not surprising that attracted honeymooners Jessica Simpson and Nick Lachey, along with Britney Spears and Kevin Federline. Yes, their marriages are no more, but they probably have fond memories of their honeymoons. After all, 100 staffers are employed at Turtle Island to indulge a maximum of 14 couples. Common duties include arranging a lobster and champagne picnic on a private beach, or organizing horseback rides to a secluded breakfast nook. "Famous guests are not swamped with fans looking for autographs; everyone is left alone in peace," explains says Turtle Island owner, Richard Evanson. "You may have a suburban couple from Ohio dining at the community dinner table on the beach with a princess from a foreign country. All are just guests at Turtle Island."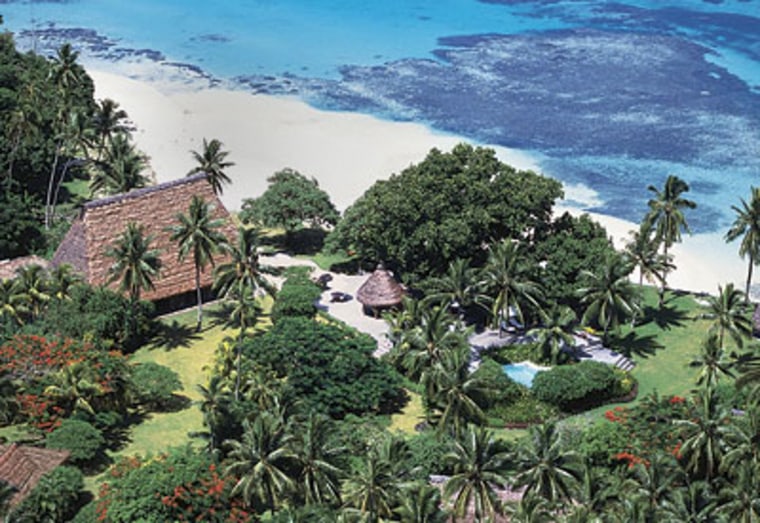 Some celebrity honeymooners prefer to stay closer to home. In 1953, John and Jacqueline Kennedy honeymooned at the charming in Montecito, California. In more recent years the unique resort has reportedly attracted a honeymooning Julia Roberts and Danny Moder as well as Sandra Bullock and Jesse James.
Couples stay in uniquely decorated cottage houses with artwork and antiques, as well as fireplaces made of hand-cut stone or masonry. Other unique touches like canopied beds with fine Pratesi linens, outdoor rain showers and floor-to-ceiling French doors have inspired a lot of buzz throughout Hollywood. "Celebrities are attracted to San Ysidro Ranch for the same reason as everyone: beauty, romance, privacy and incredible service," said resort representative Tamara Fangman.
More outgoing A-listers like to honeymoon in resorts that offer a variety of activites. Take , the majestic Orient-Express beachfront resort in St. Martin, one of the spots where Courteney Cox Arquette and David Arquette spent time. "Not only does it provide the highest level of privacy in the Caribbean, it's a resort with a complete infrastructure," said Domingo Velasco, La Samanna's director of sales and marketing. "The resort offers everything from a spa, fitness center, pilates studio, three tennis courts, water spots galore and multiple options for dining." All this and just 80 rooms.
Some operations like the St. Regis Resort Bora Bora have deluxe accommodations that are self-contained resorts within the resort, providing the ultimate in privacy. For their honeymoon, Nicole Kidman and Keith Urban stayed at the St. Regis Bora Bora's 13,000-square-foot secluded Royal Estate. With three bedrooms, two living rooms, a chef's kitchen, dining room, private swimming pool, office, and a spa area with a sauna, hammam and whirlpool, there's no need to mingle with the hoi polloi.
But even when they rent out an entire hotel, like honeymooners Brad Pitt and Jennifer Aniston reportedly did when they stayed at Fregate Island in the Seychelles, or park themselves on a friend's yacht, like Tom Cruise and Katie Holmes in the Maldives, stars are not averse to doing their own honeymoon planning. "It's funny the way people perceive celebrities, but in my experience they have all been very involved in the research of the trip and like all of us they call their travel agent to help book it," said Weiss. "And yes, celebrities love using their miles!"
From Bora Bora to the Bahamas, we've looked at the best resorts and locales for honeymooning or marrying celebrities. Because like all newlyweds, they're looking for once-in-a-lifetime experiences.