/ Source: The Associated Press
A cruise ship captain indicted on negligence charges after his vessel foundered on a volcanic reef and sank in the Aegean Sea blamed strong currents for the accident, state-run television reported Sunday.
Two French tourists have been missing since Thursday when the ship struck rocks and eventually sank off the island of Santorini. All the other people on board — 1,154 passengers and 391 crew, according to operator Louis Cruise Lines — were rescued.
State-run NET television quoted from what it said were excerpts of his deposition to a public prosecutor on the island of Naxos, blaming currents off the volcanic island for the accident.
"I felt the ship, which had been on a normal course, slip to the right because of sea currents," NET quoted him as saying. "I gave the order for a full turn left. But there was not enough time for the ship to respond."
Authorities have not named the captain or five other crew members charged in the sinking.
The captain was indicted along with the other crew members on blanket charges of causing a shipwreck through negligence, breaching international shipping safety regulations and polluting the environment, the Cyclades islands public prosecution office said. All have been released pending further testimony.
Most of the ship's passengers were American, but also included groups from Canada, Britain, Spain, France, Australia, and the Dominican Republic.
Most rescued passengers returned home Friday and Saturday and some described the evacuation as poorly organized and chaotic.
"It was haphazard. It was makeshift. ... It wasn't an organized plan," William Christopher, a Miami firefighter who accompanied a school trip, told The Miami Herald after his return.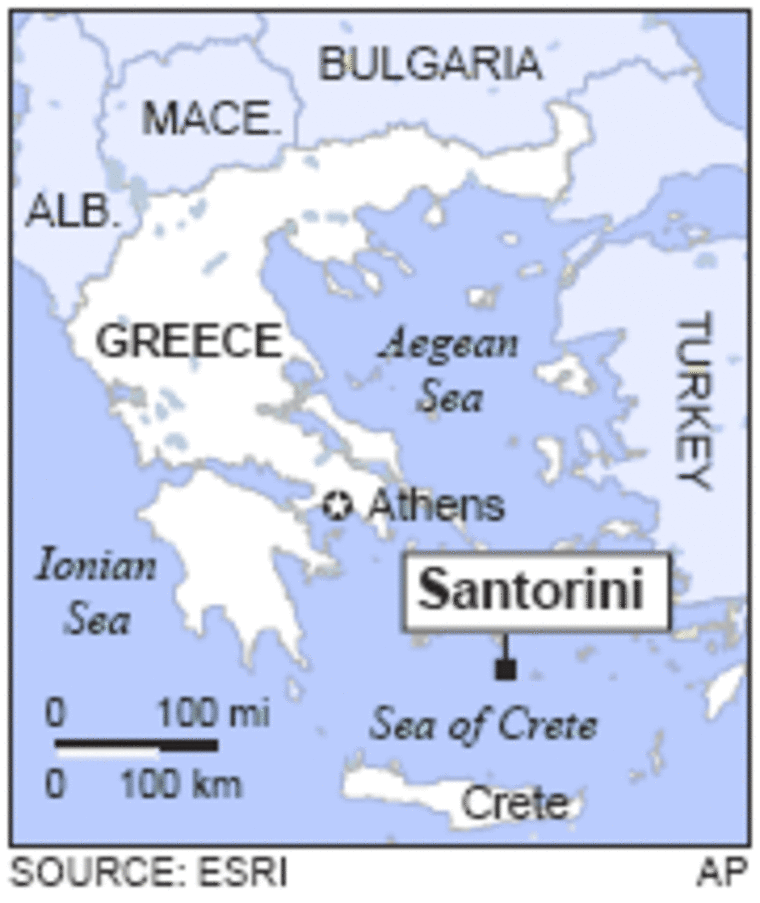 A group of Raleigh, N.C., high school students who were aboard the ship arrived home Saturday night to tears and hugs from their families. Another 77 students from a middle school in Winston-Salem, N.C., also flew home Saturday.
Vallyn Murphy was initially calm when she arrived at Raleigh-Durham International Airport, but burst into tears and ran to her parents when she saw them. She spent her 18th birthday evacuating the ship on Thursday. Once safely on land, her friends gave her a slice of apple pie with a candle stuck in it.
"Who else gets shipwrecked on their birthday?" she said. "I'm alive. I only lost my stuff. But it's just stuff."
The missing French passengers were identified as Frenchman Jean-Christophe Allain, 45, and his 16-year-old daughter, Maud.
The missing man's wife told authorities she had narrowly escaped from the family's flooding cabin on a lower deck, near the area where the rocks tore a hole in the hull.
Efforts to search the vessel for them were set to resume Tuesday, with the help of a remote controlled undersea probe which will be used to examine the vessel more than 300 feet underwater.
The ship's operator is part of the Cyprus-based Louis Group of tourism businesses, which has been involved in two other accidents in the past year.
The cruise ship Calypso caught fire in the English Channel last May and was towed to safety, with all 708 passengers unharmed.
Last October, two British children were found dead at a Louis-run hotel on the Greek island of Corfu after inhaling carbon monoxide, believed to have come from a malfunctioning boiler.