/ Source: Forbes Traveler.com
Space is at a premium in , and the harbor-view rooms at the manage to fit three stirringly distinct environments inside a cozy 400-square-foot space. An airy, tiled bathroom area opens onto the master bedroom, a nap-inducing wood-paneled chamber craftily separated from an bright window alcove by a set of heavy curtains — close them and it's lights out; open them and the harbor view streams through the room. It's an incredibly inviting exercise in spatial flow, locally referred to as feng shui.
Every hotel in a large Asian city is tasked with the same mandate – to make more with less. The results can often be wonderfully schizophrenic: quiet, earth-toned rooms rife with cutting-edge technology, hushed French dining salons set against pulsing nightclubs. Visitors at the at Marunouchi are perched on top of bullet trains pulling into Central Station, and the windows at the in Kuala Lumpur are primarily occupied by the Petronas Towers, which loom a few hundred yards away. The suites in these hotels tend to be small, elegant and heavily sound-proofed.
In compiling a list of the best hotels on the continent, we consulted with one of the most lauded group of ever assembled — an eclectic array of industry leaders, ranging from well-known names like Peter Greenberg of NBC's Today Show and Mark Bunting of the Discovery Channel, to consummate insiders like resort specialist Andrew Harper. The list we came up with can be roughly divided into four categories: grande dames, beach resorts, inland escapes and the aforementioned mega-city hotels.
The grande dame hotels — in , in , and the in — tend to share certain myth-laced themes. All of them are stately colonial structures, allo were occupied by the Japanese army during World War II and all have played host to famous writers (Conrad, Maugham, Coward) and matinee idols (Chaplin, Gable, Gardner). Grand Dame bonus points include the invention of a famous cocktail (Raffles: Singapore Sling), and a cameo in a James Bond movie (Peninsula: Man With The Golden Gun). These storied venues are perfect for lounging in wicker furniture beneath slowly rotating fans and perhaps penning a moody verse or two.
The inland escapes emphasize pastoral peace and quiet, along with a healthy dose of local culture. Visitors at in , a necklace of private villas sequestered amidst the rice terraces of Ubud, can enjoy a consultation with a local bomo, or faith healer. (Amandari was the first of the Aman Resorts, which went on to inspire cult-like hordes of hip travelers lured by tranquil locations and minimalist chic in spades.) , a colonial aerie at the base of the Indian Himalayas in Shimla, wins high praise for its Ayurvedic massages. And , set in the lush northern territory of Thailand, is known for an outdoor cooking school that's occasionally frequented by a pair of resident water buffaloes.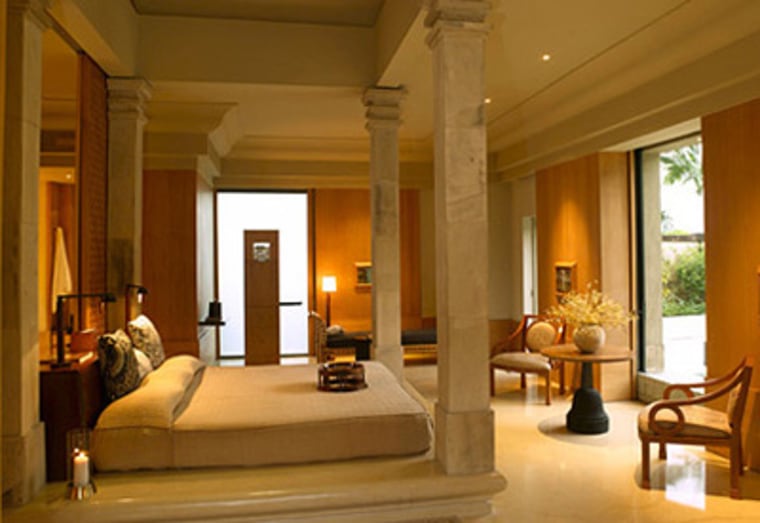 And then there are the beaches of Southeast Asia, which have moved more sensitive souls to tears – most famously Pavarotti, who described the Malaysian islands of Pangkor and Langkawi in distinctly celestial terms. It's a five minute walk to the Andaman Sea from the teak-hewn confines of in Langkawi, a route which typically involves sightings of monkeys and macaques. The trip is a little longer at the sprawling in Phuket (a favorite among Thai royalty), but it's made via a driven buggy. And not surprisingly, Bali has an embarrassment of resort riches: two Four Seasons, a Ritz-Carlton and three Aman ventures.
But these are just the highlights, and our admittedly crude categories don't do justice to singular properties like Seoul's , a kind of post-modern monastery for the jet set located on a private 23-acre park, or Thailand's in Hua Hin, staffed by more than 80 health and wellness experts. Read on to enjoy the best that Asia has to offer.