/ Source: The Associated Press
A menacing spring storm punished the Northeast for a second straight day Monday, dumping more than 8 inches of rain on Central Park and sending refrigerators and pickup trucks floating down rivers in one of the region's worst storms in recent memory.
"This one is really a horror show," Gov. Eliot Spitzer said after touring hard-hit areas north of New York City.
The nor'easter left a huge swath of devastation, from the beaches of South Carolina to the mountains of Maine. It knocked out power to hundreds of thousands of people and was blamed for at least nine deaths nationwide, including a New Jersey man who drowned inside a car.
The storm showed no immediate sign of letting up. The National Weather Service predicted showers through Wednesday night in the New York City area, with rain mixed with snow at times.
The storm was especially harsh in the Westchester County suburbs north of New York City and in New Jersey, where the state was placed under a state of emergency and more than 1,400 residents were evacuated — many by boat.
Vermont got about 17 inches of snow, with flakes still falling Monday across sections of Pennsylvania, New York and Maine.
At one point, nearly 700,000 homes and businesses had lost power from North Carolina to Maine.
"We have incredible amounts of damage," said Steve Costello, a spokesman for Central Vermont Public Service, describing power lines brought down by high wind. "I've never seen anything like it."
New Jersey authorities called it the worst storm to hit the state in 15 years. Five homes burned down in one town after fire crews could not reach the buildings because of floodwaters.
"There was debris flowing down the river like you wouldn't believe — refrigerators, I mean, you name it, it was going down the river," said homeowner John Vitro, whose basement at one point had water 5 feet high.
Flights were delayed Monday at the New York area's three major airports, where airlines canceled some 600 flights Sunday as wind gusted to 48 mph, according to the Port Authority of New York and New Jersey. Some stranded passengers slept on cots at LaGuardia Airport.
Dozens more flights were canceled Sunday in Philadelphia, Boston and elsewhere in New England.
60-mph gusts near Boston
Wind gusts registered 60 mph near Boston, where runners had to contend with rain and 52 mph winds during the Boston Marathon.
Gusts exceeding 80 mph in Maine toppled trees and drove rain that flooded roads and sank boats. In New Hampshire, a landslide forced the closure of part of the state's major east-west route, and winds blew out windows on oceanfront stores.
One person died in a car stalled in deep water in an underpass in New Jersey. Another person was killed by a tornado in South Carolina, and two died in car accidents — one in upstate New York and one in Connecticut. The same storm was blamed for five deaths earlier in Texas and Kansas.
In New York City, more than 8 inches of rain fell on Central Park, quadrupling the 101-year-old record for the date. In Croton-on-Hudson, north of the city, half of the commuter train station's parking lot was under water.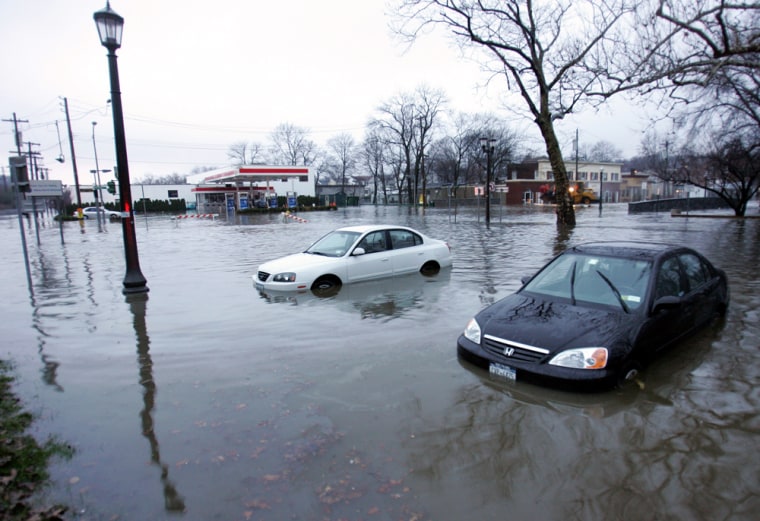 In nearby Mamaroneck, firefighters plucked Kathleen Reale, 41, and her twin boys from their window using a front-end loader. Knee-high flooding destroyed furniture in her garage and basement.
"I mean everything will be ruined," she said. "Everything will be gone. It's unbelievable."
Snow drifts stranded tractor-trailers on highways in Pennsylvania. Washouts, flooding, mudslides and fallen trees blocked roads from Kentucky to New England.
Pounding waves completely covered the beach at Hampton Beach, N.H., where residents reported up to 5 feet of water pouring through their front doors.
"We went to look, but the wind was so strong that you couldn't walk ... The wind just turned you back," said Linda Pepin of Bristol, Conn., who owns a condominium less than 50 feet from shore.
Coastal residents were urged to evacuate in parts of Maine, where Amtrak's Downeaster suspended service because tracks were washed out. Flooding delayed or canceled Amtrak service between Boston and Washington.
In Westchester County, north of New York City, all public schools were closed Monday. Cars were stalled in water on numerous roads and several major highways were closed at times by flooding.
Hundreds of people were briefly evacuated from their homes in southern West Virginia as crews worked to pump water from a private lake near Hamlin to keep an unstable earthen dam from collapsing.
Had the dam burst, millions of gallons of water could pour into Hamlin, Mayor Brian Barrett said Monday.
Fierce wind toppled trees onto a northern New Hampshire highway as Bob Eastman was driving through on Monday morning. "It was a wonder it didn't blow you off the road," he said.
Eastman said highways crew used chain saws and snowplows to remove the fallen trees.
In southeastern New Hampshire, parts of downtown Newmarket were evacuated because of flooding.
In Union City, N.J., a large section of a 4-foot-thick, 50-foot-high stone wall collapsed onto a busy road during the night, and rescue workers used heavy machinery and dogs Monday to see if any cars had been buried. "There could be, and that's the assumption we have to operate under," said David Curtis, deputy chief of North Hudson Regional Fire and Rescue.
An apartment building atop the wall was evacuated.
Boston Marathon still held
The storm gave about 20,000 runners in Monday's Boston Marathon something to worry about besides Heartbreak Hill as the course was doused with several inches of rain driven by wind gusting to more than 30 mph.
"When you live in the Northeast, you've got to respect this kind of weather," said marathoner Rob Comitz, 31, from Harleysville, Pa.
In Maine, however, Portland called off its Patriot's Day 5-Miler race for the first time in 78 years, because police were too busy with flooding, downed trees and power outage to secure the race route.