/ Source: Forbes Traveler.com
For every personality there is a perfect scuba destination. But with 70 percent of the globe consisting of water, and thousands of scuba destinations around the world, even the pickiest travelers will have trouble narrowing it down.
So put aside your nautical maps and read on, because we've assembled an expert panel of underwater adventurers to identify the 10 best scuba spots in the world.
The nature of the dive site's waters are what the panel took into consideration when choosing the top 10. While accommodations are important, for the serious diver, where you spend your time on land is hardly a factor in picking a site. There are certain base conditions that will guarantee a great dive site. "Vertical walls in deep, pollution-free water give divers face-to-face encounters with pelagic species … upwelling off points adds a rich food supply so these are where you will find [thriving marine life]," explains Jack Jackson, underwater photographer and author of dozens of books on diving.
Whether you're looking for dark caverns far below like the , the sunken ships of in the Philippines, the shallow reefs of Bonaire, Dutch Caribbean, filled with colorful fish, or the mysteries lurking in the murky waters of Dinah's Beach, Papua New Guinea, somewhere there is a wet wonderland ideal for you.
It was pretty much the consensus among our panelists that Palau, a group of over 200 islands in the western reaches of the Pacific Ocean is one of the best destinations for diving right now. Amy Christopher, Operations Manager of Ocean First Divers, an eco-friendly dive operation based in Colorado, calls Palau a "true one-stop shop." Corals, animals, caves, ship wrecks—this is the place.
"Whatever your diving pleasure, level of interest or experience level, Palau diving is sure to please," says Christopher. Nick Lucey, Editor at Large of Scuba Diving Magazine, likes Palau because of its remoteness as a dive site and the lack of tourists. "Diving in the Pacific or Indian ocean is wilder. It takes longer to get there, but you'll see stuff that you weren't expecting to see," he says.
Many divers consider marine life variety and accessibility to be the determining factors in naming their top dive destination. , and , are great dives if you're most interested in catching a glimpse of nature in action under the waves. "Cocos Island has earned the reputation as being one of the best big animal dive destinations in the world," says Christopher. We also had the PADI network (Professional Association of Diving Instructors) weigh in—ranking Cocos Islands at No. 6 in their top 10 best dive sites.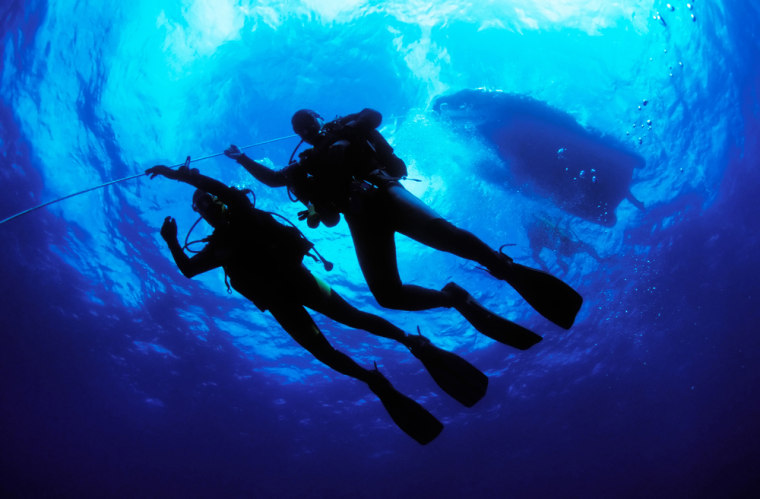 For divers more interested in the scenery, the interesting shapes and colors found in the color reefs and shallow diving of (ranked number No. 2 on the list of top 10 by PADI), , and , (PADI ranking of seven) are what push sites to the top of their list. "All sites [around Bonaire] are accessible from the beach," says Tom Morrisey, Executive Editor, Sport Diver Magazine. "You rent a pick-up and drive around the island shore diving around big yellow rocks that are numbered."
Divers like Jack Jackson are fascinated by the diving created by sunken ships. In the , Jackson considers the Umbria "the world's most photogenic wreck." , is also the idea spot for those looking for the wreck diving rush. "The area is littered with WWII Japanese shipwrecks," says Jackson.
If you want to get right into the goings on of the underwater playground, then head to in Papua New Guinea, home to what Jackson considers to be some of the best visibility diving (or "muck" diving).
Taking into account currents, water temperature, marine life, caves, sunken vessels, and visibility level, our experts have put together a list of the top 10 best scuba diving sites for every diver. So grab your wet suit and oxygen tank and jump in.