/ Source: The Associated Press
Stock markets plunged worldwide Friday as turmoil from the U.S. mortgage crisis rippled across the globe.
Stock markets in Europe tumbled, unappeased by the European Central Bank's decision to inject another 61 billion euros ($83.9 billion) into the banking system Friday, a day after it provided nearly 95 billion euros ($130.8 billion), the bank's biggest infusion ever.
London's FTSE 100 dropped 3.7 percent to 6,038.30, the CAC-40 in Paris fell 3.1 percent to 5,448.63 and Germany's DAX index was down 1.5 percent to 7,343.26.
In Asia, the Nikkei 225 index dropped 2.4 percent to close at 16,764.09 points on the Tokyo Stock Exchange. The broader Topix index of all shares on the exchange's first section sank 3 percent.
Matt Buckland at CMC Markets said losses on Wall Street, along with a lack of economic or corporate data due for release during the session, would push markets lower. The recent market volatility has wiped more than 500 points off London's benchmark index over the last month.
"Critically, many are now going to be looking for that big 6,000 level on the London index," he said.
Wall Street oscillated Friday after the Federal Reserve said it would do all it can to "facilitate the orderly functioning of financial markets" and twice injected liquidity into the banking system. The Dow Jones industrial average fell 387.18, or 2.83 percent, Thursday after BNP Paribas in France said it was freezing funds that invested in U.S. subprime mortgages. It fell an additional 212 points Friday before clawing back some ground.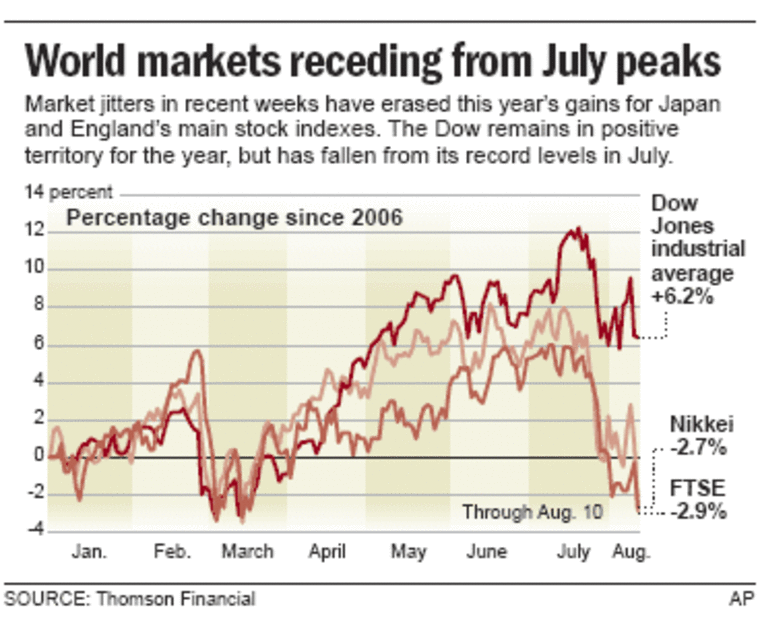 The Dow was down 73.08 to 13197.60 in afternoon trading Friday.
Many of the European declines Friday were in the banking sector, with Commerzbank down 2.9 percent, Deutsche Bank dropping 3.5 percent, Societe Generale falling 5 percent and BNP Paribas — which on Thursday announced the suspension of three asset-backed securities funds, saying it could not value them accurately — off 4.4 percent.
Allianz shares fell 2.7 percent after saying it has 1.7 billion euros ($2.3 billion) of exposure to the U.S. subprime market — or about 0.16 percent of its 1.03 euros trillion ($1.41 trillion) in total investments.
In Asia, short-term investors led the selling on concerns that hemorrhaging in the subprime sector could spill over, said Song Seng Wun, regional economist with Singapore's CIMB-GK Research Pte.
"There is no answer at this point," Song said. "But there hasn't been any panic selling. The long-term people are still looking and waiting."
Amid Friday's decline, the Bank of Japan said it injected 1 trillion yen ($8.39 billion) into money markets to curb rises in a key overnight interest rate.
The U.S. Federal Reserve also added a larger-than-normal $24 billion (17.4 euros) in temporary reserves to the U.S. banking system.
Turbulence in international markets affect the Korean index, said Kang Moon-sung, a strategist at Korea Investment and Securities Co.
"No one is confident this level is (the) bottom," Kang said.
Hong Kong's blue chip Hang Seng Index shed 2.9 percent to finish at 21,792.70.