/ Source: The Associated Press
Improved weather conditions on Wednesday helped thousands of firefighters, including hundreds from neighboring countries, bring under control dozens of massive fires that ravaged Greece over the past week and killed at least 64 people, authorities said.
Meanwhile, hundreds of people who lost homes, property, farms and livestock crowded into banks in southern Greece to receive up to $17,732 in aid promised immediately by the conservative government, which has been buffeted by allegations that it mishandled the fires. Polls indicated growing anger with the government ahead of early elections announced by Prime Minister Costas Karamanlis for Sept. 16.
There were no initial estimates so far on the cost to Greece's economy from the fires, which began late Thursday and have so far destroyed a large part of the southern Peloponnese peninsula — where most of the blazes were concentrated.
Cooler temperatures and abating winds began allowing the fire department to corral most fires into smaller more controllable blazes, Fire Department spokesman Nikos Diamandis said.
"From the first day that these large fires took hold of the country we had emphasized the need for the weather conditions to become our ally, even if only for 24 hours. This alliance took place yesterday," Diamandis said.
The fire department said that in northern Greece, at least two fires were burning out of control near the border with Albania, while on the hard struck island of Evia north of Athens all fires were under control.
In the southern Peloponnese peninsula, the fire department said it had managed to contain the fires.
A succession of heat waves since early summer and winds often of gale force had turned much of Greece into a tinderbox and hampered efforts to extinguish fires, which often erupted as fast as they were put out.
The fire department has not announced an overall damage assessment, but independent estimates say around 495,000 acres of forest, olive groves and scrub may have been consumed — the worst since official records started in the 1950s.
Although there have been no cost estimates so far, production from the destroyed areas make up only about 4.5 percent of Greece's gross domestic product — placing them among the poorest in per capita production. The areas are mostly agricultural, but also have significant service industries — mostly tourism — followed by some industrial production.
Red tape abolished
In the city of Pyrgos, hundreds of people crowded into bank branches to take advantage of a government promise to give them aid just by signing a single piece of paper vouching that the fires had damaged or destroyed their property.
"The prime minister ordered the abolition of all bureaucratic procedures that for years have been needed to receive aid in case of disaster," government spokesman Theodoros Roussopoulos said.
The Finance Ministry also announced it was suspending Value Added Tax payments — a form of sales tax — and outstanding income and corporate taxes in afflicted areas for six months and a ban on seizures of property for outstanding debts.
Although the government has already budgeted more than $400 million for such aid, the finance ministry has said the cost was expected to be much higher.
The fires are dominating political debate before the elections. Criticism that the government failed to respond fast enough — and its suggestions the fires resulted from an organized attack — could hurt Karamanlis.
Firefighting efforts Wednesday remained concentrated on the island of Evia and Peloponnese. But Diamandis said all major blazes were "generally receding."
"There is a serious danger for the next several days that fires will rekindle, so major firefighting resources will remain deployed," he said.
Most of the firefighters sent by 21 countries were operating in the Peloponnese, he said.
Poll sees some political damage
The devastation infuriated Greeks, who already had been stunned by deadly forest fires in June and July.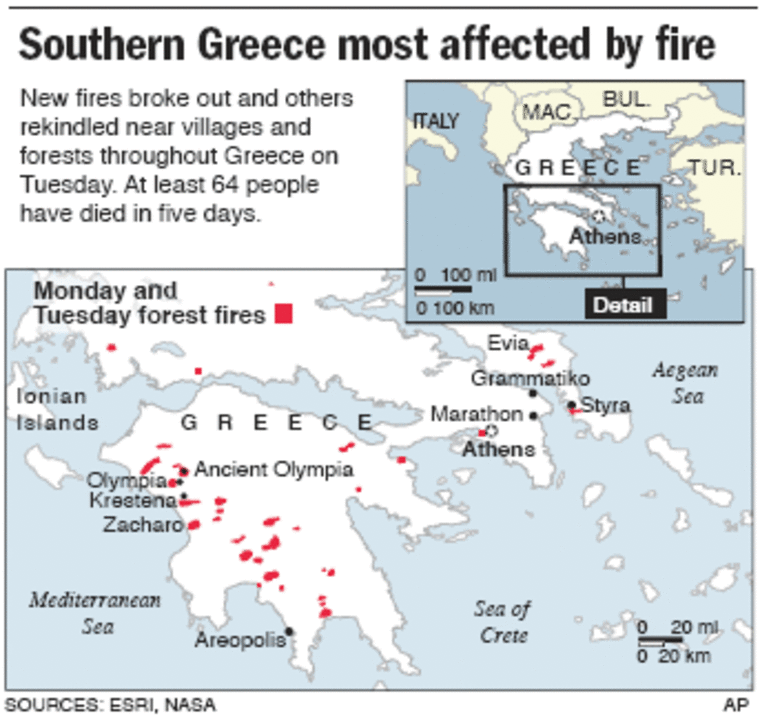 A nationwide opinion poll conducted Aug. 26-27 indicated support for the conservatives had slipped by 1.6 points in the last week, to 35.2 percent — still 2 points ahead of main opposition Socialist Party.
The MRB survey for private Alpha television, announced late Tuesday, projected bolstered support for three smaller opposition parties, suggesting a slim majority for Karamanlis' conservatives, who had 164 deputies in the last 300-seat parliament.
The survey of 1,309 adults had a margin of error of plus or minus 2.55 percentage points.