If you ever camped as a child, you probably have recollections of spending the night in a sleeping bag, going for days without showering, using an outhouse for a bathroom and cooking your own meals over a campfire.
Things have changed.
At the Lodge & Beach Village, a campground in Molokai, Hawaii, for example, campers enjoy golf, horseback riding and deep-sea fishing, all onsite. A deluxe spa, also onsite, provides such treatments as acupressure massage. Campers' accommodations have private decks, killer views and open-air (but private) baths. It's one of several sites offering visitors outdoor accommodations with deluxe amenities.
"Upscale camping is becoming more popular since a lot of people enjoy the outdoors and want to spend time in nature but don't want to give up their creature comforts to do it," says Mollie Fitzgerald, a luxury travel consultant at Frontiers Travel in Wexford, Pa.
Plus, she says, customers like the fact that luxury camping enjoys an air of exclusivity—few people know about it yet.
"It has the most cocktail party impact," she says.
Time-tested travelers
Experts say baby boomers make up most of the audience at such camps. According to a survey conducted in November 2006 by KOA Kampgrounds, a Billings, Mont., company that has 445 campgrounds in the U.S. and Canada, boomers rate camping as their favorite "soft-adventure" activity.
"Boomers enjoy camping," says Fitzgerald, "but are looking for a more luxurious travel experience."
In the last three years, KOA has started to give its campsites a facelift. Though campers have to bring their own tents, they can find touches like wine tastings, Jacuzzis, swimming pools and even pizza parlors that deliver.
"The changes we've made are completely market driven," says Carol Preble, vice president of franchising service for the company. "People are looking for more comfort and luxury when they go camping."
Camping in Canada
KOA plans to keep adding upscale features to all of its camps so that they resemble the 1,000 Islands/ Ivy Lea site in Ontario, Canada. Here, campers can watch the latest and classic movies at the movie theater, soak in the 21-foot hot tub with a waterfall, work out in the fitness center or play video games in the large arcade. The site also organizes daily events such as ice cream socials and barbecues.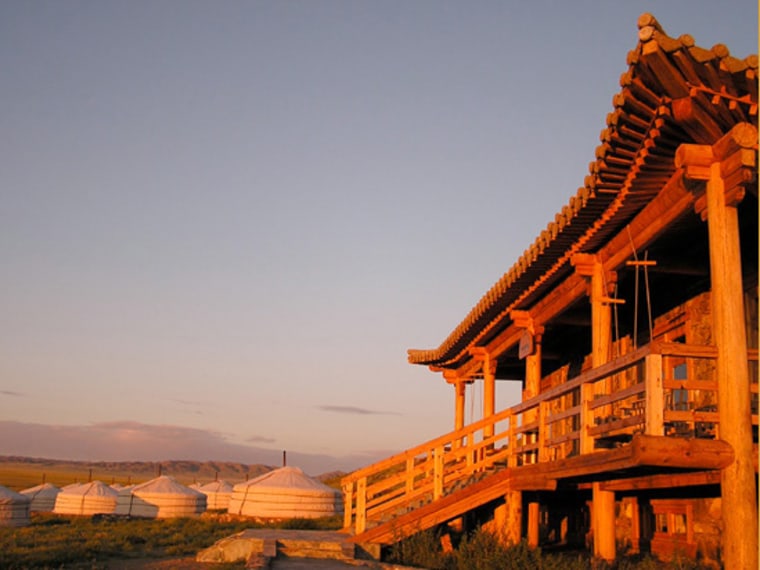 Though there is enough at the campsite to keep vacationers entertained, the area also offers plenty to do. There are 40 golf courses nearby such at the 18-hole Smuggler's Glen built among the rolling hills the region is known for. Travelers can also boat and fish on the St. Lawrence River, hike on nature trails and visit Boldt and Jorstadt Castles.
Coastal camps
California offers several luxe camping sites such as Costanoa in Pescadero, an hour south of San Francisco and situated on a rugged area of coastline. You can pitch your own tent or stay in one of its tent bungalows, which have waterproof canvas walls, electricity and water views. Three comfort stations with heated concrete floors, hot showers and a sauna are provided for guests. The site also offers wireless Internet for e-mail addicts. An outdoor hot tub and a spa with treatments such as a deep tissue massage are some of the other amenities.
Activities include horseback riding, surfing and hiking in one of the nearby state parks such as Big Basin, which has 80 miles of trails. Travelers can also visit local farms to go berry picking and cheese sampling.
Last year, the Four Seasons opened a camp at the Golden Triangle in Thailand. Guests stay in 15 canvas tents, which have outdoor showers, king or twin beds, copper bathtubs and high-speed Internet access. The camp is surrounded by the Ruak and Mekong Rivers, the Burmese border, the mountains in Laos and the jungle. The camp organizes trips down the rivers and hiking on the mountain trails. Guests also can ride elephants through the jungle. There's a spa and an open-air restaurant that serves Thai cuisine, such as grilled fish in banana leaves.
It may be camping, but experiences like these don't come cheap.
While most barebones sites charge $10 a night, the prices for upscale camps run higher. A night at Costanoa starts at $115, for example, and the Four Seasons camp costs $1,550 for three days. The KOA property in Ontario comes in the lowest with prices starting at $27 a night.