/ Source: Forbes Traveler.com
Racing through ten European countries in as many days is nice if you're a student with a rail pass or diplomat on a multi-city charm offensive, but given the choice, who wouldn't choose to cruise instead? An unparalleled network of waterways and luxury vessels makes slowing down a cinch. You might opt out of the escargot served aboard a luxe barge in Burgundy, but lush scenery, fairytale castles and historic villages are, frankly, best appreciated at a snail's pace.
Charlemagne was the one who initially dreamed up the idea of linking Europe's natural waterways, but that was the 8th century and the idea didn't really catch on until the completion of the Rhine-Main-Danube Canal in 1992. That allowed cruises to operate along a 3,000 mile-long river network. Fast forward to 2007, and river cruising is experiencing a bona fide boom. It's all about exploring Europe in comfort, and whether deluxe boats boast top decks with bikes, upgrade their décor with designer cachet or plan to showcase the wines of the Wachau Valley in Austria, it's clear each has a distinct personality.
Peter Deilmann Cruises, which offers more than 265 sailings aboard nine deluxe riverboats between late March and early November (on mostly seven-night cruises), is big on service: According to Richard De Sousa, Sales and Marketing Director, "the ratio is one crew member for every 2.5 passengers, which means we can offer extras such as room service for continental breakfast." For entertainment, glitzy Las Vegas-style entertainment is out as each cruise has a steady flow of performers board their ships at water's edge, such as gypsy singers in Budapest and an operetta star in Vienna.
Other leading float-through-Europe choices are Amadeus Waterways, Avalon, Uniworld, Viking Cruises and Vantage. All these lines are linked by the fact of their having fewer passengers than the big ships, less waiting and open seating for all meals. James Murphy, Chairman of California-based Amadeus Waterways, says "Americans gravitate to river cruising because the concept is easy, everyone dines at the same time, you unpack just once, and the staff is English speaking."
Dozens of ships plying European waterways share the same criteria: They cannot exceed 38 feet in width, 418 feet in length, and generally can have no more than three decks. Most carry between 164 to 176 passengers. These boats may be outwardly alike, but they're actually quite distinctive in terms of cuisine, style, décor and even staff. On any given day in Amsterdam's harbor you might find long, slender boats sporting names like Amadagio, Mozart, Monet, the River Navigator, the Victor Hugo, the River Royal or the Avalon Poetry neatly floating a few gently competitive feet from one another. They're often "rafted together" making it necessary to walk through other ships to embark. I recently journeyed aboard Amadeus's Amadagio on its "Tulip Time" itinerary. Passengers paid between $1,799 and $1,999 per person (without airfare) for deluxe accommodations, all onboard meals and shore excursions to Volendam, Edam, Antwerp, Ghent, Willemstad, Dordrecht and Utrecht.
Chef Rainer Buss created a diverse gourmet menu with regional specialties reflective of where the ship happened to be. (Of course, there were always hamburgers, Caesar salad and a divine mozzarella-salami pizza on the menu for those in a comfort food mode.) Two different red and white wines were on offer each night. You could sip varieties such as Rheingau Riesling, Dry (2006) and Rosso di Montalcino (2004) paired with an appetizer such as crab cakes and green shell mussels with sweet chili sauce, follow it up with an entree like rib-eye steak with glazed balsamic shallots and then decide whether or not you had room for a frozen poppy seed parfait with strawberry flip—there was never any particular hurry. For my roommate, dinner aboard the ship became a veritable winefest. She sipped her way through Amsterdam, Antwerp and all those lovely villages, buying local wines along the way. The last morning of the cruise she remarked this was the perfect way to tiptoe through Keukenhof's famous tulip gardens.
Even absent a midnight buffet, river cruise dining is no low-calorie affair. Which explains why so many passengers made beelines to the top deck of the Amadagio—not just for the views, but to grab one of the 40-odd bicycles on the top deck, ideal for forays into the towns along the route. Fitness expert Sheila Cluff, owner of the Oaks at Ojai spa in Ojai, Calif., and a guest lecturer aboard the cruise, felt that substituting brisk bike rides for midnight buffets was a real plus, regardless of one's age.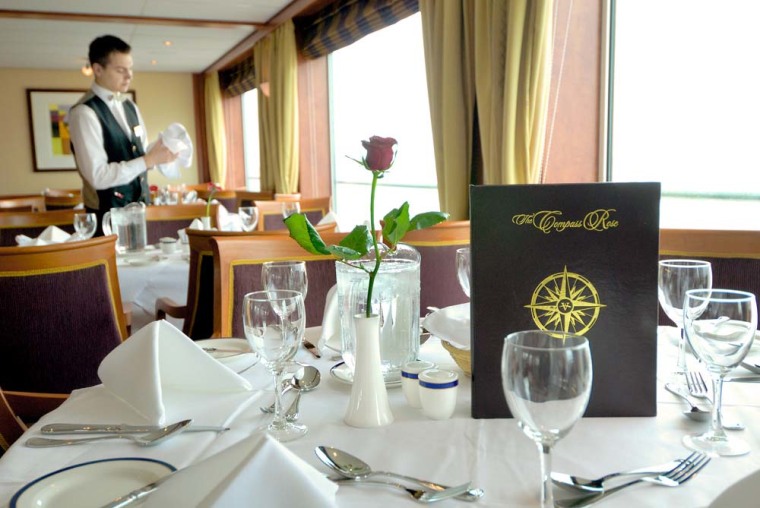 European river cruising is a natural magnet for the fifty-plus crowd. There are no day camps for kids or accommodations for teenagers. And no complaints about strollers or crying babies at the dinner table. David Gaventhor, Executive Vice President of Product Planning and Development for Vantage River Cruises, says that Vantage "caters to the American clientele and the average age our passenger is the mid-60s range. We are single-friendly and have a roommate-matching program which means if we can find you a suitable roommate, you are entitled to travel at the 'bedrate' or you have the option of paying 25 percent above the double occupancy rate."
This year Vantage has ramped up its cruise menu with themed journeys. The new Culinary Cruise aboard the MS River Discovery features celebrity Chef Tell (aka Chef Friedman Paul Erhardt), who takes over the kitchen with cooking demonstrations while presenting passengers with a gourmet menu featuring his exclusive recipes. Gaventhor says the River Discovery "has a six-star ambiance," including a glamorous Owner's Suite replete with French balconies with floor-to-ceiling sliding doors plus all of the regular amenities of the newer cruise ships (private bathroom, flat-screen TV and an in-room entertainment system) along with room service, which is not de rigueur on many ships due to the smaller staff passenger ratio. The cost, $4,815 per person, puts you in posh surroundings for a 12-day Waterways of Holland & Belgium Tulips, Windmills and Canals cruise. There are also eight Junior Suites priced at $1,000 or less per person.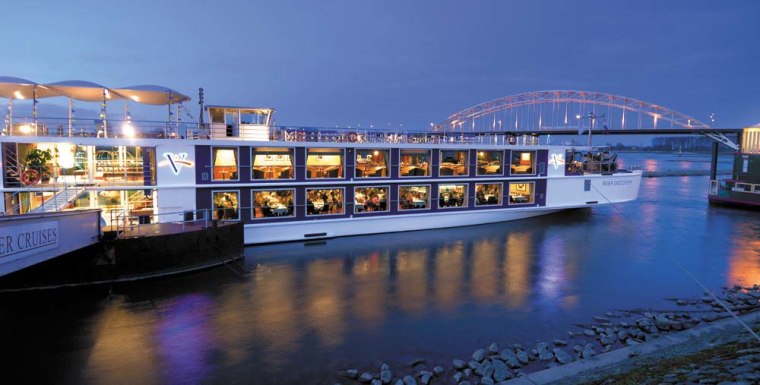 One line that actively courts families is Uniworld, whose Family Program has proved popular with grandparents, parents and children. According to Maria Grimardi, Uniworld's Vice President of Marketing, "Many family groups want to return to their roots, visiting their birthplaces in Belgium, Holland and Hungary. And everything is built into our package." That includes not just complimentary transfers but also winning décor by British hotel legend Bea Tollman, who's known for her work for the Red Carnation Hotel group, and designer bath amenities by Charlotte Rhys.
Patrick Clark, Managing Director of Avalon Cruises, says the company operates five ships, including the Avalon Poetry and Avalon Artistry. Two cruises this October focus on European wines. "Avalon seeks to integrate the culture and cuisine of Europe into its itineraries," Clark says. In addition to Avalon's 12-day Legendary Danube cruise, this year, Clark adds, "we offer a Hungarian Wine Summit, a wine festival in Gols, Austria, and a music theme aboard a 14-day Amsterdam to Budapest cruise." The chic Avalon Scenery will be inaugurated in March 2008. This ship promises an innovative itinerary, adding two nights in Paris and one in Nice in addition to the seven-night cruises between Chalon and Arles.
Come winter, river cruises swing into their Christmas Market tour itineraries: the perfect way to spend Christmas or toast the New Year in Vienna. Amadeus Waterways has nearly sold out three cruises aboard the MS Amadagio and the MS Amalegro. With a European crew of 41 serving 71 staterooms, these cruises depart from Budapest or Amsterdam, visiting enticing towns where many Christmas traditions originated, such as Koblenz, Bernkastel and Regensberg. Bring along an empty suitcase, because this is the ultimate floating shopping expedition.