/ Source: The Associated Press
The criminal investigation of New York's former police commissioner is on track to crash headlong into the GOP presidential race - and Rudy Giuliani's final push for the nomination.
Since former Mayor Giuliani began campaigning, he has sought to distance himself from Bernard Kerik and to blunt the political fallout from his relationship with his ex-police commissioner, business partner and close friend.
Giuliani has accepted responsibility for his role in Kerik's embarrassing 2004 withdrawal as President Bush's Homeland Security nominee amid tax problems. Ethics questions and corruption allegations also have swirled around Kerik.
"I made a mistake in recommending Bernie Kerik to the president," Giuliani says often, adding that he should have more thoroughly vetted his associate of nearly two decades.
Kerik indictment or plea possible
Such acknowledgments may not be enough for Giuliani to emerge politically unscathed as prosecutors wrap up their investigation of Kerik on multiple federal felony charges. Kerik is expected to confront the results of the investigation as early as next month - and it's widely believed he will either be indicted or reach a plea agreement with prosecutors.
Should prosecutors charge Kerik and the case reach trial, Giuliani could end up being called to testify during the general election campaign. Should Kerik agree to a plea deal, he could be admitting guilt on some level for activities that may have taken place while the city employed him - and on Giuliani's watch.
At the very least, the case will be in the headlines again, especially if soon-to-be-confirmed Attorney General Michael Mukasey, another Giuliani friend, recuses himself from any Justice Department prosecution of Kerik.
The politics of relationships
Giuliani aides play down any political implications, but they acknowledge that Kerik's woes could be a distraction during a period in which they want their candidate promoting his vision for the country.
"It will matter significantly if his opponents bring it up," said Robert Y. Shapiro, a Columbia University political science professor. "And, they very well might, especially if he's the front-runner."
If Giuliani wins the nomination, Shapiro said, "the Democrats will make this an issue. You can count on that."
So far, Kerik's troubles haven't seemed to nick Giuliani's primary campaign narrative that he's a Republican who tamed a Democratic city and heroically led New York after the Sept. 11, 2001, terrorist attacks.
Giuliani leads other Republicans in national polls and is competing strongly in early voting states. Rivals have stepped up criticism of him lately, and Kerik's case would give them more fodder.
Opponents Mitt Romney, Fred Thompson, John McCain or Mike Huckabee could use Kerik to try to define Giuliani as somebody who lacks good judgment and surrounds himself with unsavory people.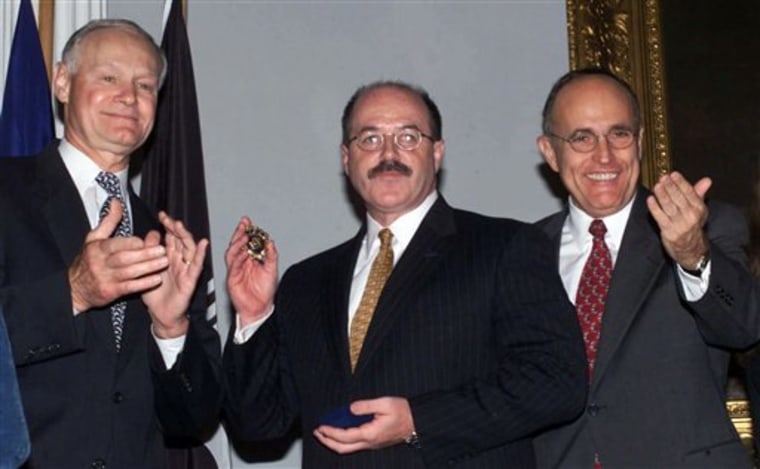 "This speaks to issues of ethics and corruption. It speaks to capability and leadership," Shapiro said. "Giuliani plays up his leadership as New York City mayor, and Kerik was a part of that."
Investigation nearing end
Federal prosecutors in New York have spent more than a year pursuing criminal charges against Kerik, reportedly including bribery, tax evasion, obstruction of justice, providing false information and conspiracy to eavesdrop. Kerik rejected a plea deal in the spring.
Kerik attorney Kenneth Breen met this week with federal prosecutors in White Plains, N.Y., to discuss possible charges. A second meeting with Washington officials is set for Monday in New York - viewed as Kerik's final bid to convince the Justice Department that any tax issues could be resolved with less severe civil penalties. If not, an indictment could come within weeks.
Breen and prosecutors declined to discuss the negotiations.
'Bernie was a mistake'
As they have conversed, Giuliani has answered repeated questions about Kerik with a stock response.
"Bernie was a mistake. I would have checked him out more carefully than I did," Giuliani said this month, referring to his support of Kerik for a Cabinet post. "He was a person of tremendous achievement, who had some things in his background that we should have done a better job of figuring out and finding in our investigatory process, and we didn't. And that was a mistake."
Political corruption could be a potent issue following a spate of scandals in Washington involving both Republicans and Democrats. An Associated Press-Ipsos poll in June showed that 63 percent of people ranked corruption as an important issue, ahead of immigration, abortion and gay marriage.
Giuliani's association with Kerik goes back to the late 1980s. Giuliani is the godfather of one of Kerik's daughters.
Kerik served as Giuliani's bodyguard and driver during the 1993 mayoral campaign. He then led the city's corrections department and police department.
After leaving the police force, Kerik joined Giuliani's firm, Giuliani Partners, and became chief executive officer of an affiliated security consulting company, Giuliani-Kerik.
Bush nominated Kerik for Homeland Security chief in 2004, but Kerik abruptly withdrew his name after acknowledging he failed to pay all required taxes for a family nanny-housekeeper who might have been in the country illegally.
Kerik severed ties with Giuliani's companies as controversy continued. In 2006, Kerik pleaded guilty in the state to accepting $165,000 in renovations to his Bronx apartment from a construction company attempting to land city contracts.