/ Source: The Associated Press
Coby Asmah is a success in a part of the world that is hardly ever equated with success.
The design and printing business he launched from his dining room table 14 years ago now employs 54 people. He drives a new gold SUV, dresses as sharply as any Madison Avenue executive and vacations in the United States. And despite winning U.S. citizenship, he has chosen to stay in Ghana.
Asmah belongs to an Africa all but unknown outside the continent — one of growth and business opportunity, with a tiny but rapidly spreading middle class.
Fifty years after Ghana became the first African country to gain independence, Africa's economies are expanding by 5.4 percent a year — compared to a world average of 4.2 percent — and are projected to hit almost 7 percent next year. Investments are up. Banking firm Merrill Lynch & Co. concluded that Africa now offers investors as much potential as Russia.
These signs of economic hope come as the world is increasingly aware of its broader stake in Africa. Rich countries fear any disruption in the flow of resources out of Africa, which now rivals the Middle East in the quantity of oil it sends to the United States. Terrorism has revealed the danger of failed states, and hundreds of thousands of African immigrants flee to America, Europe and the Middle East every year.
The picture across the 48 countries of sub-Saharan Africa is still very much a patchwork. But a yearlong exploration by The Associated Press shows that progress — while fragile — is finding a foothold, in spheres ranging from democracy to education. Perhaps most strikingly, after few results from five decades of advice and $568 billion in aid, today's developments in business, education, government and other areas are being led by Africans themselves.
There is a new sense among many Africans that it is up to them to rethink their continent and challenge the West to do the same. The change shows up all over — in newspaper editorials, in a regional partnership for African leadership, in the revamping of the African Union, in a newly aggressive stance for fairer terms in agricultural trade, and in the confidence of entrepreneurs like Asmah.
"The change of thinking has been coming from Africa," says economist George Ayittey, a Ghanaian teaching at American University in Washington, D.C. "Civil society in Africa is becoming more and more empowered and emboldened, and they are driving the agenda."
One man's success
Signs of prosperity are everywhere in this country of about 23 million people on the west coast of Africa. New roads are choked with cars, construction cranes dominate the skyline and shops brim with televisions, air conditioners and luxury goods. Real estate prices in the capital, Accra, rival those of an average American city, with a four-bedroom home in a nice area selling for over $500,000.
Asmah's office and printing press are located in a middle-class neighborhood of older homes converted for business.
Asmah, 42, was an artist in the Ministry of Education in 1993 when he first started selling graphic designs to friends. Soon he was ready to give up the secure government job, which for most of Africa's history was the hallmark of success.
He launched Type Company with money borrowed from family and friends. Business grew rapidly — almost too rapidly. Type Company had to outsource printing to others in Ghana, and the quality fell.
So Asmah bought a state-of-the-art, custom-made printing press and other equipment from Germany for more than $1 million. He diversified into security printing for banks, colorful packaging for local products and annual reports for dozens of businesses, which, like his, are homegrown and growing.
"Once you have a solution to someone else's problem, you have a business," says Asmah, whose polished appearance and calm demeanor project the image he wants for his high-end designs, despite a cluttered office full of computers and printers. "There is a lot of opportunity, because here, there is not a lot that is done right."  
Things not done right trip up businesses like his. It took five years to persuade a bank to help him lease $10,000 worth of equipment. Financing in Africa is hard to get, with high interest rates and stringent requirements. Government tariffs on paper and ink also drive up his costs, and he can't compete with preprinted imports because they are not taxed.
The 'cheetah generation'
But Asmah says the odds of success in Africa are greater than anywhere else, including America.
Asmah is part of what economist Ayittey calls Africa's "cheetah generation" — young entrepreneurs who are fast, smart, adaptable and ready to tackle Africa's problems. Eventually — and it will take time — he predicts the cheetahs could overtake the bureaucrats and dictators who blame Africa's problems on colonialism and don't address them.
It is already happening in Ghana. Democracy is strong, and the economy is growing by 6 percent a year. The World Bank recently praised Ghana as one of the leading business reformers in the world. Ghana's debt is down by more than two-thirds, and inflation is under control.
Economic stability in turn draws investment. Foreign investment in Africa rose to a record $39 billion in 2006 from $31 billion just a year earlier, only partly because of oil revenues.
"It's a young economy and anyone who looks into that will see that Ghana is a safe terrain to be in," notes Asmah, who says his business exceeds $1 million a year in revenue and brings profits of 30 percent. "Returns on investment here are 20 percent higher than anywhere else."
'Black diamonds' emerge
Accra's first suburbs sprawl northward from the Atlantic Ocean, low-slung bungalows that stretch out on generous plots surrounded by high brick walls. Wide roads are laid out in a perfect grid. The neighborhood is in various stages of construction, but the shade trees around the more established homes hint at its future charm.
Mavis Boayke, 30, shares one of the new four-bedroom, cream-colored bungalows with her banker husband, her four-month-old son and her mother. Every workday morning, she climbs into a taxi for the 45-minute drive into her office in town.
Boayke is a department head at Type Company who supervises the digital graphic design team. The daughter of a poor civil servant laborer, she spent two years of mandatory government service producing drawings for Ministry of Health brochures. Afterward, she went straight to work because she could not afford university.
Now Type Company is paying $800 a month for her to go to university part-time, and she lives a solidly middle-class life. She and her husband watch Christian satellite television on a Sony Corp. home theater system. They shop at a new mall. They eat pizza at a South African fast food chain, and belong to a middle class sometimes nicknamed "black diamonds."
"I am making three times or four times what my father was making, and sometimes he looks at me and marvels and says, 'I am happy you are doing well in life,"' Boayke says.
Boayke is an example of how wealth from companies is slowly trickling down through communities, in a part of the world where each worker supports six people on average.
In 2000, Africa's middle class of 12.7 million people made up just 2 percent of the population, according to the World Bank. By 2030, it is expected to more than triple to 43 million, or 4 percent of the population.
Overwhelmingly poor continent
However, Africa remains overwhelmingly poor. Ten percent of the world's poor people now live in Africa, and that is expected to rise to 13 percent in the next 25 years.
The best hope for the poor could be private enterprise, which creates 90 percent of the jobs in developing countries. But business is dragged down by a lack of education, unreliable power, bad roads, disease and a long list of other problems.
Choking bureaucracy means that it takes 95 days to start a business in Tanzania, 138 days in Ghana and 177 days in Chad. In Australia, it takes one day.
Recently, African countries have begun to cut business costs and red tape, according to the World Bank. Ghana lowered corporate taxes and slashed paperwork at customs. Tanzania has reduced the cost of starting a business by 40 percent. Kenya is simplifying its business licenses.
Boayke has been bitten by the entrepreneurial bug herself.
"The plan is that in three years, I will start something on my own," she says. "My husband wants me to start now because he thinks I will make more money, but I think I need to make more contacts before I start."
Globalization helps, hurts Africans
Near the port in Accra, the Ghanaian government has set up duty-free industrial zones to spur international trade. Hand-painted logos adorn the walls of the warehouse-style buildings, and their large wooden doors open off the loading docks. At lunchtime, women sell hot meals of beans and rice to workers in the shade of the eaves.
This is where Nora Bannerman's factory makes dresses and clothes sold in American department stores and lab coats worn by pharmacists at Walgreens and CVS in the United States.
Bannerman, who has made clothes since she was nine years old, is an icon in Ghana. She wears designer sunglasses as she drives through town in her cobalt-blue Mercedes Benz. She will not reveal her age except to say she was born in the Gold Coast, Ghana's name before independence. Her fashion design school has trained more than 100 students, and many have since set up their own businesses.
Bannerman's story shows how globalization both helps and hurts Africans in their desire to move ahead.
Easier trade gives Africans access to millions of people with money to spend, and Bannerman's designs sell in the United States, France, Germany and Switzerland. But it also brings competition, especially from China, which plays a growing role in Africa.
China imports raw materials from all over Africa, such as Ghana's timber and minerals. In 2005 Ghana's trade with China increased 35 percent to $816 million, making China its top trading partner. And China is investing — it loaned Ghana $30 million to build a national fiber optic network.
African's can't compete at times
Yet China also floods the world with goods so cheap that Africans can't compete. Bannerman says Chinese companies mass-produce, without permission, her designs and traditional African fabrics at prices below her cost of production.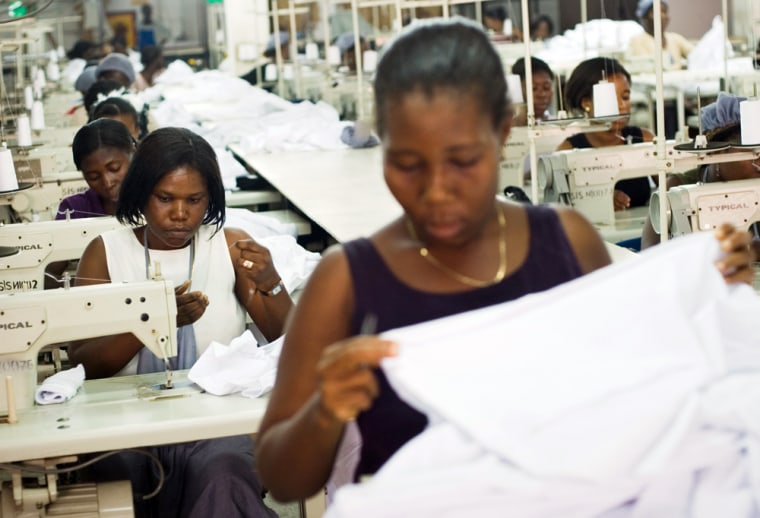 "China has been going all over Africa, picking out the good ideas," says Bannerman, sitting in her factory office. "While we were still doing high-value, hand-woven kente cloth, China came out with kente prints that are selling well to the United States."
Bannerman says her American buyers constantly pressure her to cut prices. But she won't and can't cut wages — the U.S. African Growth and Opportunity Act requires African exporters to meet human rights standards that do not apply to China, because of international trade rules.
Bannerman also has to pay high taxes on all imported cloth and thread that further raise her costs to export. And she competes within Africa against second-hand clothes from international donors that are not taxed.
She says all she and other African business people need to succeed is a fair playing field. "We don't want a situation where we are asking for aid all of the time," she says.
Africa has a long history of international trade. The 1st century gold coins of the royal families of Axum, in present-day Ethiopia, have been found as far away as India. Yet the continent today accounts for only 4 percent of global trade.
Hope rising
On the roads in almost every town, small-scale entrepreneurs balance on their heads everything from vegetables and ice cream to DVD players and television aerials as they sell to drivers stuck in traffic. But most of those goods come from overseas — $273 million left the continent in 2005.
Capital inflow to some African countries, including Ghana, is now rising. And so is hope.
This year's study by the Pew Global Attitudes Project found that despite crushing poverty, majorities in nine out of 10 African countries surveyed believe their lives will be better five years from now. Surveys in 12 African countries from 1999 to 2006 by the Afrobarometer Network, an independent research group, also found growing optimism.
Asmah says Africans can and will work hard to succeed, and he is trying to spread the wealth in his country.
He supports a business plan competition that gives advice to 60 promising entrepreneurs and helps them build contacts, in partnership with business promoter TechnoServe and Google.org, the Internet company's philanthropic arm. The top 20 winners get a jump start in their new enterprise.
The name of the competition: "Believe, Begin, Become."