/ Source: Forbes Traveler.com
If ever there was a rallying cry among business travelers, it would be their unanimous disdain at having to overnight at yet another forgettable airport hotel. And who could blame them? Underwhelming compared to their stylish downtown cousins, airport hotels—with their ghastly wall-to-wall carpeting and cookie-cutter leatherette sectionals—had become the sclerotic bête noire of the industry.
But now, as posh trappings and upgraded amenities become standard fare across the board, the lowly, downtrodden and oft-maligned airport hotel, too, is getting a much-needed facelift. In fact, according to projections by Bjorn Hanson, the head analyst at the hospitality division of PricewaterhouseCoopers, airport hotels rank second behind luxury hotels in the estimated $5.5 billion the industry spent on capital investment on existing properties in the U.S. in 2007.
Those figures are welcome news to jaded business travelers like Scott Norvell, whose many stays at subpar run-of-the-mill airport hotels encapsulates the sentiments of many hardened road warriors. "I gave up on airport hotels after my last experience in Abu Dhabi," says the Fox News London Bureau Chief. "Frankly, I have yet to find an airport hotel that makes the convenience worth the effort. I'd rather sleep on a sofa in the business lounge if it comes down to it."
Happily for Norvell, he needn't look too far for a first-rate example. At London's Stansted Airport, home to a raft of low-cost carriers but also business class-only airlines Eos and MaxJet, to say nothing of newcomer American Airlines, the recently-opened Radisson SAS is a swish example of the new generation of slick airport hotels popping up all over the map.
"Four distinct food and beverage outlets, design-led bedrooms and full meetings and fitness facilities ensure that this hotel is a cut above [the rest]," says Tim Cordon, its general manager. "The hotel's centerpiece is a 13-meter-high wine tower which holds 4000 bottles of wine obtained each evening by 'wine angels' who fly on cables to retrieve your choice."
Beyond providing convenient shelter for time-constrained guests, hotel chains with airport outposts have recognized that in order to attract new customers they need to not only spiff up their appearance but also shower their guests with amenities once reserved for resort properties. That includes everything from top-notch penthouse suites with butler service and spa treatments to luxuries like fully-functional fitness centers with saunas and swimming pools—all of which are on offer at Kempinski's Munich Airport location.
"To my knowledge, the Kempinski was the first luxury hotel at any European airport," says Holger Schroth, the hotel's general manager. "Many others tried to follow our example, but we have kept our uniqueness in this niche market," he says of his five-star property, designed by the well-known Chicago-based architect, Helmut Jahn, in futuristic steel-and-glass.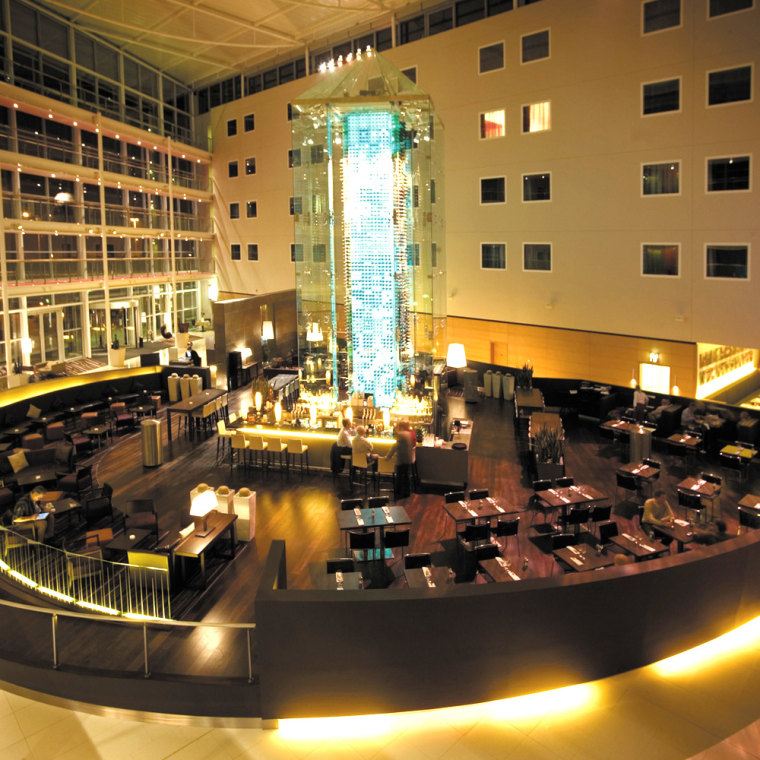 And Jahn isn't the only A-list designer to create a personal sanctuary for the harried traveling classes within eyeshot of the tarmac—or to employ an arch-modernist design ethos while doing so. As airport hotels reinvent themselves to lure savvier guests, whether that's an overnighter from an on-the-fly businessman or a conference from a multinational, the companies managing or running them direct the attention usually reserved for their flagship city-center properties.
Consider the fast-growing Radisson SAS chain, which tapped renowned Milanese architect Matteo Thun to fashion their Frankfurt airport hotel. The result? A soigné $135 million nearly 300-foot-high glass disc topped by a stunning 5,300-square-foot wellness and fitness center, with an infinity pool from where guests enjoy panoramas of downtown Frankfurt.
That same transparent state-of-the-art philosophy is what you'll find at the new Grand Hyatt, which is integrated into Dallas-Fort Worth International Airport's equally new $1.4 billion Terminal D: a sprawling two million-square-foot structure that brings a touch of European élan to the world's third busiest gateway. The posh 298-room glass cube spreads over 12 floors with rooms done up in earth tones and rigged out with flat screens, pillow-top mattresses and separate shower and soaking tubs.
And it is these very luxuries and other well-appointed features (think heated marble floors, stylish backlit bars, goose-down duvets), be they wrapped up in a brand new or renovated hotel, that most frequent travelers now expect, say experts. "Business-oriented hotels are needing to respond to the wants and expectations of business travelers," says Bjorn Hanson, the head analyst at the hospitality division of PricewaterhouseCoopers.
And they are. In fact, according to Jan Freitag, Vice President of Global Development at Smith Travel Research, a leading information and data provider for the hotel industry, there are currently "twenty or so airport hotels in the planning stages, including upscale or up-market properties in Chicago, Salt Lake City, Austin, Phoenix, San Francisco."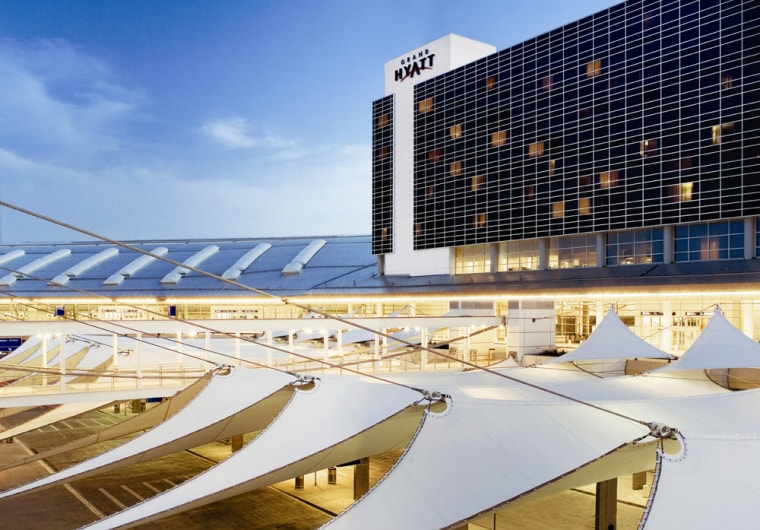 That "up-and-coming trend" can be explained by "the high occupancy and also by the good rates that can be achieved" at airport hotels, says Freitag. "The occupancy rate for airport hotels, year to date through October of 2007, was 71.4 percent," he explains. "That's a very healthy occupancy rate when you compare it to non-airport hotels, where it's 65.1 percent."
And frequent travelers, who vote with their overnight stays and make up a disproportionately higher share of customers at airport hotels (some 70 percent), are now seeking out those luxe amenities once they disembark from either a red-eye or a transcontinental voyage. According to Hanson, of PricewaterhouseCoopers, bookings resulting from flight delays and flight cancellations figure into that statistic. But the convenience of upscale fly-in/fly-out facilities is the paramount motivator.
Which is why Sofitel's new $395 million mega-hotel at Heathrow Airport's Terminal 5 will become a hit with time-pressed trans-Atlantic commuters when it opens next spring. Connected to the new flagship British Airways terminal by a bridge, the 607-room property will boast a fine dining restaurant, a brasserie with open theater cooking and a library cocktail bar where white-jacketed waiters will mollycoddle guests with a wide range of champagnes, wines and cocktails.