Bridge safety leaped to the top of the agenda of federal highway administrator J. Richard Capka in August, when 13 people died in the collapse of a bridge over the Mississippi River in Minneapolis.
But even before the disaster, it would have been a personal concern if Capka had examined the bridges on the shortest drive from his home in suburban Virginia to his office in Washington, D.C. On the day the Minneapolis bridge fell, three of those bridges were overdue for their safety inspections.
The inattention to the bridges on the highway administrator's commute is not unique, according to an msnbc.com analysis of newly released records from the National Bridge Inventory. The records, which include inspections through 2006, show several failures in federal oversight of the system designed to ensure the safety of travelers crossing the nation's bridges:
The Federal Highway Administration has allowed states to take advantage of a loophole in federal regulations, delaying bridge inspections to every four years instead of the two years normally required. While most states don't use this loophole, calling it unsafe, others drive a truck through it: Nationally, 30,000 bridges are listed on the delayed-inspection schedules, including 10,000 in Illinois alone and more than 3,000 on interstate highways.
Bridges in poor condition have been allowed on these delayed timetables in violation of federal guidelines. Although federal and state officials are bound by law to closely monitor the schedules, their own records show thousands of bridges on delayed-inspection schedules — despite being too decayed, too long or too heavily traveled to qualify.
"Fracture-critical" bridges like the Minneapolis bridge, which could collapse if one part fails, have remained on delayed-inspection schedules in violation of federal regulations. The records show 622 of these vulnerable bridges on four-year timetables.
Even after the deadly collapse in Minneapolis, the haphazard system of inspections continued, with federal authorities choosing not to require re-inspection of more than  18,000 fracture-critical bridges. In a survey of every state by msnbc.com, only six states and the District of Columbia said they began to recheck all their fracture-critical bridges. The rest checked only the few hundred bridges of the particular deck-truss design used in Minneapolis.
Federal agencies that own bridges have some of the worst records for on-time inspections. Nearly 3,000 bridges owned by U.S. government agencies went more than two years between checkups.
Improvements follow calamityHistorically, improvements in bridge inspection have followed bridge failures.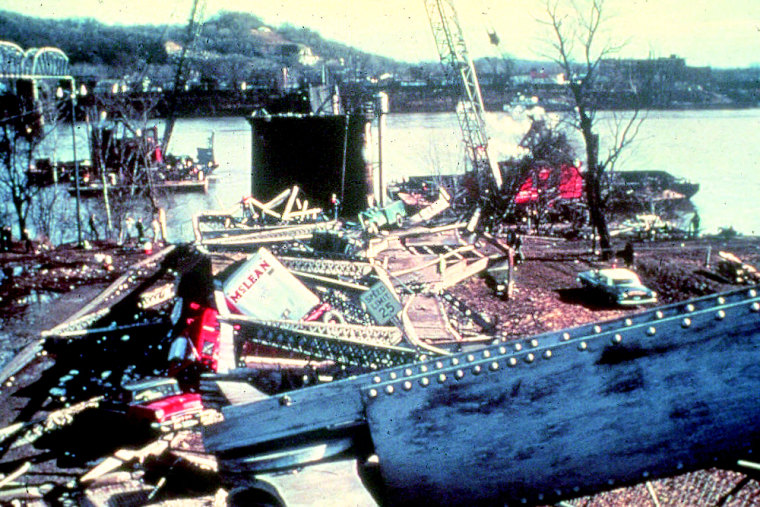 On Dec. 15, 1967, 46 people died when the Silver Bridge collapsed into the Ohio River at Point Pleasant, W.Va. After this calamity, Congress ordered the U.S. Department of Transportation to establish a regime for bridge inspection. The National Bridge Inspection Standards went into effect in 1971 but were limited to bridges on the federal highway system. In 1980, the inspection rules were extended to all public bridges more than 20 feet long.
On June 28, 1983, three people died in the collapse of the Mianus River Bridge on the Connecticut Turnpike (Interstate 95) in Greenwich. The death toll could have been higher had the bridge not fallen in the middle of the night. The collapse focused attention on fracture-critical bridges. The U.S. has more than 18,000 such bridges, built from 1832 through 2007. In response, inspection standards were established for fracture-critical bridges, and special inspections began in 1988.
In April 5, 1987, 10 people died when the Schoharie Creek Bridge on the New York State Thruway was washed away. Federal investigators blamed erosion caused by a poor design, but said that a contributing factor was inadequate oversight of inspections by state and federal officials.Afterward, the highway administration set standards for underwater inspection of bridge piers and abutments for erosion, or "scour."
The collapse in Minneapolis on Aug. 1, 2007, of the I-35W bridge, which injured more than 100 people in addition to causing 13 deaths, has refocused attention on bridge safety.
Although legislation is pending in Congress to increase funding to fix the worst bridges, and to require the Federal Highway Administration to monitor state inspection programs more closely, that legislation does not address several problems identified by msnbc.com in the national bridge records.
A loophole expandsIn 1988, the Federal Highway Administration provided a loophole in the National Bridge Inspection Standards, allowing states to seek permission to put certain bridges on inspection schedules as long as 48 months, twice the usual 24-month standard.
The idea, according to the federal regulations, was to delay the inspection of low-risk bridges, leaving more time and money for attending to the worst bridges.
The loophole was supposed to be tightly drawn, available only for shorter, newer, low-traffic bridges in healthy condition.
And the federal regulations require that the bridge schedules be carefully monitored, pruned after every inspection. If bridges deteriorate or traffic grows, bridges are to be moved back onto the regular schedules.
Most states have chosen not to use the loophole, keeping all bridges on a two-year schedule. Several state officials told msnbc.com that they consider use of the loophole unsafe— and not much of a time saving. Only 16 states reported more than a handful of bridges on long schedules.
"There shouldn't be any bridge in the country that is more than 24 months," said Bob Healy, deputy director of the bridges office at the Maryland State Highway Administration, which has no bridges on delayed schedules. "The cycle should never exceed 24 months."
Although the highway administration said that approximately 20,000 bridges are on longer inspection schedules, records from the bridge inventory through 2006 show 30,571 bridges on such schedules. That's one out of 20 bridges across the nation.
Illinois reported 10,839 bridges on longer inspection schedules, or 42 percent of its inventory. That has risen from 6,200 when the state got federal permission in 1995.
Arizona has 3,276 bridges, or 47 percent of its total, on longer schedules. But it limits the exemption to culverts, the concrete structures that tend to be shorter, more stable and, in case of failure, less deadly.
Connecticut highway officials made a U-turn last summer, with Gov. M. Jodi Rell putting all bridges back onto inspection schedules of two years or less.
"Several months prior to the collapse in Minnesota, Gov. Rell directed the Connecticut DOT to bring all bridges into a 24-month or shorter inspection cycle," said state transportation spokesman Kevin Nursick.
"Basically, better to err on the side of caution and inspect more frequently."
Bad bridges on slow schedulesWhile the extensions were designed for only the newest and best bridges, thousands of ineligible bridges are on delayed-inspection schedules.
Here's how it works: Criteria are negotiated between the federal and state governments for putting a bridge on a schedule for delayed inspection. What gets approved is not a list of bridges, however, but a list of criteria. As conditions of individual bridges change, the rules require states to put them back on the regular two-year schedule.
When msnbc.com compared the federal guidelines to the actual inspection records, we found 1,630 ineligible bridges on the delayed-inspection schedules. Many bridges violated more than one guideline:
In addition, thousands of bridges violate other criteria that vary from state to state, including the traffic levels allowed on bridges.
'Safety is our number one priority'
Officials from several states thanked msnbc.com for pointing out the problem.
"After Minneapolis, someone was going to ask the inspection question eventually," said Oklahoma's transportation spokeswoman, Terri Angier.
Illinois has felt comfortable putting more than 10,000 bridges on delayed schedules because it has relatively good bridges, said Mike Claffey, spokesman for the Illinois Department of Transportation. Although the records show that one out of six bridges in the state is either deficient or obsolete, that's still one of the lowest rates in the nation.
"We believe this program allows us to focus on bridges that are most in need of closer attention," Claffey said. "Safety is our number one priority."
However, in neighboring Wisconsin, where bridges are slightly better, not a single bridge has been placed on a schedule longer than two years.
Claffey also said that Illinois was conservative in selecting bridges for delayed inspections, choosing only those that are rated "good," when the federal guidelines would have allowed delays for bridges that rated a step lower, or "satisfactory."
But the records show that not all of the Illinois bridges on delayed timetables meet the criteria that the state agreed to. The records include 456 bridges that violate those criteria, including some in "serious" condition.
Claffey said that a "computer logic error" allowed these bad bridges to remain on delayed timetables. Those bridges were moved back to two-year schedules after msnbc.com pointed out the problem and are now being inspected, he said.
Rules differWhy don't all states set their computers to flag any bridge that doesn't qualify for the loophole?
Nearly every state uses bridge-management software called Pontis, which is licensed from the American Association of State Highway and Transportation Officials. In Arkansas, officials said that their previous in-house software would automatically change the inspection schedule when a bridge's condition deteriorated, but "there are no such internal checks in Pontis. The checks must be done manually," said Randy Ort, spokesman for the Arkansas State Highway and Transportation Department. Association officials said, however, that states have the ability to set the software for such monitoring, although the software doesn't ship with that feature enabled.
Federal authorities say they have checked bridge timetables only sporadically. Although the Federal Highway Administration does not require its district staff to review the entire database to see which bridges are out of compliance, as msnbc.com has done, an agency official said it does periodic "spot checks" for the annual reviews of state inspection programs. Those checks have been optional, not required, said the official, who was allowed by the highway agency to speak only if his name was not published.
Even when the rules for delaying inspections are followed, those rules are negotiated state by state and vary considerably.
For example, the traffic limit. The loophole was designed to be limited to only low-traffic bridges.
But while federal highway officials allowed Oklahoma to delay inspection only for bridges with traffic below 5,000 vehicles a day, they approved a looser standard of 15,000 vehicles a day in West Virginia, 30,000 in Illinois and Colorado, 50,000 in Connecticut, and 100,000 in Washington state, according to approval letters provided to msnbc.com by the Federal Highway Administration under the Freedom of Information Act.
If the strict 5,000-vehicle rule from Oklahoma were applied nationally, the bridge inventory shows 8,590 bridges on longer schedules that wouldn't be eligible for delayed scrutiny.
Or consider erosion control. Inspectors check bridges for scour, the dangerous erosion that can undermine piers. Again, Oklahoma has the strictest criteria, with delayed inspections allowed only for bridges with no history of or present signs of significant erosion. Applying that conservative rule to the nation's bridges, the records show 4,122 bridges on delayed-inspection schedules that wouldn't be eligible.
Finally, the design of bridges eligible for the loophole varies considerably.
Several states took a conservative approach, receiving federal permission to delay inspections only for low-risk concrete bridges or culverts. That's the approach in Arizona, Arkansas, Mississippi, Montana, North Dakota, South Dakota and Texas.
But a much broader list of bridge types was approved for the loophole in California, Colorado, Illinois, Oklahoma and West Virginia. Again, even those relaxed rules have been violated. For example, Illnois reported on delayed timetables 26 old-fashioned bridges made of wood timbers.
Fracture-critical bridges not checkedFederal regulations forbid delaying inspections for fracture-critical bridges like the fallen Minneapolis bridge — the kind with a lack of redundancy in design, so that a single failure in a load-bearing part can cause the entire bridge to collapse.
These bridges aren't necessarily in poor condition, but they're vulnerable. Even a three-legged stool in good condition will fall if one leg is broken.
Yet msnbc.com found 622 fracture-critical bridges in the National Bridge Inventory that are on schedules for delayed inspection.
After the Minneapolis collapse, the phrase "fracture critical" was heard so often that the public may have assumed that states rushed to inspect all their fracture-critical bridges. But most states did not, and federal officials didn't require it.
In the survey of state transportation departments by msnbc.com, only the District of Columbia and six states — Minnesota, North Carolina, Oklahoma, Rhode Island, South Carolina and Utah — said they were re-inspecting every fracture-critical bridge after the disaster.
The rest of the states re-inspected only the few hundred bridges of the design used in Minneapolis, the continuous steel deck truss, as was recommended (but not required) by the Federal Highway Administration.
Federal regulations already required fracture-critical bridges to receive a special hands-on inspection every two years, with no exemptions allowed. That's in addition to their routine inspections. This was a federal guideline until January 2005, when it became a regulation, which has the legal force of law.
But the National Bridge Inventory from 2006 shows that 1,513 fracture-critical bridges went longer than two years between special inspections. In other words, 8 percent of the 18,566 fracture-critical bridges in the nation were reported as missing their two-year checkup.
Again, several states said that a difficult transition to the Pontis software could be to blame, making fracture-critical bridges appear to be overdue when they were inspected on time.
As the records were submitted, the worst on-time rates of completing the special fracture-critical inspections within two years were in Utah (at least 60 percent past due), Alaska (45 percent), Delaware (38 percent), Maine (34 percent), Colorado (27 percent), California (23 percent), New Hampshire (22 percent) and Texas (21 percent). In addition, 10 percent of federally owned fracture-critical bridges were delinquent.
Federal agencies have many overdue
Federal agencies are among the least-attentive owners of bridges, with 2,940 bridges reported as not receiving a routine inspection within two years. That's 35 percent of 8,332 federal bridges. Only two states— Hawaii and Rhode Island— have worse compliance records.
For example, while Virginia's Department of Transportation has a spotless record of inspecting bridges on time, it can't control the federal bridges within the state, including several on the Blue Ridge Parkway, which the National Park Service reported as being overdue for inspection.
The Federal Highway Administration has little power to persuade other federal agencies to act, the federal official said. Threatening to withhold money wouldn't work, he said, because hardly any federal agencies receive federal highway funds.
The worst record was at the Forest Service, which owns the most federal bridges: 54 percent of its bridges went past two years. The Bureau of Indian Affairs reported 46 percent exceeding the two-year standard. This is surprising, the federal highway official said, because the BIA is the only federal agency that receives highway money.
The administrator's commute
Highway administrator Capka would not agree to an interview to discuss enforcement of bridge regulations. A spokeswoman, Nancy Singer, cited twin investigations of the agency's bridge program by the inspector general of the U.S. Department of Transportation and the federal Government Accountability Office, as well as the continuing investigation of the Minneapolis collapse.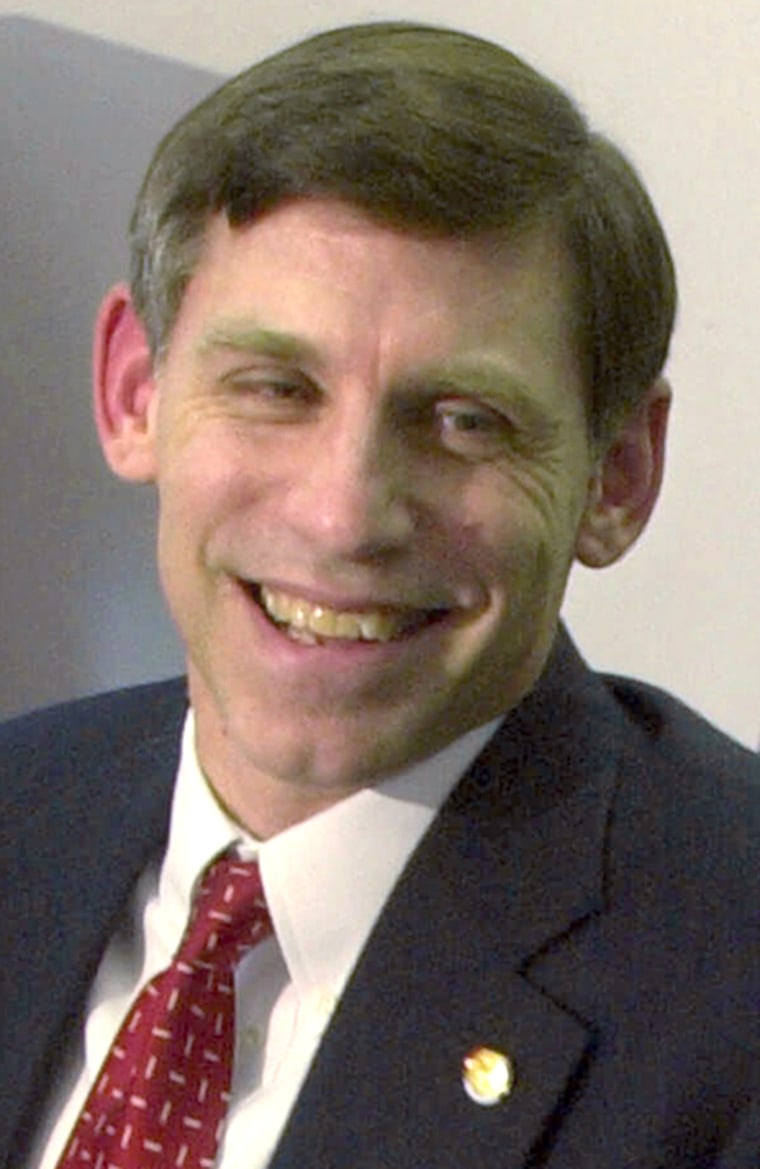 Out of curiosity, we checked the bridges on the direct route from Capka's home to his office.
After crossing the Potomac River and the Jefferson Memorial on Interstate 395, Capka would cross the Washington Channel on the Francis Case Memorial Bridge. That bridge was last inspected in January 2005 and was due for re-inspection in January 2007. It wasn't inspected until December, 11 months late, the District of Columbia's transportation department confirmed. More than 160,000 vehicles cross the bridge per day.
The highway administrator would then stay on the Southwest Freeway (I-395) as it crosses over Fourth Street Southwest. That bridge was due for inspection in May 2007, but it didn't get checked until October, five months late. The bridge was being repaired during the summer while it was still open to traffic, so it did receive attention though not a formal inspection, a D.C. official said.
And finally, after switching to I-295 and exiting onto South Capitol Street, Capka would make a left over an overpass at M Street, a block north of the new ballpark for the Washington Nationals. The M Street bridge was due for inspection in July 2007 but was checked in October, three months late.
D.C officials did not respond to several requests for the latest inspection reports for these three bridges. But in their previous inspections, the overall condition of each bridge was scored "equal to present minimum criteria," or 6 out of a possible 9 points.
About one out of every nine bridges in D.C. went beyond the two-year inspection cycle, a small contributor to the 17,000 bridges nationally that the records show weren't examined within two years. D.C. spokesman Erik Linden said inspections were delayed by bridge repairs, by problems with a contract with the inspection company, and by delays in agreements to inspect bridges over railroad tracks.
But the biggest problem is a "tremendous need" for more money to repair and inspect bridges, Linden said. In the nation's capital, 61.3 percent of the bridges are classified as structurally deficient or functionally obsolete, a higher rate than in any state, according to msnbc.com's analysis of the new records. Nationally, 25.0 percent of bridges carry these designations.
Authority unused
When msnbc.com first asked the Federal Highway Administration if it has ever withheld funds from a state or federal agency for failing to inspect bridges on time, the agency said, in a written answer, "In the extreme case, federal-aid funds can be withheld."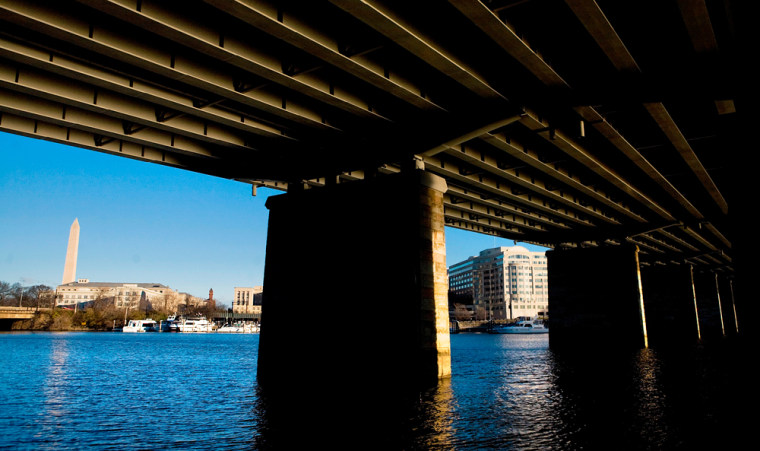 When asked if it has ever actually used that power, the agency spokeswoman said, "Yes." But she added: "The information would have to be obtained through FOIA," referring to the Freedom of Information Act.
Finally, the anonymous highway administration official acknowledged in the interview:
"To my knowledge, and I've been in the bridge program for 15 years, I don't recall a state reaching the point of losing federal aid funds. This is considered a last resort. We find that most issues can be resolved through discussions with the state.
"I don't want you to think that we're just sitting here on our thumbs."