/ Source: The Associated Press
Mitt Romney, who earlier this year had to backpedal on his hunting exploits, is explaining himself again after claiming an endorsement he did not receive and saying he witnessed his father in civil rights marches he could not have seen.
"It's a figure of speech," Romney said Thursday after media inquiries into the Republican presidential contender's statement during his recent religion speech that he watched his father, the late Gov. George Romney of Michigan, march with Martin Luther King Jr.
Romney, who was in high school at the time, later said he only heard of his father marching, and some historians have questioned whether his father, in fact, did march with King. The Romney campaign provided books and news articles it said supported his statement.
Romney said it was akin to him stating, "I saw my dad become president of American Motors." He told reporters in Iowa, "I wasn't there when he became president."
Romney similarly backtracked after telling a national television audience Sunday on NBC's "Meet the Press" that "I received the endorsement of the NRA" in 2002 while running for governor of Massachusetts.
The gun rights group did not endorse either candidate, and gave a higher issues rating to his Democratic opponent.
Romney said Monday, "It was, if you will, a support phone bank, which is not an official endorsement."
Battle for Iowa
The questions are especially sensitive for Romney, who is trying to rebound against rival Mike Huckabee in Iowa and maintain a lead in New Hampshire, the leadoff contests in the voting for presidential nominees.
Throughout his campaign, he has been dogged by allegations of flip-flopping on key issues, from abortion rights to gun control and gay rights.
"It's the fine-tuning that's created the problem. It's always that one extra step that causes him the trouble," said Tobe Berkovitz, a longtime Romney observer and the interim dean of Boston University's College of Communication. "You can't just say that African-Americans were accepted into the church and I was happy, you have to say you pulled over and you cried."
The latter was a reference to another statement Romney made on "Meet the Press," in which he tried to convey his emotion after learning in 1978 his Mormon church had given full privileges to blacks.
Romney recalled his exact location when he heard the news - the Fresh Pond traffic rotary in Cambridge - but he misspoke when he said he thought he was in law school at the time. In fact, he had graduated from Harvard Law School three years earlier.
"If this had been three months ago, it would have been more water off the back of the duck, but right now, everything is magnified not only for him but Rudy and Hillary and everybody else," said Berkovitz, mentioning fellow presidential contenders Rudy Giuliani and Hillary Rodham Clinton.
Democrat Al Gore faced similar questions during the 2000 campaign, when he falsely claimed to have accompanied a federal disaster relief official on a tour of a fire zone, and on previous occasions when he claimed more credit than many felt he warranted about the creation of the Internet, the Strategic Petroleum Reserve and the Love Canal toxic waste investigation.
'Gotcha journalism'
Romney is well aware of the power of words in politics. His father saw his own presidential campaign founder in 1968 amid questions about his statement that he was subjected to "a brainwashing" by U.S. generals during a visit to Vietnam.
The elder Romney switched from supporting the war to opposing it, despite the generals' efforts to maintain his backing, but in campaign discussions his observation morphed into the suggestion that he was mentally unfit for office.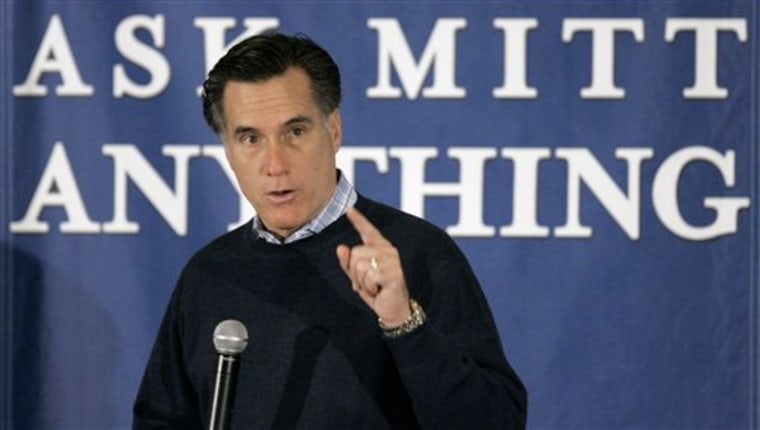 Mitt Romney says that experience is why he detests "gotcha" journalism. Aides say it also explains why he blows by reporters except for scheduled news conferences, and why he is wary of a "YouTube moment" in which stray tape recorders or cell phone cameras capture him making an offhand remark.
"I try to be as accurate as I can be," he said Thursday.
Nonetheless, Romney faced snickers in April after his staff said he had been hunting on only two occasions despite his telling a New Hampshire voter, "I've been a hunter pretty much all my life." Romney later said he had hunted more than twice but only for "small varmints" and that he did not own a gun or have a hunting license.
This week, there were fresh examples of Romney treading a rhetorical line on what he says and doesn't say.
Speaking at St. Anselm College in Goffstown, N.H., he told an audience likely to have an aversion to its southern neighbors, "I came out of school and got a job in Boston. People always ask me, why'd you choose Boston? It's, like, pretty simple. That's where I got my first job."
The "school" Romney mentioned was Harvard, where the Michigan native attended both law and business school after graduating from Brigham Young University in Utah. Three of his five sons also attended Harvard Business School, but Romney is more likely to condemn Harvard or its fellow Ivy League institutions for inviting speakers from Iran than he is to note it was his alma mater.
During the same town hall meeting, Romney also cast himself as a reluctant politician, focusing instead on his 25-year business career and stint helping to resurrect the financially troubled 2002 Salt Lake City Winter Olympics.
"When I came home, some people in the Massachusetts Republican Party encouraged me to run for office and said, `We need somebody who can win and who can fix Massachusetts,'" Romney said.
Romney returned to Massachusetts from Utah on Sunday, March 17, 2002. He declared he was running for governor on Tuesday, March 19, just hours after his fellow Republican, acting Gov. Jane Swift, announced she was yielding to the Romney juggernaut.
"I'm in," he said roughly 48 hours after returning to Massachusetts. "The bumper stickers are printed, the Web site's going up. The papers are going in today."