/ Source: The Associated Press
President Hugo Chavez defended Colombia's leftist rebels as armies — not terrorists — on Friday, a day after triumphantly mediating the release of two of their hundreds of hostages.
Chavez urged the international community to remove the rebels from lists of terrorist groups, saying the only way out of Colombia's bloody conflict is to recognize their political aims.
The Revolutionary Armed Forces of Colombia and the National Liberation Army "are not terrorists, they are true armies ... They must be recognized," Chavez said.
"They are insurgent forces that have a political project," he told lawmakers. "I say it even though someone could be bothered by it."
Chavez pushes guerrilla declassification
The FARC — Colombia's largest guerrilla group — has repeatedly asked world governments to remove it from their lists of foreign terrorist organizations. Chavez echoed that call, urging Europe and Latin American nations to resist what he called "U.S. pressure."
The European Union joined Washington in classifying FARC as a terrorist group in 2002, outlawing all economic support to the guerrilla group, which is accused of large-scale drug trafficking, hundreds of kidnappings and attacks on civilians.
Jose Obdulio Gaviria, a close adviser to Colombian President Alvaro Uribe, reacted angrily to Chavez's call.
"The FARC uses violence against a democratic government and civil populations. In the canon of international law, that makes them a terrorist group," Gaviria said.
Rebels gain support, foes
Officials in Bogota were also irked that Venezuelan Justice Minister Ramon Rodriguez Chacin — Chavez's go-between with the FARC — appeared to express support for the rebels during Thursday's hostage release, and at least one pro-government party leader called for Chavez to fire him.
"We are very aware of your struggle. You are the ones that have to maintain this effort," Chacin told the guerrillas before they disappeared into the jungle.
The FARC rebels have found support among leftists in Europe, and several pro-FARC Web site are hosted there.
Chavez, a self-proclaimed revolutionary who named his political movement after South America's 19th-century independence hero Simon Bolivar, also described the political leanings of Colombia's guerrillas as "Bolivarian."
The Venezuelan leader's strong statements are also likely to raise concerns in Washington, where officials have long suspected that Chavez clandestinely supports the FARC.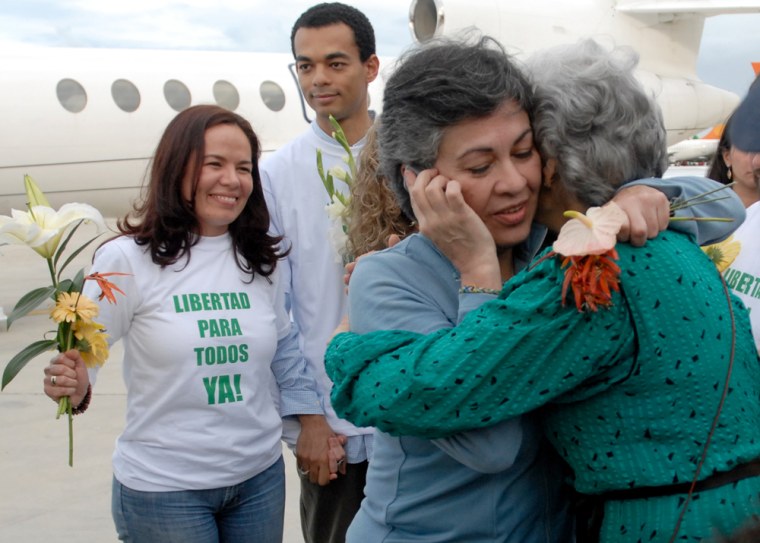 Chavez, meanwhile, basked in praise for Thursday's release of two women who were held for about six years by the FARC.

The two Colombians, Clara Rojas and Consuelo Gonzalez, were reunited Thursday with relatives who waited for them in Caracas. After tearful reunions, they met Chavez, who soaked up the attention and held Gonzalez's 2-year-old granddaughter in his arms.
Chavez said he hoped the success could be repeated for former Colombian presidential candidate Ingrid Betancourt and dozens of other captives held by the FARC. But he said that largely depends on Uribe.
Chaves brokers hostage release
The handover was the most important hostage release in the Colombian conflict since 2001, when the FARC freed some 300 soldiers and police officers. And it was a major victory for Chavez, whose leftist politics helped gain the rebels' trust.
The FARC, in a statement published on a pro-rebel Web site, said the unilateral release demonstrated the group's "unquestionable willingness" to talk with the government about the remaining hostages.
The guerrillas also said the "humanitarian and unilateral release comes despite the sticks stuck into the wheel by President Uribe, sworn enemy of the prisoner exchange and enemy of peace."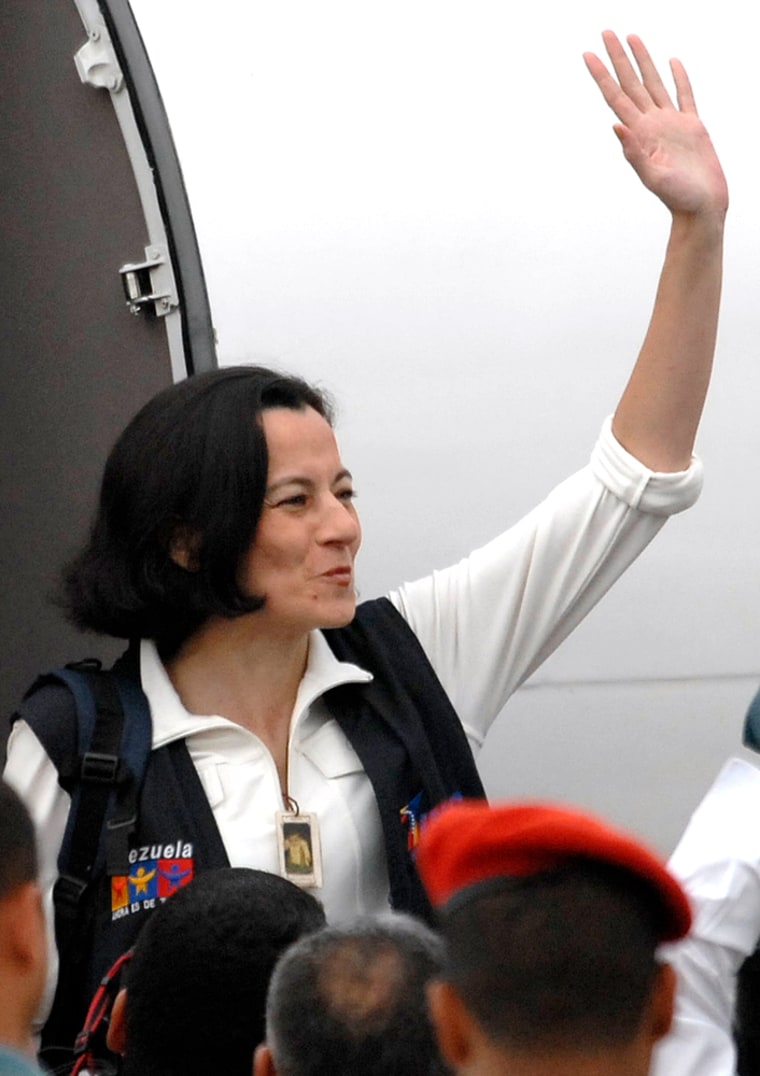 Rojas was managing Betancourt's bid for the presidency in February 2002 when the two were kidnapped on the campaign trail. She gave birth in captivity to a boy fathered by one of the guerrillas.
Gonzalez, a former congresswoman, was abducted in September 2001. She told Chavez upon her release: "A thousand thanks for your humanitarian gesture."
Chavez suggested Uribe has wrongly tried to fight his way out of the conflict.
"President, use me. I'm at your service," he said, urging Uribe to let him to meet FARC commander Manuel Marulanda for talks.
Uribe has refused to let Chavez meet with FARC leaders on Colombian soil.
But the hostage handover increases pressure on Uribe to make concessions for the release of 44 other high-profile captives. The guerrillas have offered to trade those hostages for hundreds of rebel fighters imprisoned in Colombia and the U.S.