The search for fresh, pure powder has led Park City-based ski mountaineer Andrew McLean to places where few ski enthusiasts have braved, including Mt. Everest, Denali, Antarctica and Patagonia.
At 46, McLean has racked up first descents on the seven continents, and was recently featured—being taken down by an avalanche—in the extreme skiing documentary "Steep".
The practice, he says, is "a fine line between having an exciting descent and killing yourself."
For skiers like McLean who yearn for "freshies," or newly fallen snow, but would prefer not to risk life and limb, there are alternatives to Mt. Everest and Antarctica. Far-flung spots in countries like Japan, New Zealand and Iran are far off the beaten path and are often reachable only by helicopter or snow cats, truck-size vehicles designed to move on snow. Though weekends at these destinations may cost several thousand dollars, you won't have to battle dozens of tourists for the ski lift or the best powder.
How to find isolated spots
As a full-time ski mountaineer who climbs peaks and skis down them, McLean has little trouble finding undisturbed snow. In his experience, some of the best skiing conditions can be found in the least expected destinations.
"Morocco and Iran were huge surprises for me," says McLean, who visited Morocco's High Atlas mountain range and Iran's Mount Damavand last year. Both spots had spring "corn" snow, a type of pellet-like snow that has gone through a freeze or frost but is smooth and less likely to give way to an avalanche.
While McLean frequently finds new runs by scouring a topographic map for mountain ranges with tight contour lines, which indicate steeper slopes, weekend skiers can try less daunting approaches. Recommendations for the best new ski spots are frequently shared between fellow enthusiasts, so a good strategy is to befriend ski bums on- or off-line and solicit their opinions.
Bernie Weichsel, president of the ski travel marketing company BEWI Productions, says consulting tour guide organizations or a professional mountaineer like McLean are also effective ways to find the latest rugged destination.
"I'd strongly suggest that unless you think you're the ultimate mountain man, go with a guide," says Weichsel, an avid skier who has hit the slopes in Kazakhstan, Andorra and South Korea.
Guided adventure
But hiring a guide doesn't necessarily mean less adventure. Mica Heli Guides, a Canadian tour company that operates on the western slope of the Rocky Mountains in Revelstoke, British Columbia, offers semi-private and private tours of its 250,000 skiable acres. Guests at this resort are flown by helicopter to a pristine mountaintop and led down the improvised slope by a guide. At the end of the run, they are escorted again by helicopter to fresh snow.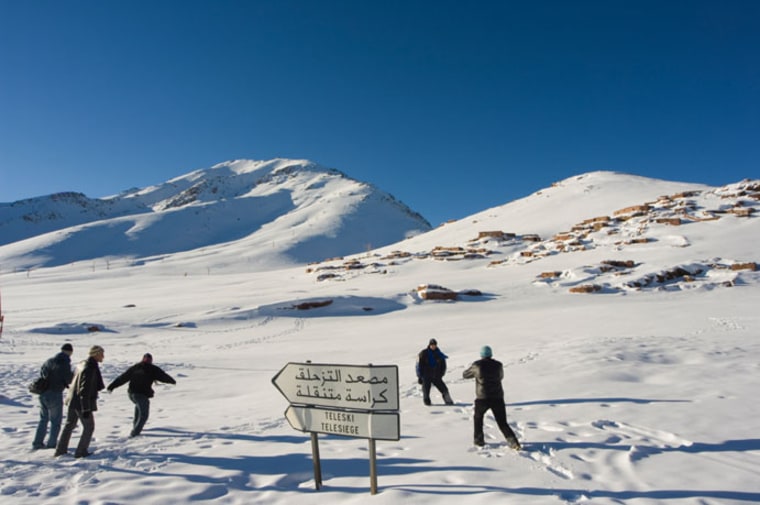 "What you're getting is unbelievably deep, untracked powder," says Darryn Shewchuk, director of sales and marketing for Mica Heli Guides. Shewchuk says most of the resort's guests are experienced skiers, but several novices have heli-skied as have families with teenage children. All guests, regardless of experience level, are given transceiver and avalanche training in addition to a general safety course.
Heli-skiing will set you back at least $4,490 and as much as $16,000 at Mica Heli Guides, but that includes gourmet meals, luxury accommodations, travel to the resort from the local airport and use of skis. There are other heli-skiing operators around the world, including at ski havens like Mt. Cook National Park in New Zealand and Jackson Hole, Wyo.
If private helicopter ski tours are too pricey, Bernie Weichsel suggests researching the resort area and finding out if guides lead back-country tours where pristine conditions are more likely to be found.
"You could be at a huge resort and if you can access the back country," he says, "you can ski in some fantastic places."
Still, he warns that back-country exploring should be done by most with a trained guide, even in Europe where there are no restrictions on going out of bounds as there are in the United States.
The truly adventurous, says Weichsel, might try Sochi, Russia, the host city for the 2014 Winter Olympics.
"They're putting billions into it," he says, "but it's very small right now."