/ Source: The Associated Press
The key suspect in the slaying of a 20-year-old pregnant Marine may have fled to Mexico, and the FBI is working with Mexican authorities to track him down, authorities said Wednesday.
A wide-ranging manhunt for Cpl. Cesar Armando Laurean began last week, after authorities said he fled North Carolina and left behind a note in which he admitted burying the body of Lance Cpl. Maria Lauterbach but said she committed suicide.
Detectives later found her remains, and those of her child, in Laurean's backyard. They have rejected the suggestion she killed herself.
"We strongly suspect, but have not confirmed, that Laurean may be in Mexico," said FBI spokesman Richard Kolko in Washington. "We have a strong working relationship with law enforcement partners in Mexico, and we're working with them to locate and apprehend him."
Laurean appears to have mailed letters back to his wife in North Carolina, according to a law enforcement official who spoke on condition of anonymity because of the ongoing investigation. It was not immediately clear what the letters said or how many of them were sent, or where they were sent from.
Authorities have said his wife, Christina Laurean, is cooperating with authorities and provided them with the note her husband left before skipping town.
Lauterbach alleged in May that Laurean had raped her in March and April. A pregnancy test soon after was negative, Marine Corps officials said Tuesday, but a test in June was positive. Doctors estimated the date of conception was May 14.
Disappeared in December
Corps officials said Lauterbach met with prosecutors in November and said she no longer believed Laurean was the father. She disappeared the next month.
Authorities confirmed Tuesday that remains found over the weekend in a fire pit in Laurean's yard were those of Lauterbach and her child. Dr. Charles Garrett, the Onslow County medical examiner, said Lauterbach, who was eight months pregnant when she vanished, died of "traumatic head injury due to blunt force trauma."
The autopsy did not answer all the questions about the circumstances of Lauterbach's death, said county prosecutor Dewey Hudson. Detectives are still unsure whether she gave birth before her death and of the identity of the father, he said.
Naval investigators concluded the purported sexual encounter in March was not criminal, said Paul Ciccarelli, an agent with the Naval Criminal Investigative Service. The pair had a second sexual encounter about two weeks later that didn't include any threats, force, violence or coercion, he said.
"She asked him to stop, and he did stop," Ciccarelli said, saying that was the account Lauterbach gave to officials.
He said she still considered both to be incidents of rape, and that Lauterbach's regimental commander treated her allegations seriously. Her commander was intent on taking the case to an Article 32 hearing, the military equivalent of a grand jury proceeding.
'She said she did not feel threatened'
Laurean never violated a military protective order directing him to stay away from Lauterbach, continued to report for work on time in the weeks after her disappearance and denied having any sexual contact with her, said Col. Gary Sokoloski, the judge advocate general officer for the II Marine Expeditionary Force.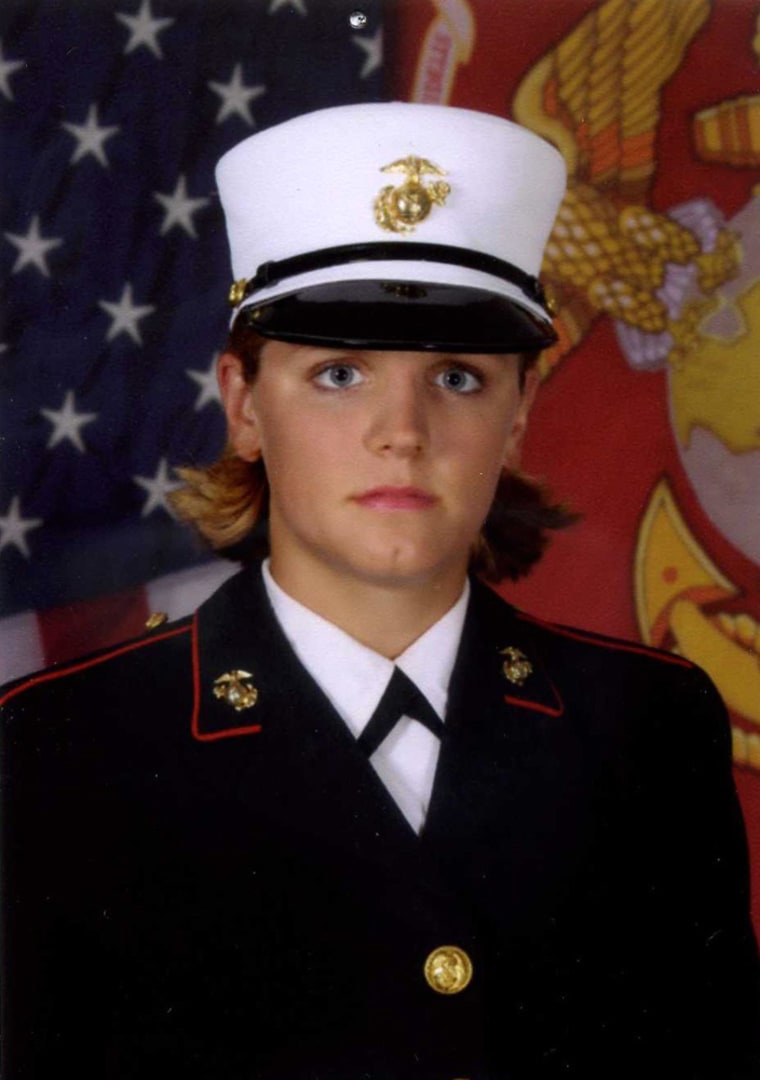 "At no time did she indicate that she was threatened by Cpl. Laurean," Sokoloski said. "When she was asked if she felt threatened by Cpl. Laurean, she said she did not feel threatened."
Authorities believe Laurean fled Jacksonville early Friday after leaving a note in which he admitted burying Lauterbach's body.
Authorities towed Laurean's pickup truck on Tuesday after finding it abandoned at a motel parking lot in Morrisville, not far from where it was seen by witnesses in Durham, about 150 miles northwest of Jacksonville. It will be taken back to Onslow County to be processed by the State Bureau of Investigation, Ciccarelli said.
It was unclear how long the truck had been at the Microtel Inn. Sherrie Joyner, who works the front desk, said Laurean never checked in.
Lauterbach's ATM card was found at a bus station in Durham, and authorities received reports from several witnesses Sunday who said they saw Laurean at a bus station in Shreveport, La. Onslow County Sheriff Ed Brown has said detectives have been unable to confirm the Louisiana sightings.
In his note, Laurean alleged that Lauterbach committed suicide by cutting her own throat. Brown rejected that idea even before the medical examiner weighed in, citing blood spatters on the ceiling and a large amount of blood on a wall in Laurean's home as signs of a violent confrontation.
Authorities believe Lauterbach was slain around Dec. 15. Officials have offered a $25,000 reward for information leading to Laurean's arrest and have posted or plan to post billboards with his picture in cities including Columbus, Ohio; Tampa, Fla.; and Las Vegas.