Sitting in his office at the Arizona Biltmore Country Club, General Manager Dick Bates smiles as the phone rings again. Three out of every four calls seems to bring about the same request.
"Can you get me a tee time Super Bowl week? Pretty please."
Some of the calls are from across the street at the Arizona Biltmore Resort & Spa. Some are from celebrity agents whose clients are going to be in town. Some are from old friends. Some are from guys he hasn't heard from in years who suddenly want to be old friends again.
That's the power (and burden) of having tee-time decision-making power during what promises to be one of the most hectic weeks ever in the greater Phoenix-Scottsdale area's hot winter vacationland. The Super Bowl kicks off in the Valley of the Sun on Feb. 3, and the buildup fever isn't confined to that space-aged-looking stadium out in Glendale.
It's carried over into what many consider Phoenix-Scottsdale's greatest and most famous asset: its golf courses. Everyone who's coming into town for the week of the big game (an estimated 125,000 according to the Super Bowl Host Committee) doesn't want to play golf, of course. But to a golf course general manager like Bates, it can often feel that way.
"I think it's going to be the craziest week we've had on the courses in years and years," Bates says, shaking his head. "People are talking about the golf during the day and the parties at night. We're right in the center of it."
Bates says he started receiving calls asking for Super Bowl week tee times almost a year ago, shortly after the Indianapolis Colts finished off the Chicago Bears in Miami at Super Bowl XLI. The calls started picking up about six months ago, and by November, they'd become a relentless chorus.
There are more than 200 Phoenix/Scottsdale golf courses and they're handling the Super Bowl crunch in many different ways. One common denominator is that twilight rates (reduced price greens fees that typically start about 1 or 2 p.m.) are all but non-existent. Visitors likely will be paying a course's top price whenever they play.
Troon North Golf Club — home to Monument and Pinnacle, widely considered two of the best golf courses in Arizona — is taking an even more aggressive approach by raising its price. Starting Jan. 28, the Monday of Super Bowl week, all tee times go to $295 (from $215 the week before). Then, as the game gets closer, Troon North's rates jump again beginning on Thursday, Jan. 31, to $345 (not including tax).
"Troon North is the only course I know of that's actually raising their normal rates," says Anthony Trapani of Arizona Golf Packages, a golf/travel company based in the Valley of the Sun. "We're not getting much demand for it at that price, but maybe Troon is receiving some directly.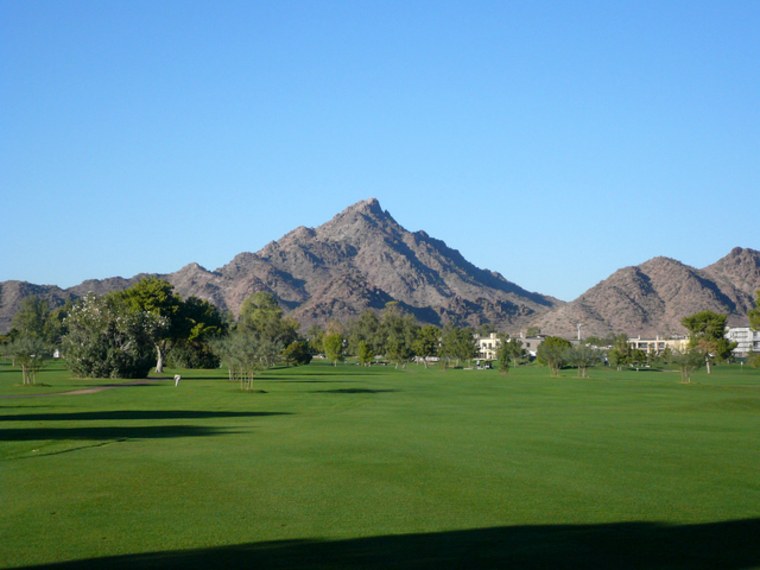 "I think people coming into town are still looking for a good deal. They're not trying to spend $400 on a round of golf, especially with how much they're spending on a hotel room that week."
Local golf experts like Trapani will tell you that those golf deals — at least deals relative to the higher costs of Super Bowl week — are still out there. Golf courses like Troon North, catering to game-attending corporate bigwigs, and Arizona Biltmore, located in the center of Phoenix right by high-end luxury shopping and five-star resorts like The Ritz-Carlton and The Biltmore, may be seeing crazy demand.
But there are still good quality lesser known courses seeking golfers the week of the big game.
It turns out that Super Bowl over-hype applies to golf availability too.
Under-the-radar Super Bowl golf plays
If you're looking for last-minute Super Bowl week tee times, your best bet is to extend the search out a little from trendy Scottsdale.
Fountain Hills — 20 miles and another completely different vibe away from congested Scottsdale — is one good choice. Here you'll find golf courses like SunRidge Canyon Golf Club, We-Ko-Pa Golf Club and its sister course Saguaro (one of the newest courses in the Valley) out amongst natural desert scenery and often strikingly blue skies.
SunRidge Canyon, which weaves up one canyon and down another, could be a particularly good buy. The golf club is still offering tee times after 2 p.m. Super Bowl week for $100, not bad for even usual winter-high-season times in this golf mecca.
Out in Chandler (18 miles from Scottsdale), Ocotillo Golf Resort — a course with water on 23 of its 27 holes, including some waterfalls — also has a number of Super Bowl week openings. The best readily available course in Phoenix might be Raven at South Mountain, an Arizona course that looks like a Midwest one with its 6,000 pine trees.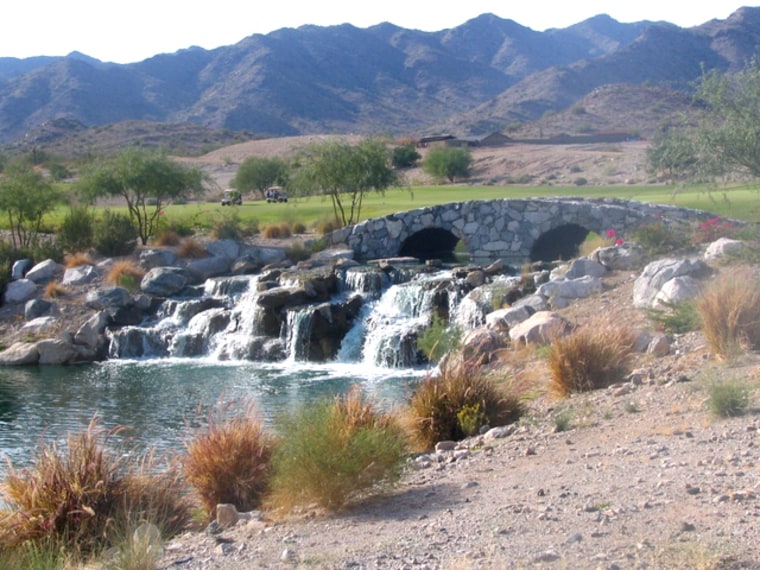 No matter where you end up looking to bomb your driver Super Bowl week, there are some general rules to follow. If at all possible, avoid trying to play on Saturday, Feb. 2, the day before the game — by far the day with the fewest openings, according to area general managers, head pros and golf packagers.
Also consider that with the hordes of fans sure to descend on Old Towne Scottsdale, college party town Tempe and spots in the West Valley close to the actual stadium, even busy golf courses can be a respite from the overall crowds.
"I think people get intimidated when they hear Super Bowl week, and they hear how crazy it's going to be," Trapani says. "Sometimes, they think they shouldn't even bother to try and get on a course. You have to remember just how many golf courses there are here though.
"You'll find somewhere you can play."
That's not going to help Dick Bates decide which celebs, CEOs and regular folks get Biltmore's most-coveted tee times though.
"No one will be happier than me when that game kickoffs," he says, laughing. Bates looks up. Phone's ringing. Again.