/ Source: The Associated Press
Piles of broken concrete rose seven stories high, and a few buildings stood askew, knocked out at odd angles. People cried out the names of missing family members while rescue workers shouted "Is anyone there? Is anyone there?"
On Friday, amid the little that was left of the city of Beichuan 100 hours after a massive earthquake struck central China, answers came in faint taps on concrete or a muffled cry. After one such call, five volunteers dug with hands and shovels for more than four hours, freeing a middle-aged woman from a crumpled apartment building.
The woman's rescue was followed by another, and then more people were rushed away on stretchers, bruised, bleeding and covered in dust. Thirty-three in all, the government said.
One survivor, 46-year-old Peng Zhijun who suffered bone fractures and light injuries, lived by eating cigarettes and paper napkins and drinking his urine, the Xinhua News Agency said. Peng said more than 10 others had been buried with him but died because they did not listen to his advice to drink their urine, the report said.
Rescue efforts under way
The first foreign rescue workers since Monday's magnitude 7.9 temblor were allowed near the epicenter, while helicopters dropped leaflets urging people to "unite together" and provided survival tips. Officials have said the quake's final toll could reach 50,000.
Education and housing officials, meanwhile, took the rare move of fielding questions online from angry Chinese citizens over the many children who died in the quake. The official death toll had risen to about 22,069 on Friday, and another 14,000 still were buried in Sichuan.
The government said it would investigate why so many school buildings collapsed in the quake — destroying about 6,900 classrooms, not including the hardest-hit counties — and severely punish anyone responsible for shoddy construction.
Cities reduced to rubble  
Among the cities hardest hit by the quake, Beichuan looked like a pile of matchsticks. Mounds of debris stood seven stories high, and smoke plumes rose from some of the wreckage. Landslides raked gigantic gashes in the mountainsides. Roads leading into the county buckled like freeway off-ramps leading to nowhere, isolating the county's three larger towns and 13 hamlets and most of its 160,000 people.
Beichuan was abuzz with activity with soldiers, police and emergency workers who flooded into the disaster zone. Sirens wailed, heavy machinery whined and the acrid air smelled of smoke, rotting food and chemicals.
Going the other way were dozens streaming out, looking for food and shelter after days trapped.
"We've been terrified since the earthquake destroyed our home," said Shen Xinyong, who trekked for six hours down a mountain to Beichuan with her husband, two children and parents, hoping to reach Mianyang city 56 miles away.
"We've been digging the earth for our food — gourds, potatoes — anything we've planted," said the 27-year-old Shen. Dressed in jeans and a white sweater, she said the family brought little more than the clothes they were wearing because of the long journey.
Aftershocks jolt region
An aftershock rattled parts of central Sichuan province Friday, the official Xinhua News Agency said, citing its reporters at the scene. A number of vehicles were buried on a road leading to the epicenter, and casualties were unknown.
The U.S. Geological Survey said the latest tremor measured magnitude 5.5, one of the strongest among dozens that have shaken the area.
More than 4 million apartments and homes had been damaged or destroyed in Sichuan province, according to Housing Minister Jiang Weixin. Jiang said the water supply situation was "extremely serious" in Sichuan, and not flowing at all in 20 cities and counties.
In the town of Beichuan
Dozens of people trudged up a winding mountain road to Beichuan, carrying backpacks and bags with food and medical supplies, on a quest for missing relatives. On another hillside, at least 80 corpses in plastic body bags were placed into a trench.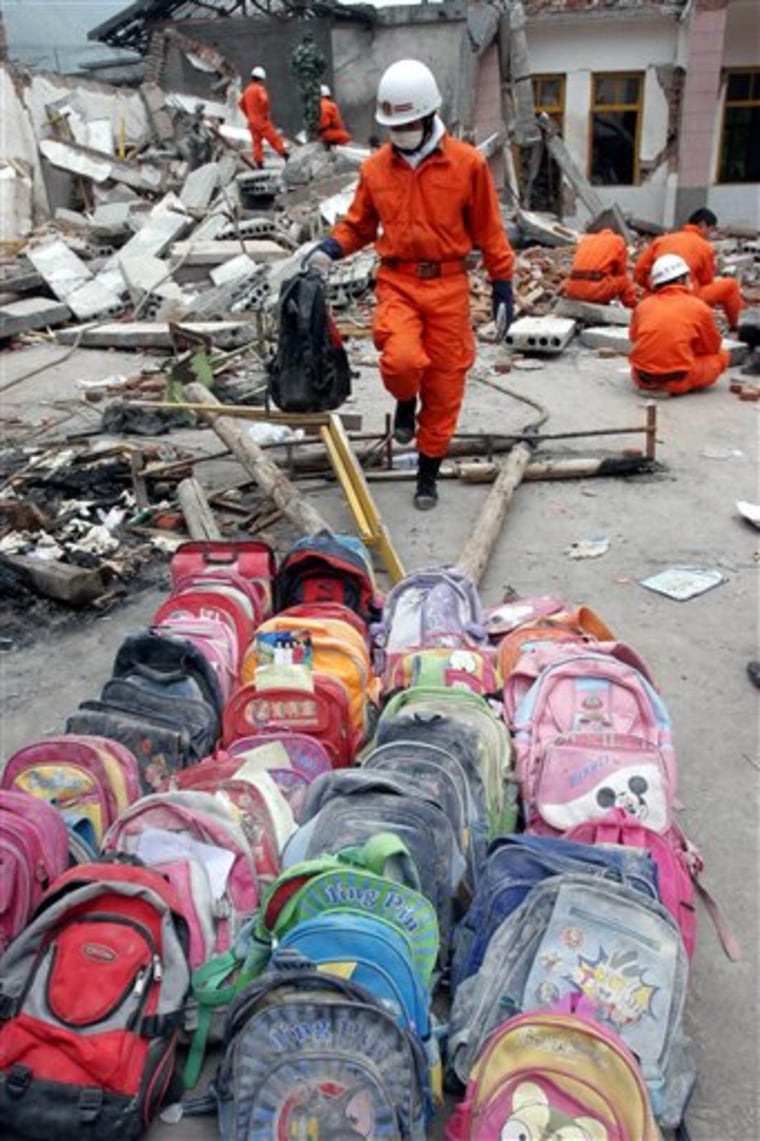 Liu Jingyong, a 43-year-old migrant worker searching for his cousin, traveled two days by bus and now foot just to get near his relative's home.
"I have not had any information from him," Liu said. "This is so hard on me."
One villager, Pan Guihui, stood on the side of the road with a vacant look on her face.
She and her husband had just hiked 13 hours with her 1-year-old child, father and two brothers away from their destroyed village further up the mountain. They had stayed in the rubble until rescue workers arrived and ordered them out because of fears of landslides.
"I have just been so frightened this whole time. I don't know what we are going to do," said Pan, 35. The only belongings the family had were some clothes and a little food, among hundreds camped along the road. "We've lost everything. There's nothing left of our village, nothing left of our home."
As she spoke, hundreds of soldiers marched by in long columns out of Beichuan, some carrying shovels.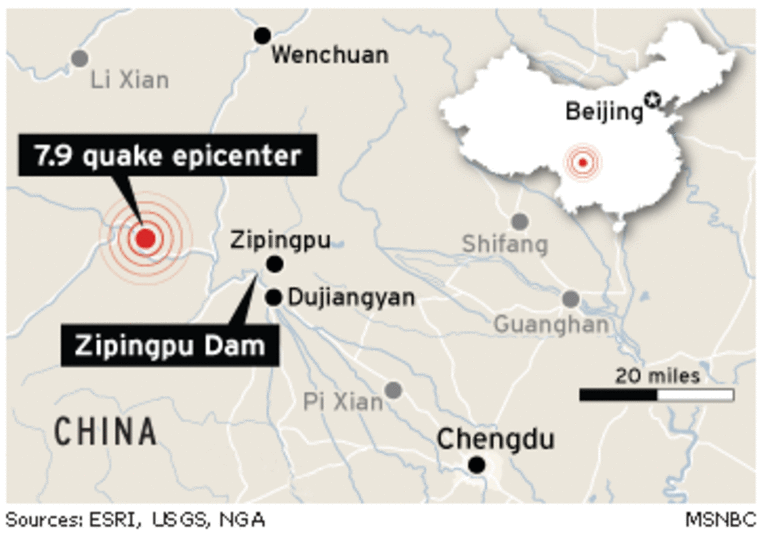 'Race against time'
In the city of Hanwang, Zhou Furen also walked hours by foot — borrowing the army green shoes she was wearing — to a factory where her son had worked and remained missing.
"I've been coming here every day, sitting here in the early morning, waiting," she said, weeping. "He's been missing for more than three days now. But for my son I would come every day."
President Hu Jintao made his first trip to the disaster zone, rallying troops among the massive relief operation of some 130,000 soldiers and police.
"The challenge is still severe, the task is still arduous and the time is pressing," Hu was quoted as saying by Xinhua. "Quake relief work has entered into the most crucial phase. We must make every effort, race against time and overcome all difficulties to achieve the final victory of the relief efforts."
The first international rescue crews arrived in the disaster area, after China dropped its initial reluctance to accept foreign personnel. Japanese rescuers started work early Friday, and teams from Russia, Singapore and South Korea later joined operations, Xinhua reported.
It was the first time ever that China accepted outside professionals for domestic disaster relief, Foreign Ministry counselor Li Wenliang told Xinhua.
The government said it had allocated a total of $772 million for earthquake relief, according to the central bank's Web site, up sharply from $159 million two days ago.
China also has received $457 million in donated money and goods for rescue efforts, according to the Ministry of Civil Affairs, including $83 million from 19 countries and four international organizations.
Given the widespread destruction, AIR Worldwide — a catastrophe risk modeling firm — estimated losses to both insured and uninsured property would likely exceed $20 billion.
China's Ministry of Land and Resources warned that heavy rains forecast for the next few days would likely set off new landslides. The ministry said on its Web site that local authorities "must immediately mark off danger zones" to ensure rescue workers' safety.
Hundreds of damaged dams have also raised fears of collapse or flooding that could inundate towns and cities that are already struggling to recover from the quake.