/ Source: The Associated Press
Amid the battle to hold back the swollen Mississippi River, some towns in northeastern Missouri and Illinois got an unwelcome surprise Saturday as river levels rose higher than projected.
Recent levee breaks north of Canton, not far from the Iowa line, had allowed the river level to drop there and at other towns far north of St. Louis.
Officials knew it would rise again to expected crests during the weekend, but the amount of the increase caught them off guard.
The Mississippi reached 26.3 feet Saturday morning at Canton, after dipping below 23 feet two days earlier, and was expected to crest later in the day at 26.4 feet.
That's still more than a foot lower than the record set during the Great Flood of '93.
However, the new Saturday morning reading was "a full foot higher than we expected it to be," said emergency management spokeswoman Monica Heaton. "The levee's fine but the river did another unexpected thing last night."
'Not out of the water yet'
Forecasters said Saturday afternoon the river would crest several inches higher than expected in Hannibal and at Quincy, Ill., where the river was set to crest late in the day more than two feet below the '93 flood.
"We're confident we can hold that and not have any issues," said Adams County's emergency management chief John Simon. "It'll be another sigh of relief, but it's not over yet. We're not out of the water yet, no pun intended. We have a while to go."
Hannibal emergency management director John Hark said the river was well above flood stage but still about 3 feet below the record set in 1993. Before a levee break north of Hannibal in Meyer, Ill., allowed some water to drain out of the river last week, Hannibal was expecting a crest at or near the record.
The crest was revised Saturday to 29.1 feet, set to arrive in Mark Twain's hometown sometime Sunday morning.
"We're keeping an eye on it," he said.
In Foley, more than half of the homes in the town of 200 residents were under water, and townspeople were only beginning to decide whether to go back or move out.
Robert "Bobby" James, a union carpenter who moved to Foley a year ago, stayed after falling in love with the river. A few days ago, the handyman took out baseboards, flooring and carpet from his house as a pre-emptive move against the coming flood.
Even if the town floods again, he said, "I raise it 10 feet, put in new flooring, slap on five gallons of paint and I'm back in business."
Good news in St. Louis area
Down river, near St. Louis, the latest federal forecast called for lower crests than predicted a day earlier. That was good news in hard-hit Lincoln County, where five levees had broken in the past three days.
National Weather Service meteorologist Ben Miller speculated that forecast models simply had been unable to account for the amount of water flowing into the Mississippi from the three rivers that saw major flooding in Iowa — the Cedar, Iowa and Des Moines rivers.
"Honestly, the models didn't do well with it because it was so far out of the range of normal," Miller said.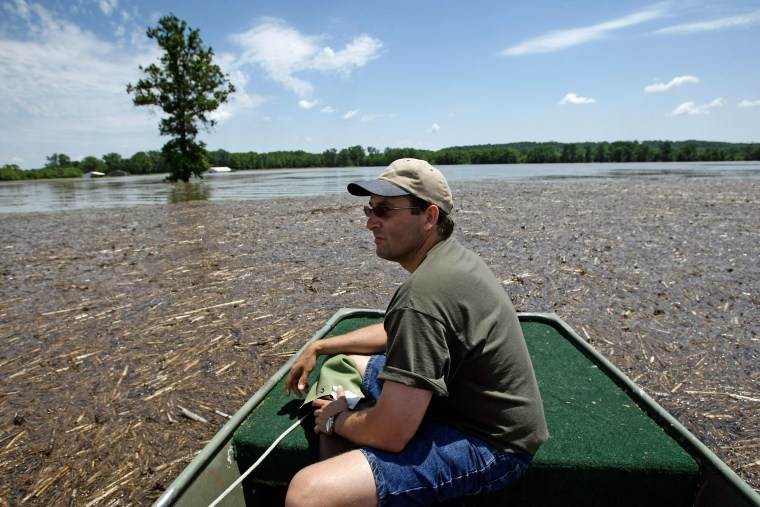 Miller was unaware of any levees facing renewed danger because of the river's unexpected rise, but said river towns need to be aware that the flood is a long way from over.
"Obviously any town protected by a levee is still under risk," Miller said. "The longer you have levees that have water up against them, the better the chance you have a levee being compromised."
Flooding and widespread storms this month have forced thousands from their homes and inundated towns and cities along rivers in six states, killing 24 and injuring 148 since June 6.
But while the swollen Mississippi has topped or broken through levees for hundreds of miles above St. Louis, the flooding hasn't led to any deaths or significant injuries in Missouri or Illinois.