/ Source: Forbes Traveler.com
Cleopatra and Marc Antony. Helen of Troy and Paris. Jay-Z and Beyonce. Pamela Anderson and Kid Rock. These are just a few of the many romantic liaisons that have found footing, however fleetingly, on Mediterranean terrain.
As long as humans have had romance, the Med has reigned as one of the world's most reliable destinations for making lovers swoon. "The white-washed villages and blue, blue water are a very Mediterranean thing," says Judy Nussbaum, a luxury travel consultant with Unique Travel of Palm Beach in Delray, Fla. "And it's definitely romantic — it's just the nature of that part of the world."
Like love, however, the romance offers itself in various manifestations. For some lovers, the definitive beach tryst begs for only a few aesthetic ingredients — blinding white beaches and water clear enough to reflect the light in your besotted's eye, perhaps. For others, the cocktail is less cliché. Everyone has a different idea of how a particular travel destination should set the old heart aflutter. And when it comes to diverse cultural offerings that blend seamlessly with that universal seaside ethos — beach culture — few locales on the planet can seduce like the Mediterranean.
"How do you define 'romantic'? In Thassos, the water was clear and blue, there were goats on the rocks overlooking the beach. You could hear them sometimes," says Vincent Vogel, a lawyer from the Netherlands, about the Greek island where he honeymooned in 2005. "Thassos is quite green, there's nice sea. It was like one of those Louis de Funes movies from the 1960s showing the surroundings of St. Tropez, before it was so developed — to me that was romantic."
While well-developed and popular with holidaymakers from northern Greece and Eastern Europe (the island is only 12 kilometers from the mainland), Thassos manages to lull you into a starry-eyed state in myriad ways. Sure, the beaches are beautiful, and you can always find a secluded stretch — but the island's rugged interior is equally comely. Hire a moped, throw your arms around your lover's waist and cruise inland, stopping off at roadside stalls to sample locally produced foods such as olives, honey and the island's specialty tipple — a pear and cinnamon concoction called tsipouro.
"The atmosphere is really different there, too," says Vogel. "The people are relaxed. Dutch people are in a hurry, and the Greeks are not."
Often, a truly romantic vacation is a quixotic one — it promises an experience that's out of the ordinary. Before you make any plans, however, make a commitment to learning Mediterranean culture's best life lesson — the luxury of time. Daytime hours are indulged lounging seaside or exploring medieval villages, with evenings devoted to long, languorous meals centered on a table for two overlooking the sea and a bottle of wine that's just as local as the fish on your plate.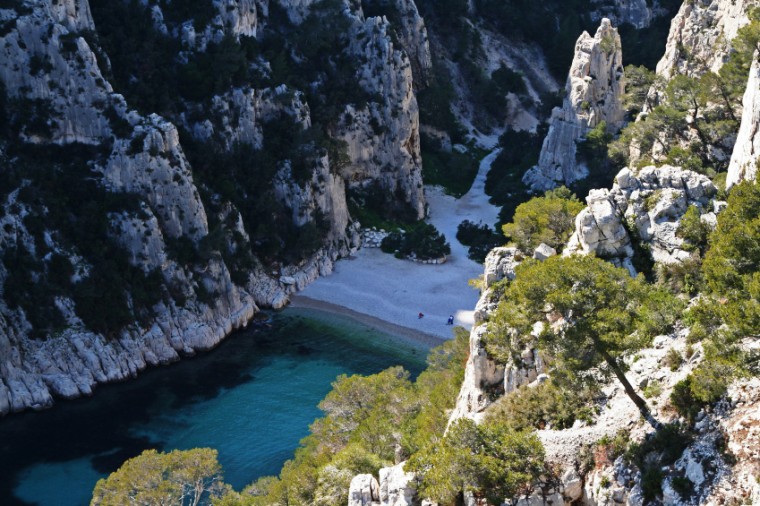 "The whole lifestyle in Greece is very laid back," says Kelly Shea, vice president of Earle Travel, an Indianapolis firm specializing in Greek travel destinations, "Nobody's in a hurry to do anything; you get into the rhythm of life on a Greek island."
Of the islands, she says, "You walk around and explore … You sit in a café and have coffee, listen to music and talk to fishermen."
Romance does not get lost in the equation, even on the busy island of Santorini — the height of Greece's island perfection — where white-washed villages with turquoise domes painted Aegean blue perch atop sinister calderas and volcanic precipices. The serene way of life melds with the tranquil blues and dramatic scenery to produce a passionate response in even the most buttoned-up visitors.
Dining off the fruits of the island can be one of the greatest pleasures for both locals and visitors to Santorini. When you become keenly aware that everything is fleeting, and savor every minute of your time on the island a meal can feel like the most decadent form of seduction. There's no shortage of restaurants perched like birds of prey atop the island's cliffs. And locally produced dry white wines made from assyrtiko grapes (Santorini is one of Greece's most important wine regions) seem like they were sent from the Gods to perfectly complement the fish caught just offshore.
"I tell my clients to avoid the peak months, July and August, if they can," says Shea, "But if that's when you find yourself in Greece — and who knows if you'll be back — you have to see Santorini."
The equally dramatic landscapes of Sicily beg more Mediterranean amore. Taormina, on the east side of the Italian isle, brings something primal to the equation, with testy Mt. Etna not far from the beach. The destination itself plays out on two levels, with the beach scene backed by a fairytale medieval village, just uphill, home to fabulous restaurants and seductive Italian espresso bars and nightlife.
"You've got this big volcano looming and these gorgeous beaches that are more sandy than rocky," says Beth Ruben, manager of custom travel planning with Select Italy, a luxury travel agent in Chicago. "You can be down at the beach at the Mazzaro Sea Palace, an amazing property, then take the funicular from the beach up to the medieval town."
Italians really do live the sweet life. "Long lunches, six-week vacations — everything can be put off until tomorrow. It's always so impressive to us, this way of thinking, because it's so foreign." So if you need some downtime to reconnect with your lover, then Taormina may be just the ticket.
The French Riviera, too, has long been synonymous with romance. But if privacy is paramount, range beyond Cote d'Azur standbys à la St. Tropez, Nice and Cannes, where beachgoers, however beautiful, line every inch of sand during the peak summer months.
"Everyone sort of builds Nice up because of the beautiful rocky beaches. It's the south of France, so the expectations are so high," says Aaron Boyd of Denver, Colo., who vacationed in Nice in 2003. "But you get there and you're sort of let down."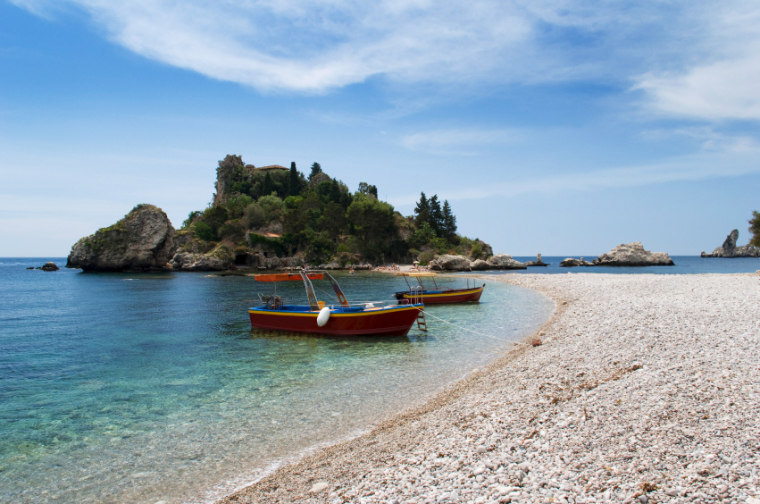 According to travel consultant Judy Nussbaum, an alternative Cote d'Azur locale with more intimate appeal is Le Lavandou, a seaside village located about 40 minutes southwest of St. Tropez. "Le Lavandou is a laid-back, purely European, French beach resort," she says. "It's not on the American radar at all yet — except for cruise passengers on the smaller, luxury ships (like Seabourne)."
For many people, the idea of Mediterranean romance conjures up Greece, France and Italy. But think of unexpected locales — like Turkey, Croatia and Montenegro.
At Cleopatra's Beach on Turkey's southern Mediterranean coast, even the pink-tinged sand reflects the color of love. It was here that the Hellenistic ruler of Egypt was allegedly courted by Marc Antony, who, as legend has it, created the beach in an attempt to woo his lover. Sigh-inducing, indeed — and that's before you even take a dip into the brisk, blue waters.