/ Source: The Associated Press
Hosting a Republican National Convention is old hat to Minnesota.
Really, really old.
Across the Mississippi River from present-day Minneapolis skyscrapers once stood an exhibition hall where Republicans nominated Benjamin Harrison for a second term as president in 1892. Harrison met defeat to Democrat Grover Cleveland, and the Industrial Exposition Building met the wrecking ball a half-century later.
Not so much as a plaque marks the convention site, occupied today by townhomes in a neighborhood of trendy restaurants and boutiques. That's typical of prominent points of national political interest in the Twin Cities, the backdrop for the Sept. 1-4 GOP convention. History buffs need determination and imagination to unlock the past.
The hunt begins at a famed Minnesota meeting place: the state fairgrounds nestled between Minneapolis and St. Paul.
It was there in 1901 where Vice President Theodore Roosevelt first used a signature line summing up his vision for American foreign policy: "Speak softly and carry a big stick, and you will go far."
The assassination of William McKinley days later vaulted Roosevelt to the presidency. He returned to the Minnesota State Fair twice more — as an ex-president in 1910 and a splinter candidate for the White House in 1912.
The fair is known for foods on a stick, more than five dozen at last count. But "Big Stick" Roosevelt doesn't get credit for the craze, which dates to the Pronto Pup corn dog in 1947. "It's coincidental, but it works out kind of nicely," said fair spokeswoman Brienna Schuette.
Through the years, the fair had irresistible pull for political giants: Sitting or future Presidents William Taft, Calvin Coolidge and Dwight Eisenhower all spoke there as did White House-seekers William Jennings Bryan, Walter Mondale, Michael Dukakis, Al Gore and John Kerry. But no markers point visitors to those oratorical spots.
Sen. John McCain, this year's Republican nominee, headlined a fairgrounds rally in 2004.
A half-mile from the fair's south gate is the start of Pierce Butler Route, named for the first of three Minnesota lawyers who sat on the U.S. Supreme Court. A Depression-era justice, Butler was an unflinching conservative and opposed New Deal policies before the court at every turn. The short-cut road ends near Calvary Cemetery, where Butler is buried.
Exactly 30 years after Butler's death, St. Paul native Warren Burger became chief justice. His name adorns a federal courthouse downtown and the library at his alma mater, William Mitchell College of Law (formerly the St. Paul College of Law). There's a bust of Burger at the library, but not his papers.
"He was a very private guy," said Hamline University law professor Douglas McFarland, a former assistant to Burger. "He had a strong belief that judges should not be in the public eye."
Burger's contemporary and boyhood friend, Justice Harry Blackmun, has links to the St. Paul College of Law, too. He taught there and later at the University of Minnesota. But there are few traces of the justice best known for the Roe v. Wade decision legalizing abortion; anti-abortion forces blocked a move to put a bust of him in the State Capitol after his 1999 death.
The Burger-Blackmun kinship is reflected, though, at the university's Scholars Walk on the Minneapolis campus. The path of lighted monuments also pays tribute to former Vice President Hubert Humphrey, whose life accomplishments are detailed more fully at the on-campus Humphrey Institute. Mondale, a fellow Democrat vice president, is the namesake of the university's law school.
Back in St. Paul, a stroll through the auspicious neighborhoods sprouting off Summit and Grand avenues offers a wealth of history.
The home of Frank B. Kellogg, the one-term GOP senator turned influential diplomat, still stands at 633 Fairmont Ave. Kellogg, a U.S. Secretary of State, won the 1929 Nobel Peace Prize for his role in negotiating a monumental peace treaty. The main entrance to Xcel Energy Center, where the GOP convention will be held, is on Kellogg Boulevard.
The Minnesota governor's mansion, at 1006 Summit Ave., played host to dignitaries like Soviet leader Mikhail Gorbachev and King Harald of Norway. Jesse Ventura, the ex-wrestler turned governor, used the front lawn on a snowy February afternoon to separate from Ross Perot's Reform Party.
Stop for a drink at a landmark St. Paul restaurant, The Lexington, on the corner of Lexington and Grand Avenues. It's a prime place for a chance sighting of the state's political heavy hitters, including Mondale.
Many of the neighborhood's Victorian, Colonial and Tudor-style houses had prestigious inhabitants — from lumber and railroad barons to the author F. Scott Fitzgerald — or renowned architects, such as Cass Gilbert.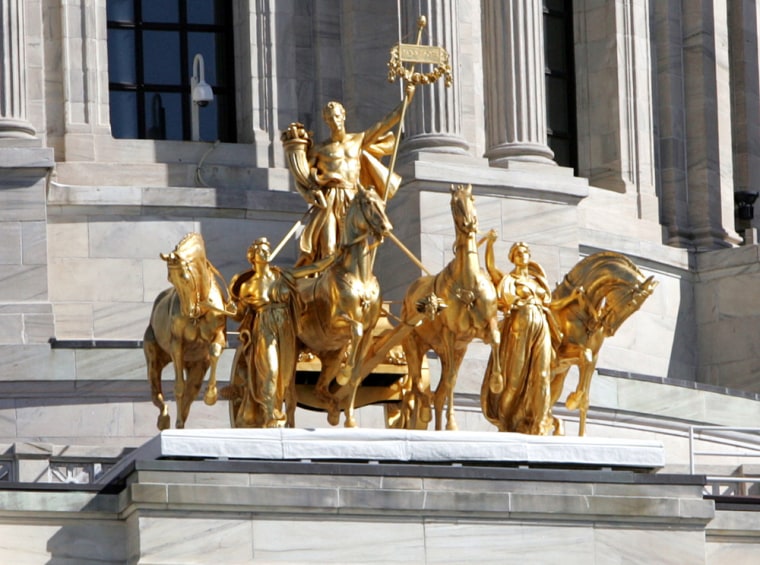 By far, Gilbert's most famous Minnesota work is the state Capitol, now 103 years old. It's the third Capitol in Minnesota's 150 years of statehood.
The building's grand dome covers an interior decked out with Italian marble columns, vaulted staircases and elaborate murals. Portraits of Minnesota governors line the walls. They range from the symbol-laden painting of Ventura to the no-frills look at Harold Stassen, Minnesota's "boy governor" who matured into a serious contender for the 1948 Republican presidential nomination.
A gilded exterior sculpture of four horses, a chariot and three human figures — known as the Quadriga — crowns the main entrance. Tours are offered daily.
Gilbert went on to design the U.S. Supreme Court building. A different Washington structure influenced one of Minneapolis' best-known buildings: The Foshay Tower.
The 32-floor building — the city's tallest for four decades — was designed to imitate the Washington Monument, with sides sloping toward a pointed crest. Conductor John Philip Sousa wrote a march for its 1929 dedication, the "Foshay Tower-Washington Memorial March."
Developer Wilbur Foshay, whose Marquette Avenue office tower is now a hip new W hotel, had his own intersection with politics. When his financial empire crashed with the stock market, a fraud conviction landed Foshay in federal prison. His sentence was commuted by President Franklin Roosevelt and he was later pardoned by President Harry Truman.