/ Source: The Associated Press
The artifacts awaiting their place in the Sept. 11 museum sit in storage — crushed emergency vehicles, dust-covered purses, a giant steel column covered with victims' pictures. Now, voices will bring them to life.
There's the recorded voice of FDNY retiree Peter Bondy, who put Sept. 11 firefighter Jonathan Ielpi's picture on the 62-ton "last column" at the ruined World Trade Center site in 2002.
And John Abruzzo, a quadriplegic, telling how he was carried down 69 stories of the north tower by his colleagues in a special wheelchair.
And Michele and John Cartier, siblings talking about how they found each other in the chaos before the towers fell, and about their brother, James, who did not make it out.
These are among hundreds of Sept. 11 stories — taped remembrances, even podcasts playing on the Internet — being collected by museum planners who want to connect physical relics of the nation's worst terrorist attack to memory.
Hope for special meaning
They hope the multimedia library — already containing more than 800 oral histories — will have special meaning in what has already become one of the most exhaustively documented events ever.
"This is a story that one-third of the world's population lived through in real time," museum director Alice Greenwald says. "We can't tell people what they already know. There are so many living witnesses."
When the museum opens — by 2012 at the earliest — visitors may be able to listen to a firefighter's account of removing the memento-covered steel column while looking at it. There will be a library in the museum where visitors can find stories by computer and listen.
Some survivors waited years to tell their stories and then spent several hours leaving no detail out, chief curator Jan Ramirez says. Their stories often focus on sense memories: the smell in the air, the struggle to see through smoke. One woman saw glass popping from one of the huge trade center towers and likened it to a run quickly forming on a stocking.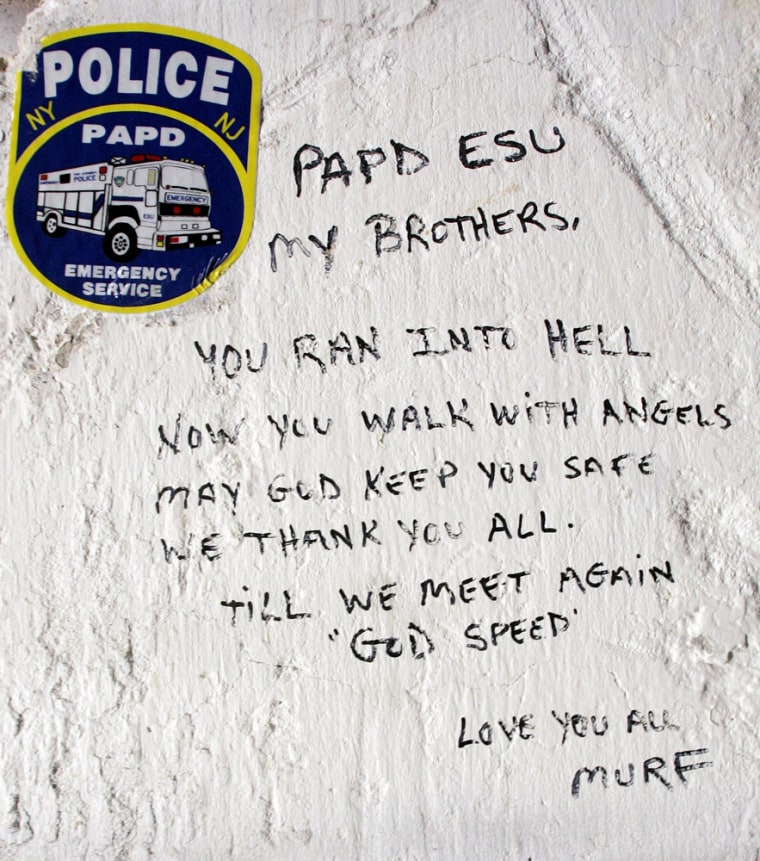 Michele Cartier told her story a month ago. She and her brother, James, each worked in a trade center tower. Her building, the north tower, was hit by a hijacked plane first. Cartier, an administrative coordinator at an investment brokerage, began walking 40 flights down. She tried calling James and couldn't get through. It was hot, a little smoky.
"We just kept going down. I don't even remember where we exited," she says.
On the street — Church Street, on the east side of the trade center — she saw another brother, John. She had no idea why he was there. James had called him and told him to find Michele and he came on his motorcycle. Before a plane hit his building.
Brother vanished
They looked and looked for their brother.
"We waited in the crowd trying to find him, praying. Anyone that looked similar to James, I'd scream out his name," she said.
The south tower collapsed, and the siblings ran, tearing John's T-shirt to form small masks to breathe through the sooty air.
Seven years later, Cartier, now 37, thinks James somehow is responsible for John finding her in the crowd and helping her to survive.
"The chances of me finding John in a crowd of thousands was just an act of God," she said. "John was there to help me and James was the instrument that got John there."
James Cartier, 26, was trying to evacuate from the 105th floor of the south tower when it collapsed.
The memorial foundation has been posting excerpts of some of the oral histories on its Web site. Not all of them are about the day itself.
They include Alison and Jefferson Crowther's reminiscences of their son, 24-year-old Welles, known to survivors as "the man in the red bandanna" helping them leave the north tower. In an oral history recorded through the nonprofit StoryCorps project, Crowther's parents remembered bungee jumping with Welles and riding on Space Mountain at Disney World.
Ramirez said several firefighters are now being interviewed to match their stories with a room of crushed fire trucks in storage at an airport hangar.
Then there is Abruzzo, an accountant at the Port Authority of New York and New Jersey, who evacuated the trade center twice — after the 1993 truck bombing that killed six people and on Sept. 11, 2001.
It took six hours for Abruzzo, who was in an electric wheelchair, to get down the stairs in 1993. On Sept. 11, the Port Authority had a portable wheelchair on hand in case he ever needed to evacuate.
Ten of his colleagues took turns taking him down 69 stories; two in the front, two in the back.
"They would alternate and some of the stairways were tight," he remembered. No one knew what had happened or that the other tower had collapsed. "I don't remember a sense of urgency, panic," he said. "We stopped at a Snapple machine."
Five minutes after Abruzzo and his friends got outside, the north tower collapsed.
The wheelchair that carried him down is a permanent exhibit at the museum.