A private group planning to launch a moon rover to the famed Apollo 11 landing site in a bid to win a $20 million prize announced an ambitious plan Thursday to send five more spacecraft to explore the lunar poles.
The Pittsburgh-based firm Astrobotic Technology Inc., led by Carnegie Mellon University roboticist William "Red" Whittaker, announced plans to launch its first rover to Tranquility Base in May 2010 to win the Google Lunar X Prize competition.
Astrobotic is one of 14 teams currently in the running for the prize, an international competition offering millions of dollars to the first privately funded team capable of landing a mobile spacecraft of the moon, driving it for a third of a mile (500 meters) and beaming home high-definition television of the feat. The first team to do so successfully by Dec. 31, 2010, wins the $20 million first prize. Second place and bonus prizes each garner about $5 million.
The competition is sponsored by Google and managed by the X Prize Foundation of Santa Monica, Calif.
"It was very clear that it was going to cost more to win the prize than the prize itself," David Gump, president of Astrobotic, said in a telephone interview. "So we really needed to provide a coherent strategy for a series of missions that could benefit investors and get them to come in and fund us up front."
Under the plan, the inaugural flight would be followed by three more privately funded polar rovers, as well as a lander and a moon dozer, to explore the moon for potential lunar base sites or scan for water ice, according to a white paper released Thursday. Each of the missions is targeted at various high-interest spots on the moon. Astrobotic's probes would observe the lunar surface and the effects of the lunar environment on spacecraft, and test technologies for future exploration.
The data from each Astrobotic moon shot will be added to a core library and be available for customers for engineering purposes or scientific research aimed at future exploration, Gump said.
"As we do additional missions, it grows richer and more valuable to the space agencies and the companies that would license access to it," he told Space.com.
Astrobotic released the new report at a joint meeting of the International Lunar Exploration Group, Space Resources Roundtable and the Lunar Exploration Analysis Group in Cape Canaveral, Fla.
Beyond the Lunar X Prize
Astrobotic's first mission, the Tranquility Trek, will feature a four-wheeled rover equipped with cameras and other sensors to observe the lunar surface and the Apollo 11 landing site. In addition to returning high-definition television views of the moon, the 132-pound (60-kilogram) rover is expected to study how the remains of NASA's Apollo 11 lander Eagle have fared since the July 1969 moonshot, and measure how lunar regolith builds up on solar panels, Astrobotic officials said.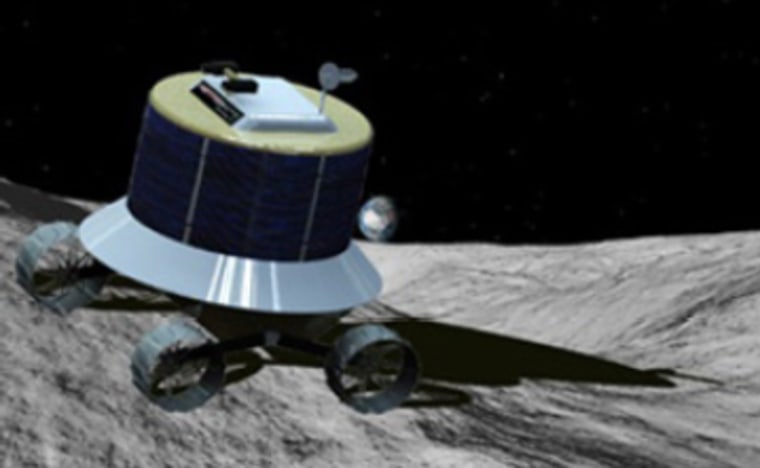 Great care would be taken to preserve Tranquility Base for its historical significance during the mission, Gump said. Telephoto camera lenses and smart software would help the mission avoid treading on the bootprints left by astronauts Neil Armstrong and Buzz Aldrin.
According to Astrobotic's lunar exploration plan, two small rovers would follow the Tranquility Trek in 2011 and 2012 on separate ice-hunting expeditions along crater rims of the moon's polar regions. The first would visit the south pole's Shackleton Crater, a potential site for future NASA moon bases, while the other would visit a crater rim around the north lunar pole.
A lander would follow in 2012, touching down at Shackleton Crater for long-term studies of moonquakes and the lunar environment, Astrobotic officials said. Another rover would follow in 2013 to roll onto the Shackleton Crater floor to hunt for ice, with a "moon dozer" to follow later that year to test construction and regolith-moving techniques.
Future rovers may eventually also be tailored from existing designs to seek mission-specific data requested by customers, Gump said. Astrobotic has a rocket in mind to launch its future fleet of moon probes, but will announce the booster provider at a later date, he added.
Astrobotic's core of technical rover know-how from Carnegie Mellon and its business base for project management form a steady platform from which to shoot for the moon, Gump said.
"I think we'll make this successful, compared to some of the things in the '90s that didn't work out," he added.