/ Source: The Associated Press
In World War II, Samuel Mazur was a tail gunner on a B-17 bomber that flew over Europe.
Three decades later, he died of cancer — with no family at his side — at a Veterans Administration hospital in Vermont. His cremated remains were sent to a funeral home, where they were placed on a shelf and forgotten.
"He had an interesting life," said Euclid Farnham, who knew him. "He really did not have anyone."
Until last week.
On Friday, Mazur got full military honors and was laid to rest along with three other forgotten veterans as part of the Missing in America Project, a volunteer organization that seeks to identify and honor the unclaimed remains of American veterans.
No family, but dozens attend
There was no family, but there were dozens of leather-clad, motorcycle-riding veterans at the Vermont Veterans' Memorial Cemetery, and a military honor guard.
"The recognition of their service transcends their death, and in places like this cemetery, we will continue to devote ourselves to their cause," retired U.S. Army Col. Joseph Krawczyk said during the ceremony.
In two years, the group's volunteers have visited 592 funeral homes, found 6,327 sets of unclaimed remains, identified 491 of them as belonging to veterans and interred 325, said Bruce Turner, the Vermont coordinator.
The Department of Veterans Affairs supports the effort.
"We would support any organization that helps to identify veterans who would be eligible for burial," said VA spokeswoman Josephine Schuda in Washington.
"We can't get into the task of locating and recovering remains, but when a group like this presents identification, the VA will verify eligibility and assist the group to organize burial honors," she said.
The remains of Mazur and the three other vets came from Knight Funeral Home in White River Junction, the first Vermont location contacted by Turner, 58, of Lebanon, N.H.
Turner figures there are dozens — at least — similar remains in Vermont and New Hampshire, where he's already helped bury six at a veterans' cemetery in Boscawen and is planning another service to inter nine more.
Veterans being buried without honors
Fred Salanti, 60, of Redding, Calif., founded the organization after discovering that unclaimed remains of veterans were being buried in California veterans' cemeteries without the honors he felt they deserved.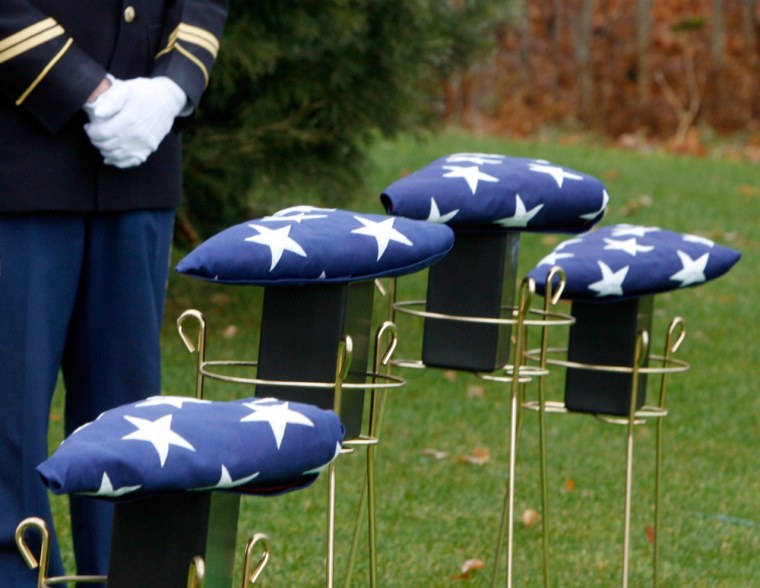 "Some of us who are Vietnam veterans, we still have something locked inside of us that makes us want to reach out and honor other veterans," Salanti said. "When you stand in a Missing in America Project service and see 60-year-old men, streaming tears, and you look around and see no family, we are their family."
The group has begun identifying unclaimed remains and — when possible — returning them to family members. When no one can be found or no one is interested, the remains are interred in veterans' cemeteries.
Last year, the group received $5,000 in donations, Salanti said. "We can't afford to have a budget," he said.
About 5 percent of all remains never claimed
Jim Johnston, a spokesman for the Vermont Funeral Directors Association, said about 5 percent of all remains are never claimed. He estimated there were a couple dozen sets of unclaimed remains in the funeral home he runs. He's now going to check to see how many were veterans.
"I think once the word gets out that they can be buried at the veterans' cemetery, (directors) will start checking their remains to see how many veterans they do have," Johnston said.
The requirement for a veteran to buried in a veteran's cemetery is to have been honorably discharged. Of the four sets of remains buried here Friday, the most was known about Mazur:
He won a Distinguished Flying Cross, the Air Medal, the American Theater Ribbon, the World War II victory medal and the Army of Occupation Medal for service in Germany, said Clayton Clark, head of the state office of Veterans Affairs in Montpelier
He made a career of the military and lived all over the world, retiring in Vermont in a small house he bought in South Royalton. He lived there for about a dozen years.
He filled his Vermont home with furniture he had made in Hong Kong. It sold at auction after his death for a fraction of its worth, said Farnham, who hadn't known Mazur's remains were never claimed.
"His ex-wife came after he died," Farnham said. "I guess I assumed they had claimed the remains. Obviously, they didn't.
And the others found with Mazur:
Ralph G. Hemphill served as a private during World War I.
Julius John Morse served in the Navy in World War II.
Doris Ferriter was an Army second lieutenant in World War II.