/ Source: The Associated Press
In these tough times, many people appear willing to gamble a few precious dollars in the hope of winning instant deliverance from their economic woes.
More than half of all states with lotteries have reported rising sales over the past six months, and some researchers say financial insecurity might be driving people to risk more of their money than usual on $1 and $5 instant scratch-offs and other daily games in hopes of a big payoff.
"Someday somebody is going to win and I hope it is me," said Albert Atwood of Nashville, who spends $100 weekly playing the Pick 5 and Lotto Plus. "I imagine that I would be a heap better off if I saved this money, but everybody has dreams."
Driven by regulars like Atwood and a growing number of occasional players, 25 of 42 states with lotteries have experienced higher sales of scratch-off and daily lottery games since July, according to Scientific Games, a maker of scratch-offs.
In Washington, D.C., instant sales reached a record of $45 million in the 2008 fiscal year, representing an 11 percent year-over-year increase.
In Tennessee, sales of instant lottery games were up $8 million during the fiscal first quarter ending in October.
The Massachusetts lottery reached a record of $4.7 billion in sales during the last fiscal year, up from $4.4 billion in the previous year.
Nationwide, instant and daily lottery revenues have been on the rise since 2004, according to U.S. Census Bureau data.
States' revenues from multistate lotteries, such as MegaMillions and Powerball, have dropped. But industry officials say sales of those tickets tend to fluctuate as the value of their jackpots rise and fall. If there is no winner one week, the size of these jackpots increases the following week.
Some experts say economic hardships prompt people to justify small-stakes gambles even as they cut back on nonessential goods and services. Others pin the increased lottery activity on creative marketing by scratch-off makers and state governments, which cannot afford to lose this revenue stream at a time of extremely tight budgets.
Scientific Games Chief Executive Lorne Weil said states are doing whatever they can to keep sales from falling. "They are consciously working with us to launch new programs, offer tickets at new price points and increase the number of retail outlets," he said.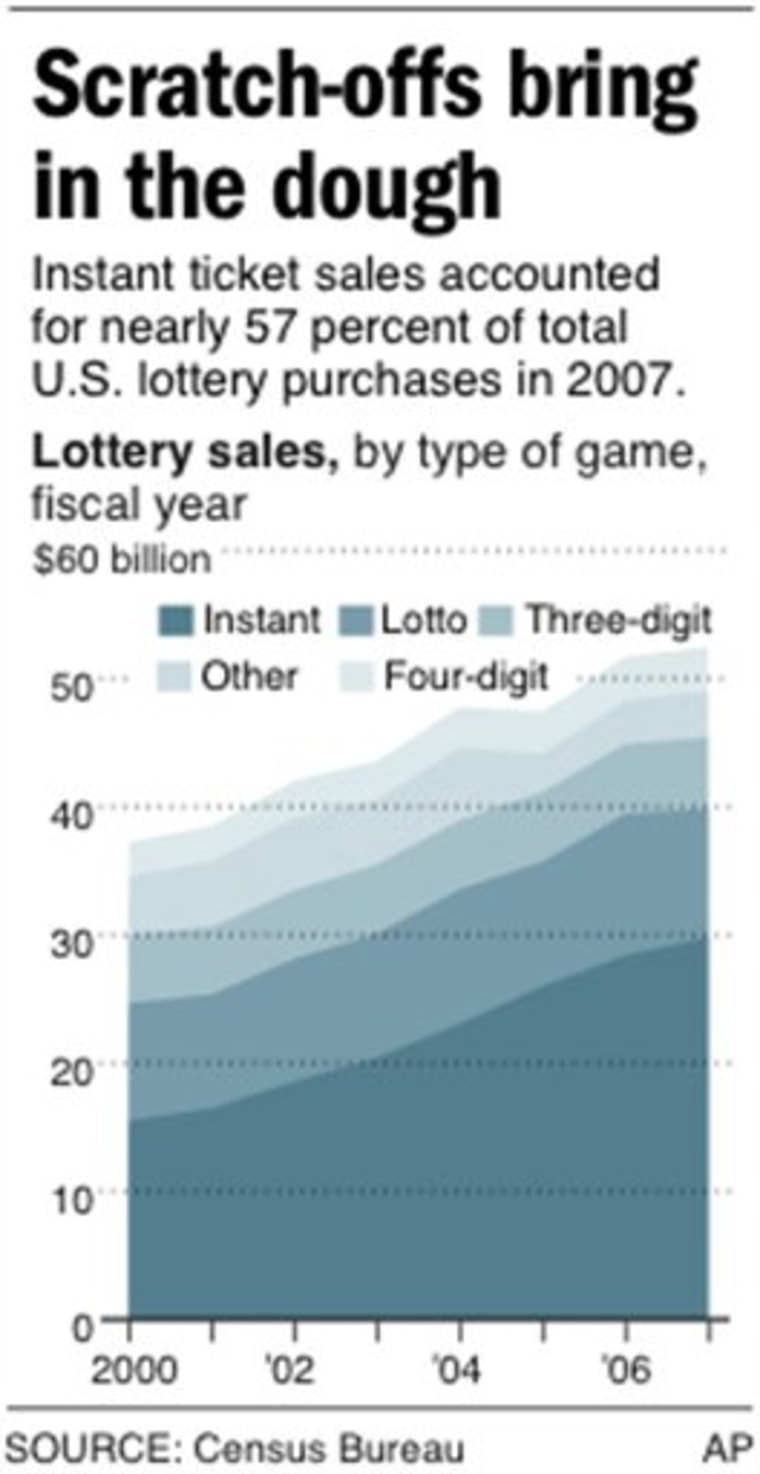 By law, many states' lottery revenues are designated toward education, parks or recreation and cannot be put into the general fund to help meet budget shortfalls in other areas.
Two out of every five states with lotteries are experiencing falling sales, according to Scientific Games' research.
A Rockefeller Institute of Government study released in June says that revenue is at an all-time high but growth has slowed to about half of its long-term annual growth rate of 5.1 percent.
In Georgia, instant ticket sales increased by 7 percent from September to October of fiscal year 2008 but just 2 percent from September to October of fiscal year 2009.
"Scratch-offs are more addictive than other lottery games because they are inexpensive and purchased almost anywhere," said Gail Howard, author of Lottery Master Guide and New York Lottery News columnist. "People are playing because they hope to score so they can have something in their pockets."
The urge to wager on lotto does not extend to casinos with wavering gas prices and the prerequisite for vacation time contributing to a revenue decline at gambling destinations like Las Vegas.
Of course, many people do not realize that routine spending on lotteries can be just as costly as the occasional visit to a casino.
"Small ticket purchases add up over time," said Emily Haisley, a postdoctoral associate at the Yale School of Management who published a research paper on lotteries in The Journal of Behavioral Decision Making in July.
The Rockefeller study found nationwide total lottery revenue has climbed steadily since 1992, rising to $17.4 billion in 2007, the most recent year for which data were available. Lottery revenue increased most rapidly over that 15-year period during the 2001 recession, according to the study.
Some researchers see a correlation between economic difficulties and the popularity of lotteries.
"When people feel like they are behind compared to where they were yesterday, they want to make up for that," Haisley said. "They become risk-seeking in order to catch up and the small hope of winning becomes more attractive."
John L. Mikesell, a professor at Indian University, published a study in 1994 illustrating lottery sales rise with unemployment rates.
"When times are tough, the prospect of spending $1 on a remote chance to potentially change your life is appealing," Mikesell said.
Bill Cooper, a 60-year-old a from Chattanooga, Tenn., was still savoring his $500 win from a day earlier on a $1 Cash 3 pick that helped the disabled painter pay for groceries, a title loan, and some IOUs.
Allen Nevils, a 58-year-old moving company supervisor, put himself on a budget, driving less and purchasing groceries in bulk, but he still allots $20 a week to play daily lottery games.
"I really don't want to win that much," Nevils said. "I just want to be alright."
Lottery officials say creative marketing is a key factor in the rising popularity of their games.
Since 2004, New York has added 13,000 blinking, beeping video lottery terminals similar to slot machines at eight harness tracks, adding $875 million, or 13 percent annually, to sales, according to New York lottery spokesman John Charlson.
Maryland Lottery has partnered with Major League Baseball's Baltimore Orioles and the National Football League's Baltimore Ravens to promote bubble gum-scented scratch-offs, sell lottery tickets at games and give season tickets as prizes.
California's aging 30-minute lottery show is getting a $14 million makeover and changing its name to "Make Me A Millionaire," where players can win a spot on the weekly show through $1 scratch-offs.
Atwood, a 68-year-old telephone company retiree, said he has spent at least $75,000 on lottery tickets since the Tennessee lottery began in 2000.
Playing recently at a Nashville convenience store that boasts it is home to two $1,000 scratch-off winners on neon colored advertisements, Atwood handed a winning scratch-off to a clerk. That got him a $5 scratch-off ticket and $1 discount toward another.
"I am absolutely not acting in my best economic interest," Atwood said. "But we always hope that we win big and that is what drives us."