/ Source: msnbc.com news services
Construction spending fell for a third straight month in December, closing out a year in which building activity dropped by a record amount as housing continued to plunge. And economists don't expect a quick turnaround amid a severe recession and the ongoing financial crisis.
But manufacturing showed a sliver of light in the economic pall in January, when factory activity slowed less sharply, according to a key gauge of the sector.
The Institute for Supply Management said its index of national factory activity rose to 35.6 in January from a nearly three-decade low of 32.9 in December, exceeding economists' median forecast for a reading of 32.6. A reading below 50 indicates contraction in the sector.
It was still the 12th straight month of contraction, however.
While the increase in the index for January showed a significant improvement, "it is still a sign of continuing weakness in the (manufacturing) sector," Norbert Ore, chairman of the institute's manufacturing business survey committee, said in a statement. Executives surveyed said "that it will take a recovery in automobiles and housing for the manufacturing sector to once again prosper."
The Commerce Department said Monday that total construction spending dropped by 1.4 percent in December, slightly worse than the 1.2 percent decline economists expected.
For the year, construction spending fell by a record 5.1 percent, surpassing the 2.6 percent decline in 2007. The weakness in both years reflected huge declines in home construction, which fell 27.2 percent last year, the largest drop on records going back to 1993.
Housing construction surged earlier in the decade as both sales and prices climbed to all-time highs, but the boom ended after 2006. Builders have scrambled to cut back on production in the face of slumping demand and soaring mortgage foreclosures that are dumping more unsold homes on an already glutted market.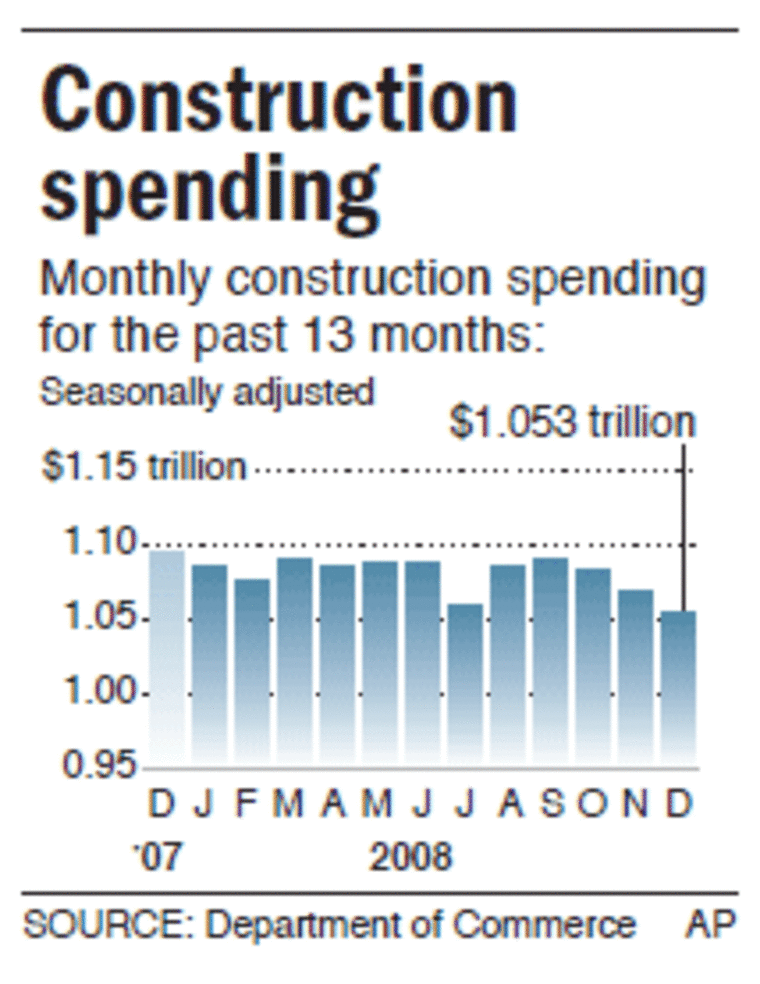 For December, housing activity dropped 3.2 percent to a seasonally adjusted annual rate of $319.2 billion.
Nonresidential construction also fell for the third straight month, dropping 0.4 percent to an annual rate of $417.9 billion. But for the year, nonresidential construction rose 15.3 percent, the third straight double-digit gain.
Severe credit crisis
Still, with a severe credit crisis forcing banks to tighten lending standards, developers are finding it harder to get financing for new projects. Analysts expect further weakness in nonresidential construction in 2009, amid a recession now in its second year.
Government spending dropped by 0.8 percent in December to an annual rate of $316.6 billion, reflecting a slowdown in state and local building, which fell by 1.5 percent. Construction spending by the federal government rose 6.3 percent in December.
For the year, government construction activity rose 7.4 percent, following a 12.4 percent gain in 2007.
President Barack Obama is pushing Congress to pass an $819 billion economic stimulus package that would include increases for government infrastructure projects such as highways and bridges.
Homebuilders are lobbying Congress for expanded aid for home buyers in the legislation. The stimulus bill, which passed the House last week and is now in the Senate, includes a $7,500 tax credit for first-time homebuyers who act in the first half of the year. The builders, however, are pushing a larger credit that would last for all of 2009.
In earlier signs of the difficulties facing homebuilders, new home sales in December fell a worse-than-expected 14.7 percent to a seasonally adjusted annual rate of 331,000 while a key gauge of homebuilders' confidence sank to a new record low in January.
Sales of existing homes did post an unexpected increase in December, as consumers grabbed cheap foreclosures in California and Florida. Sales of existing homes rose 6.5 percent from November's pace, the National Association of Realtors said last week.