/ Source: The Associated Press
Construction of new homes and applications for future projects both plunged to record lows in January as all parts of the country showed big declines in building activity.
Analysts are hoping that a boost from government programs, including new efforts to stem foreclosures, will help stop the slide.
The Commerce Department reported Wednesday that construction of new homes and apartments dropped 16.8 percent last month to a seasonally adjusted annual rate of 466,000 units. That's well below the 530,000 units economists expected, and was the slowest pace on records dating back a half-century.
Applications for building permits, considered a good barometer of future activity, also dropped to a record low, falling 4.8 percent to a rate of 521,000 units, slightly below economists' expectations.
The continued weakness underscored the problems facing the housing industry, which is in the grips of the worst slump in the post-World War II period. Troubles in housing have pushed the country into a recession and also triggered the worst financial crisis in seven decades as banks struggle to cope with billions of dollars of losses in mortgages and other types of loans.
The new housing figures were released on the same day President Barack Obama is scheduled to announce his administration's plan to reduce home foreclosures.
More than 2 million American homeowners faced foreclosure proceedings last year, and that number could soar as high as 10 million in the coming years depending on the severity of the recession, according to a report last month by Credit Suisse.
The new report showed weak housing activity nationwide in January. Construction dropped 42.9 percent in the Northeast to a record low of 36,000 units at an annual rate. Building fell 29.3 percent in the Midwest to a record low of 53,000 units, while it dropped 12.8 percent in the South to a new record low of 246,000 units.
Construction activity fell 6.4 percent in the West to an annual rate of 131,000 units, the slowest pace since October 1966.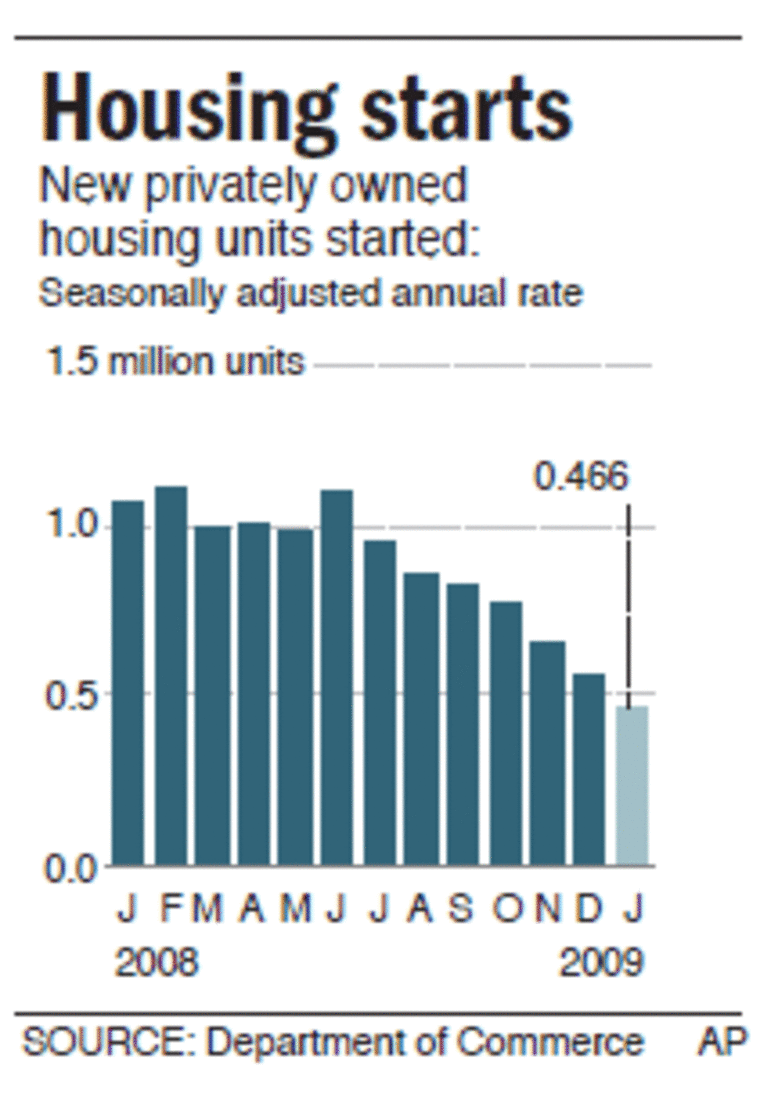 The National Association of Home Builders on Tuesday said its housing market index rose to nine this month, climbing one point off an all-time low as improved traffic by prospective buyers helped lift some builders' confidence in future sales. Still, readings lower than 50 indicate negative sentiment about the market.
For all of last year, the number of housing units builders broke ground on totaled 906,200, also a record low. That was down from 1.36 million housing units started in 2007. The previous low was set in 1991.
Tighter lending standards, rising defaults and fear about the housing market's future have sidelined buyers, an absence felt acutely by homebuilders such as D.R. Horton Inc., Pulte Homes Inc. and Centex Corp.