/ Source: The Associated Press
Hundreds of fans were lined up for a taste of the fancy eats in the food court behind the behemoth of a center-field scoreboard at the Mets' sparkling new ballpark when Carlos Beltran laced an RBI single.
But when the cheers rang out, hardly a person ran for a look at the action.
Priorities change a bit when you've been waiting 30 minutes for a burger or taco from James Beard award-winning restaurateur Danny Meyer's snack stands.
A day later at the Yankees' $1.5 billion palace in the Bronx, several dozen people snapped photos of a butcher in a white coat carving up a hunk of beef in front of a picture-window on the third-base concourse as Mark Teixeira hit his second home run of the day. All the gawkers had to do was turn around to catch a glimpse of the Yankees' new star rounding the bases, but the meat-carving spectacle in front of them was too mesmerizing for them to bother.
"This is ridiculous," Steve Charles of Great Neck said. "This is a baseball stadium."
For sports purists, it might be disconcerting to hear a bartender shout, "Who ordered the margarita?" or see someone strolling a concourse with a plastic cup of wine, but that's the new reality for New York baseball fans.
There's a baseball renaissance in New York that has little to do with what's happening on the field. Both the Mets and Yankees have unveiled amenity-laden stadiums conceived in the era of credit default swaps and easy money. One of the main benefits for fans is both arenas have dining options reflective of their diverse hometown.
If you have a high-priced ticket, you'll have access to menus worthy of an upscale Manhattan restaurant. But even those in the bleachers can buy trendy, tasty fare for under $10 at some of the new concessions.
The Mets' and Yankees' approach to the task of feeding the 3 million-plus fans who will pass through their gates this year is about as different as their ballparks are.
Take the No. 7 subway train to the Mets' $800 million Citi Field, adjacent to the 1964 Worlds Fair grounds in Queens, and you'll encounter a nostalgia trip in brick and ironwork that pays homage to those long-gone New York icons, Ebbets Field, where the Brooklyn Dodgers played, and the Polo Grounds, where the Giants, Mets and Yankees played at various times.
Enter through Citi Field's grand Jackie Robinson rotunda, and if you're sitting in a high-level suite or in seats that cost up to $695 a game, you can take a short escalator ride to the Delta Sky 360 Club, one of six exclusive spots in the park. These include the Acela Club, a multitiered restaurant beyond the left-field wall that offers incredible views of the field and a reasonable $48 prix fixe menu conceived by a chef from Myriad Group, the company owned by Drew Nieporent of Nobu and Tribeca Grill.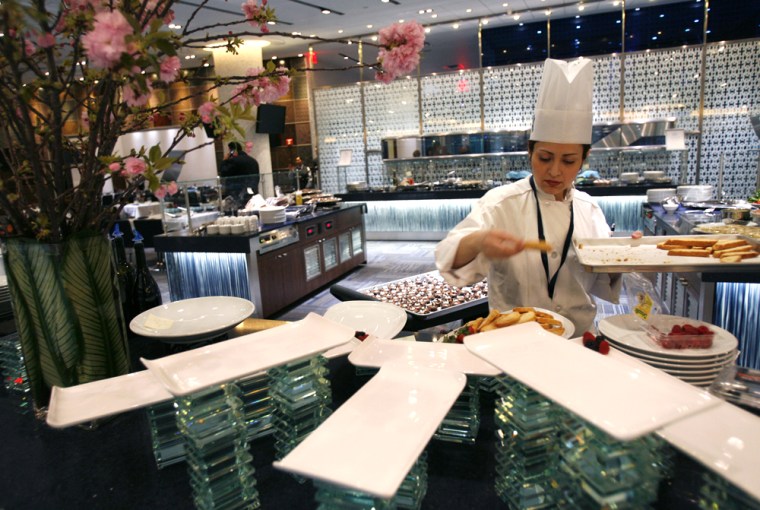 At the new Yankee Stadium, regular ticket holders can watch while those paying upward of $2,625 for ONE seat — food, but not alcohol, included — sup on white-clothed tables in the glassed-walled Legends Suite Club behind home plate.
For the hoi polloi, there are other options. At Citi Field, bars and concession stands serve stadium favorites: Nathan's hot dogs ($5.75), Brooklyn Burgers ($5.75 compared to $8.75 in the Caesars Club), six types of chicken sandwiches ($6.50-$7.50) and "Cracker Jacks" (memo to Mets: it's Cracker Jack). There are 17 types of beer, the cheapest a 12-ounce American draft at $6.25. Calories are posted at both ballparks, too (hot dogs: 260).
The real treat at Citi Field, though, is behind the scoreboard in center field at Taste of New York, a concrete picnic area with views of the Whitestone Bridge. Here one can find favorites from Meyer's Shake Shack and Blue Smoke; seafood from David Pasternack, chef at the popular Manhattan restaurant Esca, and pizza from Cascarino's, a Queens chain known for brick-oven pizza.
The lines are long and there's little, if any, view of the field, but if you don't mind missing an inning or two, it's worth the wait.
The made-to-order Shackburger ($5.75 single, $8.75 double), is one of the most popular burgers in New York, and the single is only $1 more at Citi Field than at the original Shake Shacks on Manhattan's Upper West Side and in Madison Square Park. Crispy fries ($4.75) don't wilt under heat lamps, and a thick and rich shake goes for $6.50.
Also at Citi Field: You can have a delicate pulled pork sandwich on a brioche bun ($9) or Kansas City Ribs ($10) at Blue Smoke, or order tacos at El Verano Taqueria. Two pork carnitas with a tangy salsa in a fresh soft tortilla were a bargain at $7.25.
Compare the Shake Shack fries to the Belgian-style ones at Box Frites ($6.50-$7.50) while leaning on the railing of the arched "bridge" leading to the right-field concourse and watch the action from about 500 feet away from home plate. Then stop at Pasternack's Catch of the Day, for a delicately fried Long Island Flounder sandwich ($8.25) or a lobster roll ($17).
When asked why he chose to run the Acela Club restaurant at Citi Field rather than work with the Yankees, Nieporent said the Yankees "went for the money. They wanted everyone to pay them."
A quick trip on the B, D or No. 4 trains to 161st Street and River Avenue in the Bronx, and you're confronted with an overblown monument to all things in pinstripes.
When you walk into the imposing limestone, marble and 31,000-square-foot granite Great Hall, more reminiscent of a federal building than a stadium, you hear recordings from famous Yankees moments, such as Lou Gehrig's "I am the luckiest man on the face of the Earth" speech. As if one needed one more reminder that the team's new home is supposed to evoke the original stadium built in 1923, there's an old-fashioned pushcart selling fruit.
Unlike the dark cinderblock halls of Citi Field, the Yankee Stadium concourses are light and roomy — and windy, too. While the Mets went for the top chefs, the Yankees went for recognizable names.
There's a Hard Rock Cafe with year-round street access, and concessions by Brother Jimmy's BBQ, Boar's Head, Nathan's, Tommy Bahama's, Johnny Rockets and a Mohegan Sun sports bar among others. Walking the concourses feels less like New York than a middle-America mall.
Seventy percent of the concession stands have equipment for cooking rather than just reheating under lamps, up from 14 percent in the old park, and that makes all the difference.
A Johnny Rockets double burger ($12) is no match for Shake Shack but satisfying nonetheless.
Embrace variety and follow the field level concourse starting in right field at Carl's Philly Cheesesteaks, where you can have a Philadelphia (where are we?) specialty for $10.75 or a burrito from La Esquina Latina for $9. Head toward left field for a spicy tuna roll ($9.75) or Brother Jimmy's for a pulled pork or beef brisket sandwich ($10 each).
While Mets have Shea Stadium favorite "Mommas of Corona," the Yankees overload a food court with Arthur Avenue Deli and Mike's Deli (outlets of beloved fixtures from the Bronx's Italian Arthur Avenue market) and Boar's Head. A turkey and provolone ($12) is $2.50 more than Momma's turkey and fresh Mozzarella. Big Mike's Combo or Da True Bronx Tale are $10 each.
The many choices at Yankee Stadium provide an excuse to comparison shop.
A souvenir cup of Budweiser on the 200 level concourse is $10.50. A similar sized Coors Light on the field level is $10. A Hebrew National hot dog was $5.50, but a Nathan's beef frank on the main concourse was $5 or $6 near section 226.
Oh, that butcher wasn't carving just for show. You can sink your teeth into a $15 steak sandwich made with beef from Lobel's of New York, which also supplies the steaks for the NYY Steak restaurant, which is located above the Hard Rock Cafe in the right-field corner. It offers no view of the field but you don't need a ticket to the game to eat there.