/ Source: The Associated Press
Hopeful signs that the worst may be over for the economy boosted Americans' moods in April, sending a closely watched barometer of sentiment to the highest level since November.
The New York-based Conference Board said Tuesday that its Consumer Confidence Index rose more than 12 points to 39.2, up from a revised 26.9 in March. The reading marks the highest level since November's 44.7 and well surpasses economists' expectations for 29.5.
The consumer confidence survey showed a substantial improvement in consumers' short-term outlook, including even their assessment of the job picture.
Some encouraging news in areas like retail sales and housing have helped fuel a recent stock rally. Earlier Tuesday, a housing index showed that home prices dropped sharply in February, but for the first time in 25 months the decline was not a record — another sign the housing crisis could be bottoming.
Economists closely monitor consumer sentiment because consumer spending accounts for more than two-thirds of economic activity.
The huge jump in confidence follows a small increase in March, following a freefall in February. Still, the index remains well below year-ago levels of 62.8.
The April gains were fueled by "a significant improvement in the short-term outlook," Lynn Franco, director of The Conference Board Consumer Research Center, said in a statement.
She added that the index measuring how shoppers feel now, which posted a moderate gain, offered "a sign that conditions have not deteriorated further and may even moderately improve in the second quarter."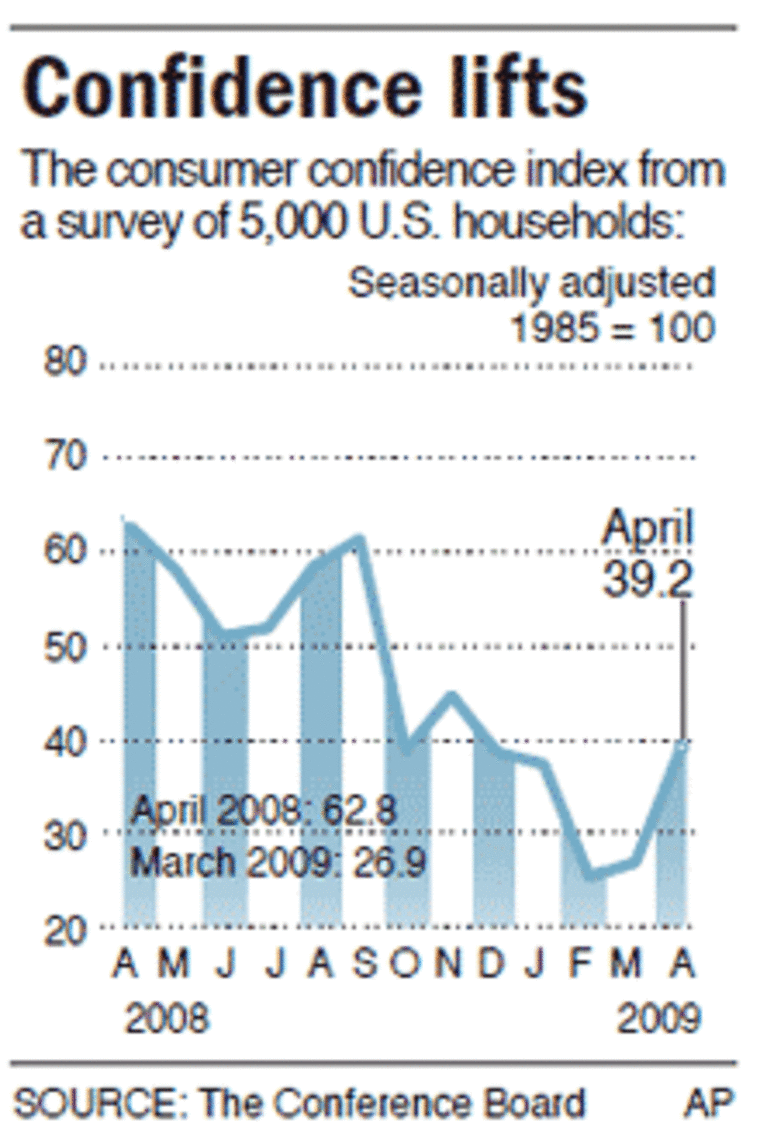 The Present Situation rose slightly to 23.7 from 21.9 last month. The Expectations Index, which measures how shoppers feel about the economy over the next six months, skyrocketed to 49.5 from 30.2 in March.
That sharp increase — which marked the largest jump since a 13-point gain in November 2005 when the economy was recovering from Hurricanes Katrina and Rita — suggests that people believe the economy is nearing a bottom, Franco said. Still, she noted that the index remains well below the level associated with strong economic growth.
"It looks like the worst is behind us, but clearly we are not out of the woods," said Franco.
With companies continuing to lay off workers, a major fear is that people will cut back their spending even more, and that could plunge the economy further into a downward spiral. Economists expect the unemployment rate — now at 8.5 percent and the highest since late 1983 — will hit 10 percent by the end of the year and keep climbing next year before it starts coming down.
Meanwhile, investors are becoming more unsettled by the possibility of a major swine flu outbreak, which could stall economic recovery — particularly in regions that depend on travel and tourism. Adam York, an economist at Wachovia Securities, said such a development could dampen confidence levels for May, but it's still early to tell.
The consumer confidence survey showed that those anticipating business conditions will worsen over the next six months declined to 25.3 percent from 37.8 percent, while those expecting conditions to improve increased to 15.6 percent from 9.6 percent in March.
The employment outlook was also considerably less pessimistic. The percentage of consumers anticipating fewer jobs in the months ahead declined to 33.6 percent from 41.6 percent, while those expecting more jobs increased to 13.9 percent from 7.3 percent.