/ Source: The Associated Press
Some of Ngobela Magwaza's fondest memories of his youth are of herding livestock through the lush Zululand wilderness of South Africa with Jacob Zuma, the man who is to become president of Africa's economic powerhouse.
Dressed in little more than loincloths made from animals skins, they would swim while the cattle drank, shoot birds with homemade slings or hunt rabbits with their dogs. Sometimes the boys would fight each other with sticks like African warriors, or show off their talents with traditional Zulu dance — at which the 67-year-old Zuma still excels.
"We never knew that there would be someone among us who could be president," Magwaza said Thursday. "He was a quiet guy. We are all very surprised that he has become what he has. We congratulate him."
Zuma's inauguration Saturday will be the culmination of a remarkable journey from this remote village to the jails of the apartheid regime and then into politics, where he flourished despite sex and corruption scandals.
Zuma's birthplace is set in a dramatic landscape of misty mountains, luminous green sugar cane plantations and mud huts clinging to the hillsides. A Zulu traditionalist who has three wives and 19 children, Zuma maintains a sprawling homestead in the village about 120 miles northwest of the coastal city of Durban.
Goats roam across dirt tracks. Women gather at communal water taps near a giant three-legged black pot in which traditional beer is brewed over an open fire. At dawn, children in clean white shirts make their way through the long grass on their way to school, passing a sun-faded Zuma election poster hanging from a tree.
Zuma's long-dominant ANC party won elections last month in an overwhelming show of support for the former guerrilla leader who is South Africa's most popular politician since Nelson Mandela, the country's first black president.
Lessons by candlelight
Zuma, son of a policeman who died at an early age, has been embraced by millions of poor South Africans who feel that his deprived childhood gives him insight into their lives.
A formal education was out of the reach for boys like Zuma and Magwaza at the height of apartheid.
Zuma's cousin Elizabeth Shange, 79, recounts how he and other children attended evening lessons by candlelight.
Resting her wizened hands on a gnarled cane, Shange says she lost touch with Zuma when, as teenager, he went to Durban in search of work. But the stories of his joining the ANC filtered back to the village.
Zuma was arrested in 1963 and jailed for 10 years on Robben Island alongside Mandela and other heroes of the anti-apartheid struggle.
When Zuma was released from prison he returned to KwaNxamalala before going into exile in neighboring countries.
"He was completely different," Shange said. "I couldn't tell he was the same boy who went to school at night to learn his ABCs."
Sitting outside in the crisp autumn air as the rising moon shines through the clouds, Shange reflects on the sacrifices Zuma has made and says he "deserves happiness."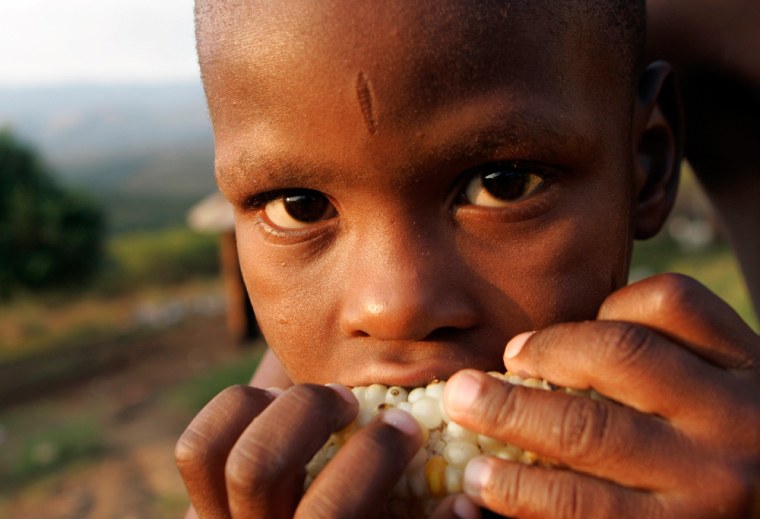 Alzina Ndlovu, another cousin, who attended night classes with him, says Zuma was an "ordinary guy." Wrinkles hide her faded tribal scars, like those that mark the cheeks of Zuma and so many in the area.
Ndlovu lives alone in crumbling hut on an isolated homestead high on a hillside. Shange has a slightly larger property, but in an equally poor condition. The zinc roof on her house is held down by stones. Neither has electricity.
Zuma has brought some improvements to his village. He has built a school, and a trust sees to the education of many poor children. He gives an annual Christmas party for villagers at which he hands out walking sticks for the elderly and clothes for the young.
As president-in-waiting, he has promised to address rural poverty and speed up land reform. But none of the village elders who spoke to The Associated Press this week were expecting any special treatment because of their relationship with the new president.
"It is not about us," his old friend Magwaza said. "It is about the whole of South Africa and we all have different needs. Maybe there are people who need more help than us."
Dreaming big
Village life is slowly changing. As paved roads bring more modern ways, old customs and traditions are fading. Large herds of cattle no longer graze in fallow fields and the young men today would rather be disc jockeys than milkers of cows.
But in the twilight, three young men emerge from the bush, shepherding a small herd of indigenous Nguni cattle.
Unlike Zuma, these youngsters attend school. They take the cattle out in the morning before classes and fetch them once their lessons have ended.
Dressed in jeans, sports jackets and Wellington boots, they say they are happy to look after the cattle, a symbol of wealth in Africa. They are encouraged that the country's new president once had the same duties.
Mtehlupha Mhlongo, 15, wants to be a pilot. If a herd boy can become president of South Africa, then his dream too can become a reality.
"There is hope for us," he said, sucking on a piece of grass.
More on:   |