During 15 months of genealogical sleuthing, the Internet has helped me uncover an extended family - not only scores of cousins I never knew I had, but a global family connected by bytes rather than blood. It all started in late 1997, with the tumbling down of the Iowa farmhouse where I grew up.
The house was built 140 years ago south of Dubuque by my great-grandfather, Michael Boyle, who came over from County Clare in Ireland. My parents sold off the farm long ago and moved into town. Now the current owners were clearing away the structure, hand-hewn logs and all, to build a new brick rambler on the site.
It had been 20 years since I lived on the old homestead. Nevertheless, even half a continent away, just seeing the snapshots of the ruins made me realize that Michael Boyle's only legacy now lay in the memories of his descendants. Could those memories be captured before they fell into ruin as well?
For years and years, our family had talked about fleshing out the Boyle family tree, but we always just left it at that. I finally decided to do more than talk about it.
My plan was twofold: to track down all the descendants of Michael Boyle, and glean enough information to trace his roots back to Ireland. I drew upon my parents' and relatives' recollections, searches of courthouse and parish records — and, of course, the Internet.
I can't imagine being able to trace family history using the Internet alone. At the same time, I can't imagine doing it without the Internet. Here are just a few examples from my own quest:
Queries: I posted the basic facts of my quest to Web message boards, newsgroups and mailing lists, hoping to make contact with someone who had information about the clan. No luck on that score ... but I received guidance galore.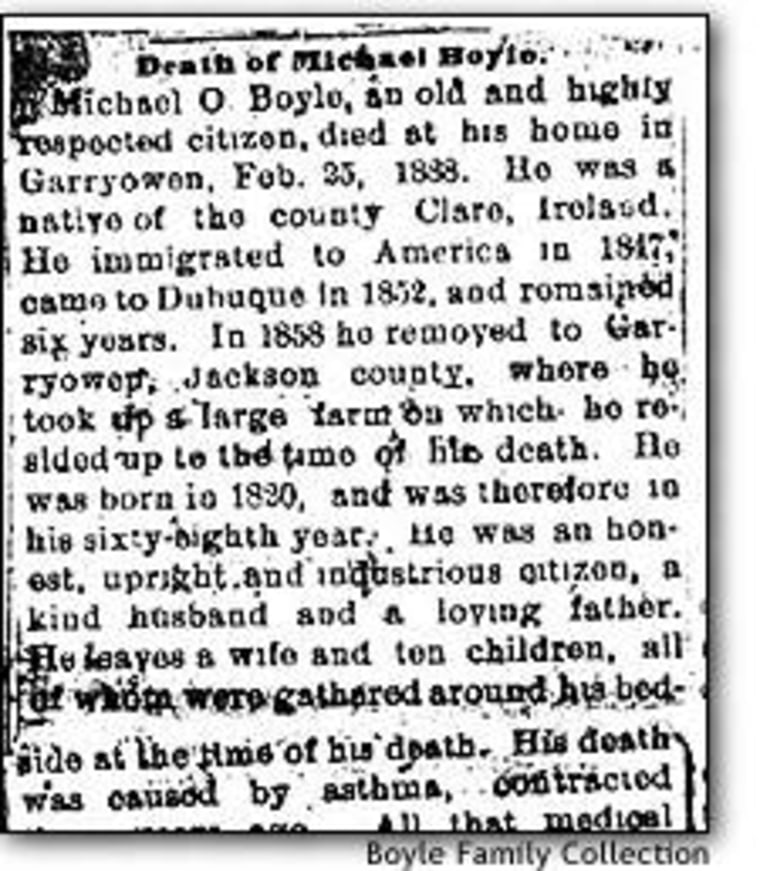 Even better, a fellow subscriber to a mailing list came upon an old scrapbook that just happened to have a clipping of Michael Boyle's obituary from 1888.
Neither of us knows exactly where it came from or why it was there, but it ranks as one of my most treasured finds.
People finders: Some parts of our family tree were long separated from our branch — and my folks only vaguely recalled that there were relatives living, say, in a corner of Wisconsin or down in Arizona. Or perhaps a yellowed obit of a great-uncle noted that such-and-such a son of the deceased lived in Chicago. If the name was unusual enough, I could search telephone listings in that area and in several cases come up with a cousin who could refer me on to yet more kin.
One of the cousins I found in this way had only a dated address for another cousin. In desperation, I searched for phone numbers of neighbors using a Web directory indexed by street address. It turned out that a neighbor still kept in touch with my mystery cousin — and helped us make a mutually appreciated contact.
Lookups: The National Archives and Records Administration responds to e-mail inquiries as well as snail-mail letters — and in reply to my inquiry, the Chicago office sent back the listing for my great-grandfather's naturalization in 1856. I also sent e-mail to volunteers back in Iowa who delved into records at libraries, courthouses and cemeteries on my behalf. (Donations to the genealogical societies are much appreciated.)
Perhaps the most valuable aspect of the Internet has to do with how online contacts turn into a real-world sense of community. For example, one of the people responding to my newbie message to the GENIRE mailing list happened to be a volunteer at the local Family History Center, and she guided me through what's become my favorite research haunt.
I've compared e-mail notes with Australian searchers who were similarly descended from the Boyles of County Clare, as well as a few who may be relatives through my great-grandmother, Ellen Howe. One fellow Boyle living down under even sent me a gem of a book about the parish from which my great-grandfather may have emigrated, Kilmurry-Ibrickane.
All the while, I kept family members updated online. I also set up a Web site to display the records and the priceless pictures I received — some of which were sent to me on floppy disk, ensuring that the originals weren't lost in the mail.
On to Ireland
Just in the past month, I extended the search to Ireland itself: In addition to commissioning a records search by the Clare Heritage Center (no e-mail yet, drat!), I sent a message to a Clare native now working for Microsoft in Dublin. I guess you could call him a corporate cousin, since Microsoft is a partner in the joint venture that operates MSNBC.
He referred me on to a computer expert in Kilrush, and after a flurry of e-mail messages, I had the phone numbers for several people in West Clare who were willing to help a poor Yank trace his roots. Once again I was relying on the kindness of strangers who turned out not to be strangers at all.
One woman at a lodge in the town of Quilty promised to canvass the local experts and send her findings to my newfound Kilrush friend, who would forward the news to me via e-mail. She was intrigued to hear that I was from Iowa, since one of her own long-lost relatives had served in a religious order there.
"Have you ever heard of a place called Dubuque?" she asked.
Small world, this cyberspace.
Click here to read the second installment of the family story, set in Ireland.