Art historian and museum curator Jennifer Cahn wasn't sure what to expect when she was asked by the Kinsey Institute to select the works for the organization's fourth annual juried art show.
The show, opening Friday, is about sexuality, naturally, this being the Kinsey Institute, the famous Bloomington, Ind., research center founded by Alfred Kinsey, the man who raised the curtain on 1950s American sex.
But Cahn certainly never expected to receive over 700 submissions, the most ever for the show. Though she was given carte blanche to select the final group, something any judge likes to have, she found making her selections difficult because she was faced with distinguishing between porn, art, erotica and aesthetic value. That's tough for anybody.
"We try to avoid making the distinction here," explained Catherine Johnson-Roehr, who runs Kinsey's art operation. "Anybody who comes here, or sees the online galleries, sees that it is a wide range of art and some of it might fit a particular person's definition of porn."
Take, for example, the institute's recently acquired engraving from 1526 depicting a scene from Genesis, Potiphar's wife trying to seduce Joseph. Joseph is depicted nude with quite an erection. Porn? Art? Both? "It's fuzzy," Johnson-Roehr said.
Exactly. So Cahn created her own criteria.
"The distinguishing factor to me was that I was looking for work with the strongest aesthetic qualities," she explained. "And I was aware that there are lots of topical issues out there and I wanted to make sure as many voices got a say as possible. Some [works] have to do with ageism; how old can you be and still be sexually attractive? I picked things dealing with the forbidden — S and M and voyeurism and public sex."
Drawing lines this way may seem arbitrary and sometimes it is, Cahn said. "It's about personal background, what society and culture did you grow up in, the mores and values of your world. I tried to be as objective as possible but I knew there would be times when my life story would enter into how I look at things and what kind of art I like."
The draw of homemade erotica
Cahn said said she was intrigued by submissions that seemed homemade. Works that seemed slick sometimes struck her as prurient.
"Homemade work done in a bedroom by a lover was erotica. When it was a professional photographer in a studio, for me, that was making porn. It sounds corny but those aren't about love. It is about sex devoid of emotion. Even a homemade image that has other emotions like anger, resentment, repression, those to me were beautiful and fascinating. The commercial ones were not."
That's an interesting observation given two recent news items. A German archeologist announced he had found a new "Venus," a small carved figure of a woman equipped with enormous breasts and exaggerated genitals dating from about 35,000 years ago, so long ago that whoever made it was sharing Europe with Neanderthals. This may make it the oldest known piece of figurative art ever found, about as close to eternal as you can get on the human scale.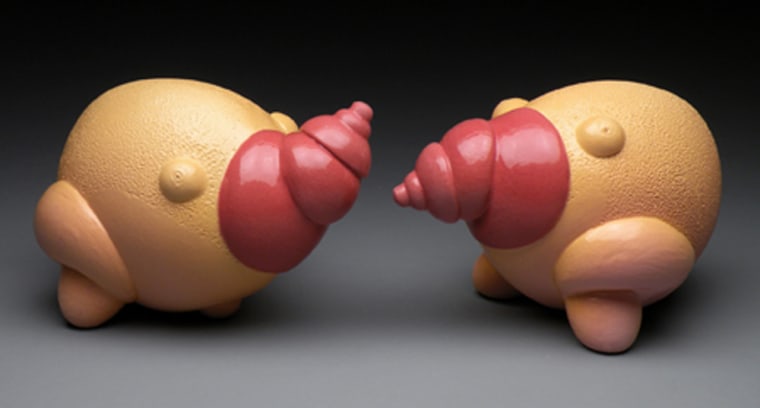 Fast forward a few dozen thousand years to Playboy, that 20th-century paeon to pulchritude, which is now struggling for relevance. The company, once revolutionary, recently announced that it has been losing money on its flagship magazine which has been getting skinny faster than a Biggest Loser contestant. According to spokesperson Theresa Hennessy, the July and August issues will combine to save money. The company still isn't sure what schedule it will follow after that.
I am sentimental about Playboy, not only because I saw my first naked woman in its pages but also because it published some of the best journalism of the last century. But judging from its June issue, its editors are hoping a less-sophisticated magazine will bring the ads and the readers back. Maybe that will work. I hope so. But it could be that the success of the revolution Hugh Hefner helped create, giving people permission to enjoy and show off sex, is responsible for the magazine's straits.
"One thing that struck me, and it brings sense to why Playboy is cutting back, is that people are producing high-quality work at home," Cahn said. "And I think homemade erotica can be much more powerful than something you buy on the newsstand." You could say we might be returning to the stone age.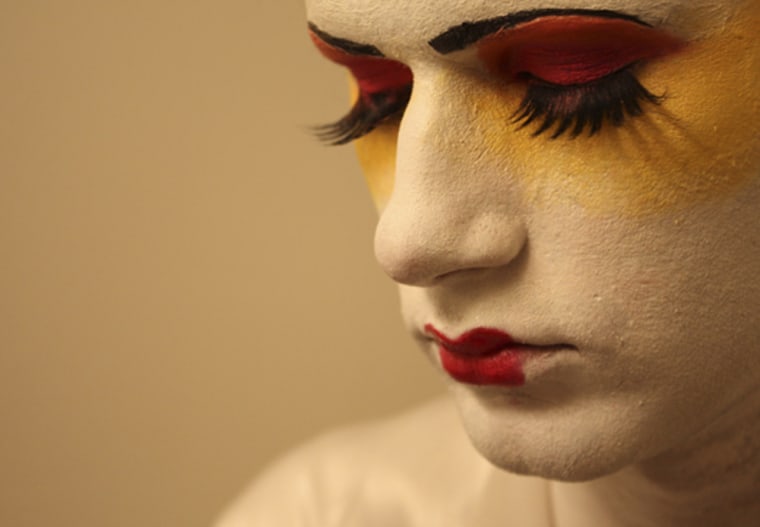 Nobody knows just why someone made the newly-discovered Venus figure all those years ago. Maybe it was a wish for fertility, or a homage to a goddess, or cave man porn. But it was definitely a "homemade" exploration of sex just like the artists who submitted their work to the Kinsey show and most impressed Cahn.
For all the challenge in her task of judging, she said, "in the end, I thought, 'This is a beautiful show.' I felt proud of America, that people with such varied interests and abilities were free to submit their work. That's democracy."
Brian Alexander is the author of the book now in paperback.