/ Source: msnbc.com staff and news service reports
The economy is throwing off signals that it may be bumping along the bottom, and the ride is likely to be rough.
Some of recent green lights include: a rise in demand for big-ticket items like major appliances, a decline in applications for unemployment benefits and a housing market that is no longer in free-fall.
The data lend weight to the growing notion, supported by more than 90 percent of economists in a recent survey, that the deepest recession since the 1930s may be drawing to a close.
"The developing trend signals this recession — the longest and deepest of the postwar era — is losing momentum," Wachovia economic analyst Tim Quinlan said in a note to clients.
But the economic picture is still a bit blurry.
For example, the Commerce Department reported Thursday that orders for durable goods like appliances, heavy machinery and aircraft posted their biggest one-month gain in 16 months, up 1.9 percent from March. But March orders were revised downward to a decline of 2.1 percent, leaving the two-month total at nearly a wash.
Still, the key indicator has risen in two of the past three months after having recorded six straight declines. Analysts believe this could be signaling that the deep recession in manufacturing may be bottoming out. But they believe a sustained rebound is still some distance away.
Other positive signs this week have come from the housing sector. Sales of new homes rose a tiny 0.3 percent in April to a seasonally adjusted annual rate of 352,000 from a downwardly revised rate of 351,000 in March.
Although the direction was positive, the result was short of expectations of economists surveyed by Thomson Reuters, who expected a sales pace of 360,000 units.  (Nearly 1.3 million new homes were sold at the height of the boom in 2005.)
"The new home sales numbers seem to confirm what the single-family housing starts and permits numbers imply — that the market for new single-family homes is flattening, indeed, that it may have hit bottom in January — and that the recovery will be a slow one," IHS Global Insight economist Patrick Newport said in a note.
Sales of existing homes, a far larger part of the market, were up 2.9 percent in April, a trade group reported Wednesday. But prices are still showing steep year-over-year declines for both new and existing homes.
The median sales price of new homes sold last month, at $209,700, was down 14.9 percent  from a year earlier.
In another mostly positive sign, the tally of newly laid-off people requesting jobless benefits fell this week, a sign that companies may be cutting fewer workers.
But the number of people continuing to receive unemployment benefits rose to 6.78 million — the largest total on records dating back to 1967 and the 17th straight record week, according to data released Thursday. The figures for continuing claims lag behind initial claims by one week.
The Labor Department said the number of initial claims for unemployment insurance dropped to a seasonally adjusted 623,000, from a revised figure of 636,000 in the previous week. It was below analysts' estimates of 635,000.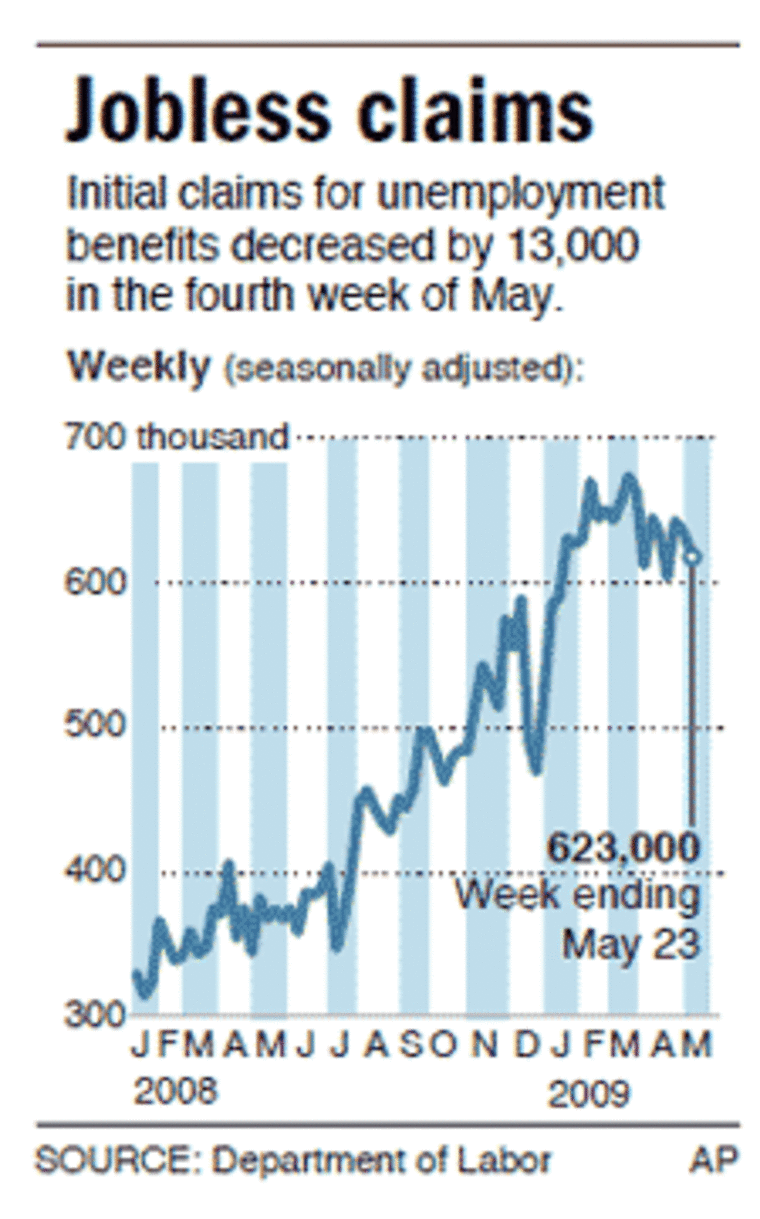 The overall economy, as measured by the gross domestic product, shrank at annual rates of 6.3 percent in the fourth quarter and 6.1 percent in the first three months of this year. It was the worst six-month performance for the GDP in a half-century.
But many analysts believe that the worst part of the recession is coming to an end. They expect GDP to decline by a smaller 2 percent to 3 percent in the current quarter and then turn slightly positive in the second half of this year.
More than 90 percent of economists surveyed by the National Association for Business Economics are predicting that the current recession, now the longest since World War II, will end either in the third quarter or by the fourth quarter of this year.
The recovery is not likely to show real strength until employment improves and until the housing market gets back on its feet.
Even though sales of existing homes are up, they may be getting a boost from people brave enough to venture into the market for homes in foreclosure.
Sales of high-end homes remain stagnant and new home purchases were flat in April.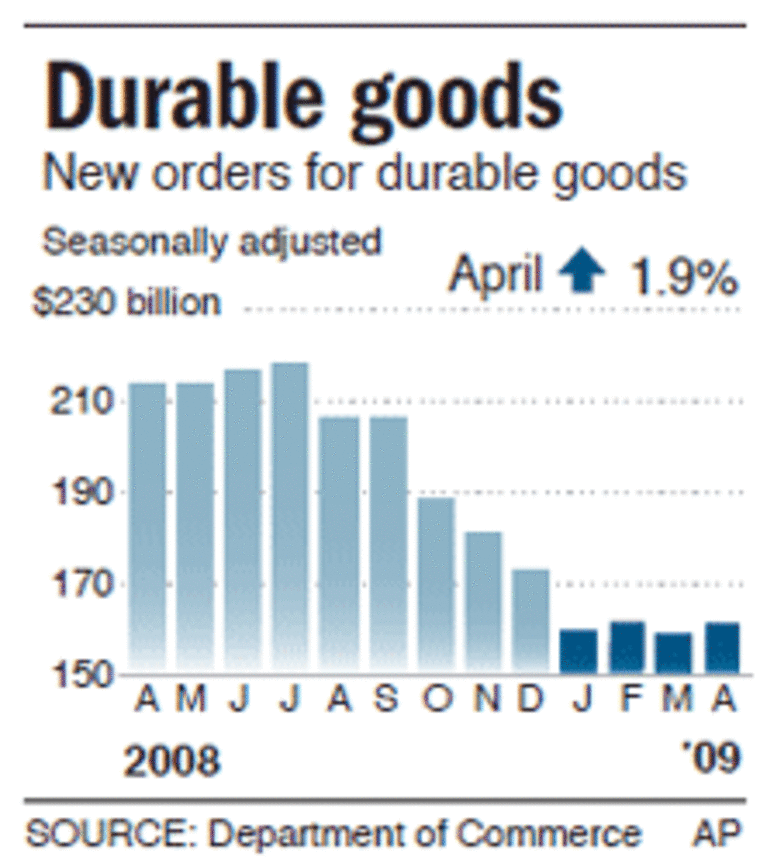 And there may be more housing trouble down the pike. A record 12 percent of homeowners with a mortgage are behind on their payments or in foreclosure as the housing crisis spreads to borrowers with good credit.
The Mortgage Bankers Association said Thursday the foreclosure rate on prime fixed-rate loans doubled in the last year, and now represents the largest share of new foreclosures. Nearly 6 percent of fixed-rate mortgages to borrowers with good credit were in the foreclosure process.
At the same time, almost half of all adjustable-rate loans to borrowers with shaky credit were past due or in foreclosure.
The rising tide of foreclosures could threaten to drown the recovery before it begins in earnest, despite a bill signed by President Barack Obama aimed at helping millions of struggling borrowers keep their homes.
Worries have also risen that demand for U.S. debt by big foreign investors would dry up. Some large holders of U.S. debt, such as China, have expressed concern that the country has borrowed too much to finance all its myriad recovery programs.
If China or others back off from buying Treasury securities, it could force the U.S. to raise interest rates to entice them back. Higher rates would mean more expensive loans for cars, homes and to fund business operations which could choke off any nascent recovery.