/ Source: The Associated Press
California history was made on Tuesday when residents went to the polls to vote on whether to recall Democratic Gov. Gray Davis, less than a year into his second term in office. Following are answers to some of the most frequently asked questions regarding the history of the recall and the procedure covering this unusual election:
WHAT IS A RECALL?
A recall is a special election in which voters may essentially cast a vote of no confidence and remove an elected official from office without waiting until the end of his or her term.
HOW WAS THE RECALL VOTE TRIGGERED?
Last spring, a group of Republicans in the state began a signature drive to remove Democratic Gov. Gray Davis from office, citing his poor handling of the state's budget crisis.
Under California law, recall organizers had to collect a number of signatures equal to 12 percent of the votes cast in the last election, in this case 897,158 signatures. Organizers submitted close to 1.7 million signatures, and 1.3 million of those were certified by the California Secretary of State.
HOW COMMON IS A RECALL?
Currently, 18 of 50 U.S. states have laws providing for the recall of elected state officials. Some 61 percent of all local governments in the U.S. also have recall provisions.
There have been 31 previous and failed attempts to force a recall vote in California, including three against former governor and future President Ronald Reagan. All but a handful failed to gather enough petition signatures to force an election.
The governor of North Dakota, recalled in 1921, is the only U.S. governor to ever be voted out of office in a special recall election.
WHO IS RUNNING?
The ballot for the recall election will be the longest in state history with 135 names ranging from front-runners Arnold Schwarzenegger and Cruz Bustamante to celebrity candidates like porn publisher Larry Flynt and former child actor Gary Coleman, as well as a hodgepodge of unknowns including a used-car dealer, a porn star, a sumo wrestler and a retired meat packer.
Any California resident who is a U.S. citizen is qualified to run, provided they pay a $3,500 filing fee and gather 65 signatures from fellow party members.
WHAT WILL VOTERS VOTE ON?
The recall vote contains two parts. First: "Shall Gray Davis be recalled from the office of Governor?"
The second question will list the 135 candidates running to replace the governor if he is recalled.
Voters may chose to vote on either or both of the questions, but can only vote for one replacement candidate.
If the recall succeeds, the candidate who receives the most votes will be the new governor, meaning that in this election someone could technically be elected governor with less than one percent of the popular vote.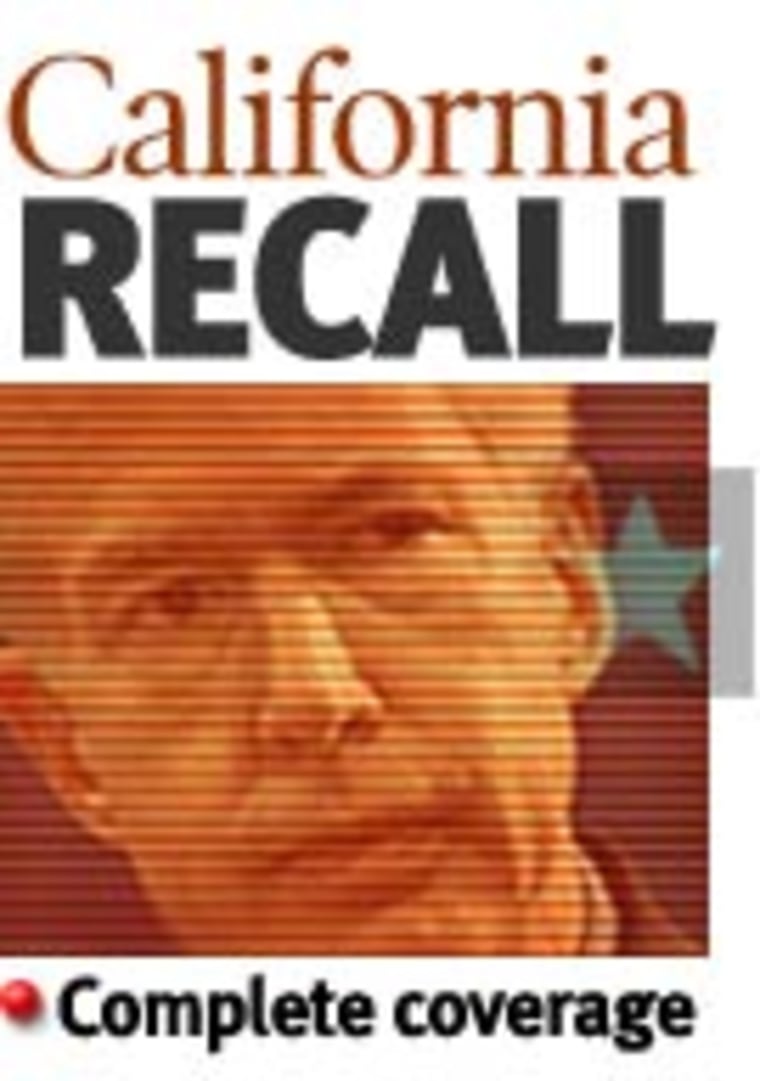 WHEN WOULD A NEW GOVERNOR TAKE OFFICE?
Under state election laws the state has up to 39 days to count the vote and an additional 10 days to certify results, meaning a new governor could take office within two months, or sooner.
HOW LONG WOULD THE NEW GOVERNOR'S TERM LAST?
The term would last the duration of Davis' unfinished term, which began last January, meaning a new governor would serve for a little over three years.