Since 9/11, Muslim Americans have suffered targeting under the USA Patriot Act, witnessed a surge in hate crimes and endured continued stereotyping in the popular media. Under the circumstances, is there anything to laugh about? Three young entrepreneurs in Illinois think so, and they see a market for some "halal" entertainment — good healthy satire and comedy geared to young Muslims.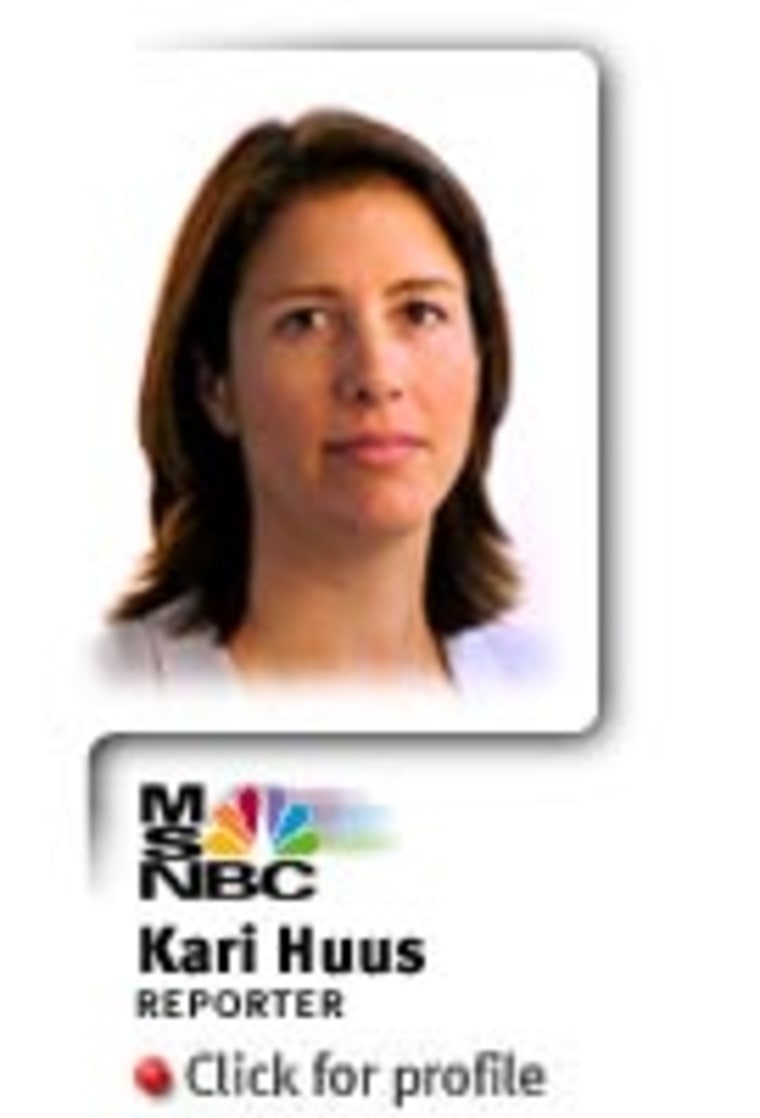 CHICAGO-AREA computer professionals Mirza Baig, Azher Ahmed and Afeef Majeed — all 26 — run one of the busiest Muslim Web sites in North America, driven in part by their spoof Internet publication Islamica News — a service they describe as "news you can lose."
At a time like this, there's no shortage of dark humor for the headlines:
"FBI cracks down on lemonade stand ring, further souring relations with Arab community," reads a spoof headline from one article, quoting an "FBI spokesperson for the special division on Arab people and their kids."
"We believe these refreshment stands, though cute and innocent at first glance, are in fact havens for lemony madness," said the bogus agent. "A nickel here and a nickel there and all of a sudden, you have a nuclear warhead aimed at a Tel-Aviv street market."
Islamicanews also pokes fun at Islamic practices and society — publishing features like "What the Imam does when we're not looking" and thoughts on arranged marriages including, "He is like, so not worth my time," — while trying to stay in the bounds of the acceptable under the religion.
A PATH THROUGH U.S. POP CULTURE
The site has struck a chord with young Muslims in and outside the United States. The discussion forum is the fastest-growing section of Islamica — and some of the conversation is probably off-color in the strictest Quranic sense. But it has clearly brought together young Muslims — Islamica's founders report posts from at least 80 countries — especially people who are otherwise immersed in Western pop culture, much of it at odds with their families' values.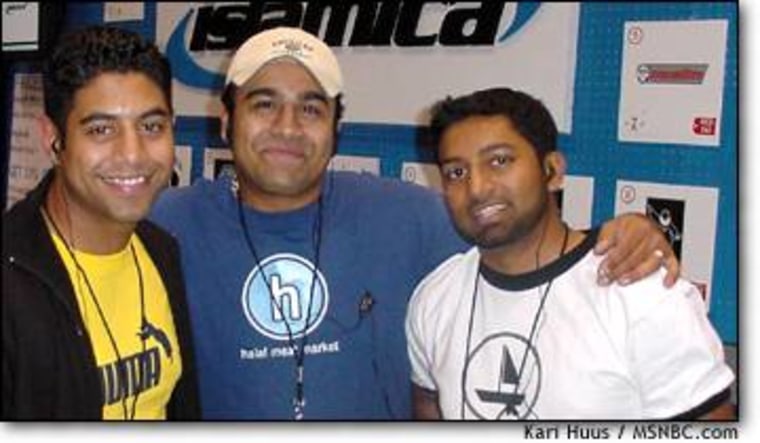 Islamica's line of clothing with Islamic slogans captures the Islamic, and ironic, sensibilities of its founders.
"Got Wudu?" reads one referring to ablutions prior to prayer. "Feel the Deen" says another, promoting the way of Islamic life. A shirt that reads "Brincess" is only funny if you know that there's no letter P in Arabic.
To be sure, you have to be an insider to get some of these messages, but that is part of the point. Islamica wants to claim ground that is both American and Islamic to offer to their peers, many of them born to immigrants and raised in the United States or Canada.
"Islamica was formed as an identity-centric company, to provide Muslims with much-needed comedy, entertainment and a perspective that really hasn't existed," says Baig. That was in 1997, when the three men were in university.
The attacks on the United States in 2001 gave them added incentive to go forward. "Our original idea was driven home by 9/11. We need to provide a Muslim identity… and shatter that typecasting that we have seen."
Adds Ahmed: "Nine-eleven was a wake-up call to stand up and say something. Muslims are far too passive, too quiet.... Our message is one of peace, happiness and comedy.…"
It is also a business proposition. There are about 8 million Muslims in North America, a figure that is expected to double by 2014. A large portion of the population — about 43 percent — is between the ages of 16 and 30.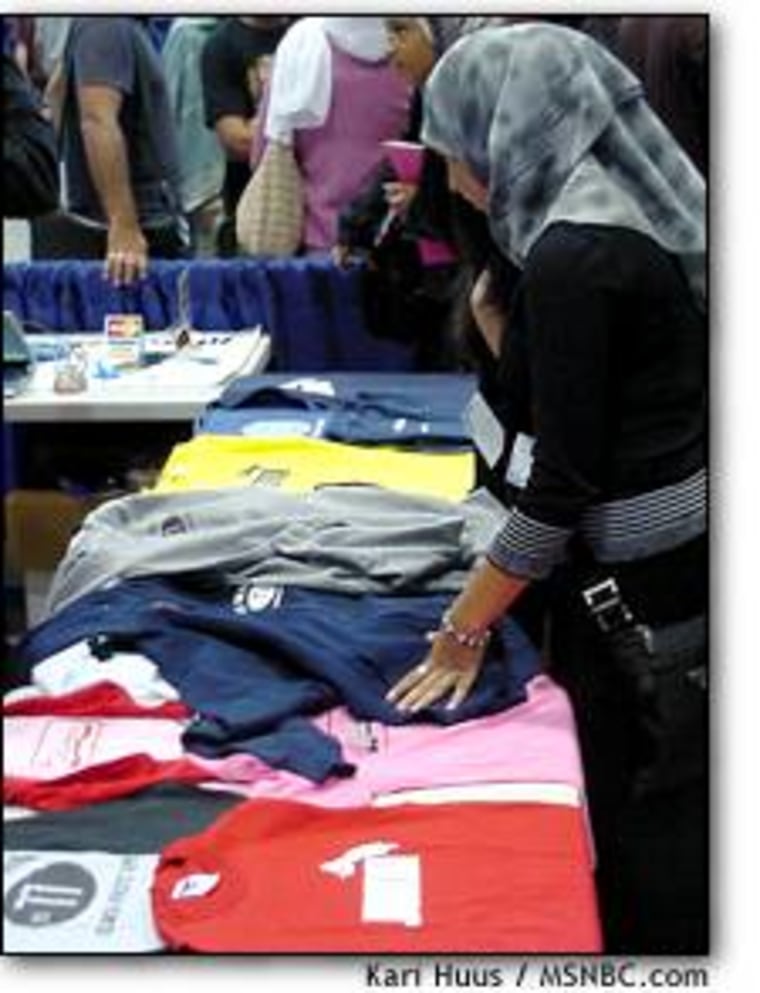 As a serious business, the partners are just moving the enterprise into full swing, having recently formed a limited partnership. But they say after several years of selling their apparel at Islamic conferences, they have a sense of the demand. In late October, their online shop will open for business. Their outreach to advertisers also begins in October, pushed forward by requests from businesses that came seeking advertising space before they had a plan in place.
High traffic to their site — nearly 2 million page views in the past six weeks — led them to recently revamp the whole thing. But as with most Web sites, profits are likely to trail traffic by a long stretch. Clothes with Islamic slogans remain their most lucrative endeavor.
They have other ideas on the drawing board, such as providing Islamic comedy films and programming. Islamica's founders have produced Islamic parodies of "The Blair Witch Project," MTV's "Real World" and "Crocodile Hunter."
The entrepreneurs have had to grapple with the disapproval of more conservative elders. When Islamicanews started up in 1998, "people were taken off-guard and were defensive about it," says Baig. "It was fresh, fast-paced."
The experience is not unique to Muslims, notes Ibrahim Hooper, spokesman for the Council on American Islamic Relations. "It's probably true of any children of any faith.… There's always the need to pass on that faith to the next generation, and when it's in competition between a very strong popular culture there are bound to be some tensions."
BRIDGING THE GAP
Baig, Majeed and Ahmed are not alone in recognizing that there is a cultural sweet spot where young Muslims feel comfortable, and setting out to fill the niche.
Among the individual performers finding success in field is Azhar Usman , a Muslim lawyer from Chicago who moonlights as a stand-up comic. Usman keeps a full schedule performing at local comedy clubs and Muslim events around the country.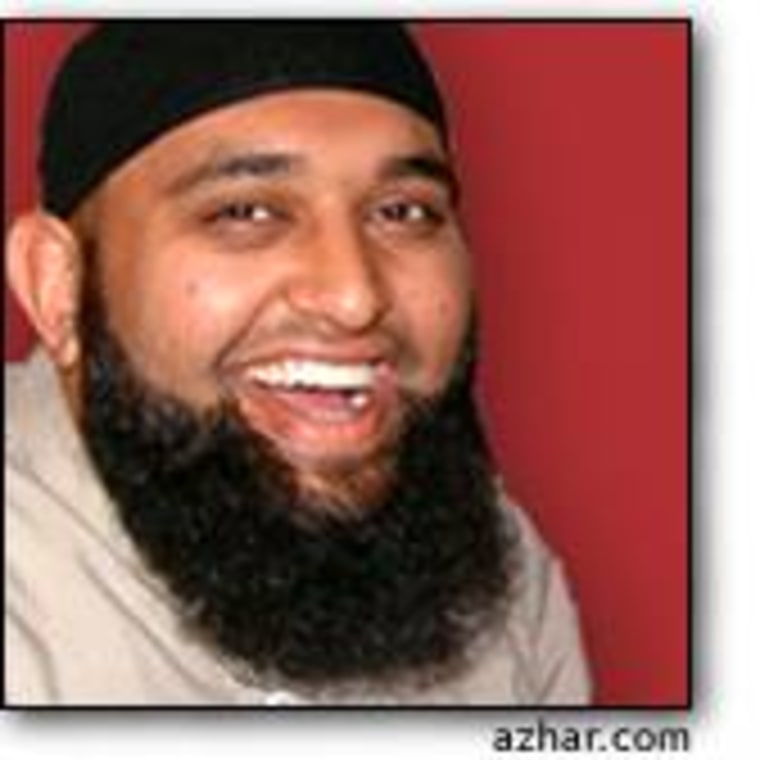 An observant Muslim, Usman avoids fare that is standard issue in comedy clubs — cursing, lying, backbiting and defaming others — but would violate Islamic principles. Nonetheless, he has found plenty to joke about, relying heavily on satire, and has had an overwhelming response for a comic with just a few years experience.
While mainstream audiences have responded well — Usman has found his way to the short list of "Star Search" — he has been deluged with requests to perform at Muslim events such as conferences, conventions and fund-raisers.
Usman took a six-month break from comedy after the Sept. 11, 2001, terrorist attacks, but since he restarted in early 2002, he has taken off.
In part, he says, it's because he talks about issues that Muslims think about but don't often discuss. It's also because his material is about Muslims. "It's become 'Muslim shtick,'" he says, just as Jewish comedy became part of day-to-day exchange among Jews in the mid-1900s.
"(Non-Muslims) can appreciate it, but they won't get all of it," says Usman. "So there's this whole idea of intimacy, the idea that this is for us.... It helps people who are in times of difficulty and duress to cope."
One of the most popular Muslim bands is Native Deen, bringing together urban hip-hop sound with core Muslim values. The band's lyrics promote prayer five times a day, and leading a pure life — avoiding alcohol, cheating, sex, drugs and violence.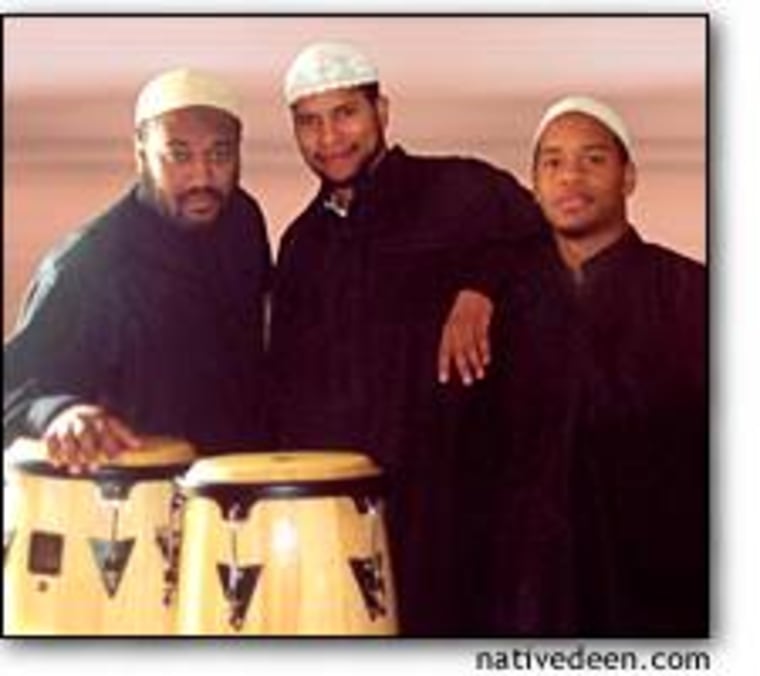 As performer Joshua Salaam tells it, Native Deen emerged almost by chance. For years, he and a group of various artists had produced Muslim rap tapes to raise funds for the Muslim Youth National Association, which in turn produced requests for them to perform at Muslim conferences, weddings and other events. The music has been around for some time — bootleg tapes have surfaced all over the globe — but Native Deen only took shape three years ago.
"The reason we finally formed a group and got a name was that so many people were requesting performances," says Salaam. "It seemed more professional."
Although there are varying degrees of strictness within the group, its strategy has been to stay to a relatively conservative interpretation of Islam, which proscribes the use of wind or stringed instruments. They dress in traditional Islamic style.
"Our goal is not to get up there and do whatever we want but get up there and put a message out and get as many listeners as we can," says Salaam.
As the group prepares its fifth CD — though the first one that is strictly made by Native Deen — it is also readying for a performance at Royal Albert Hall in London next month.
In the up-and-coming category are other bands like the 786boyz out of Detroit. On the face of it, the five-member a capella group is yet another boy band, but their tunes are all about their faith. Aside from songs that touch Israeli-Palestinian politics, these songs are devoid the anger of early Muslim bands associated with the Nation of Islam. In concerts around the country, they croon about the path to heaven:
heaven's keys
i dropped heaven's keys
i was born with heaven's key
i gotta find them again
heaven's keys
i dropped heaven's keys
i was born with heaven's key
i gotta find them again
There are still more ambitious efforts under way to capture the Muslim-American market. Just as Black Entertainment Network, Telemundo and Christian networks set out to satisfy niche markets, earlier this year a group of Islamic entrepreneurs launched a membership drive for Bridges TV, a proposed Islamic satellite channel that they hope to make available via satellite beginning next summer and expand to cable in major markets in 2006.
The idea is to offer English-language family-friendly programming more relevant to American Muslims than the foreign broadcasts that are now the main conduits. Along with children's programs, news, sports, sitcoms and talk shows, the channel hopes to provide prayer call five times a day from the nation's mosques.
Bridges' immediate challenge is to get 10,000 subscribers in an effort to persuade cable and satellite companies that there is a market large enough to justify allocating channels to it. If Bridges gets off the ground as planned, it would also likely offer a platform to the many individual artists and producers who now have bootstrap operations.
Meantime, many of these creative pursuits have evolved from a labor of love, but the future holds promise of profits.
"We haven't made money on it yet," says Baig of his company, Islamica. "But, God willing, within the next year it will be our livelihood."