/ Source: The Associated Press
The OPEC oil cartel on Thursday raised pressure on rival producers to join output restraint efforts even though prices seem too high for non-OPEC states to consider sharing the load.
OPEC'S THIRD LARGEST producer Venezuela will host Norway's oil minister for market discussions later this month, a Norwegian ministry spokeswoman said on Thursday. Norway's Einar Steensnaes meets Venezuela's Rafael Ramirez on October 28 after seeing non-OPEC Mexico's energy minister Felipe Calderon on October 24.
OPEC last week agreed to cut production by 3.5 percent from November 1 to curb growth in consumer inventory stockpiles as rival production rises from Russia and West Africa and Iraq's post-war production slowly recovers.
The group, which controls around half the world's oil trade, said it expected non-OPEC producers to join in if further cuts are needed. OPEC meets again on December 4 to decide policy for the first quarter 2004.
"There is a possibility to cut the production quota at the next session, but that depends on non-OPEC and whether they will cut or not," Indonesian oil minister Purnomo Yusgiantoro, who will take over as OPEC president from January 1, said on Thursday.
In 2002, top non-OPEC producers Russia, Norway and Mexico supported OPEC cuts by making its own curbs, but only after prices had fallen to $17 a barrel.
OPEC's basket of crude oil was last valued at $27.08 a barrel, near the top of the cartel's $22-$28 target range.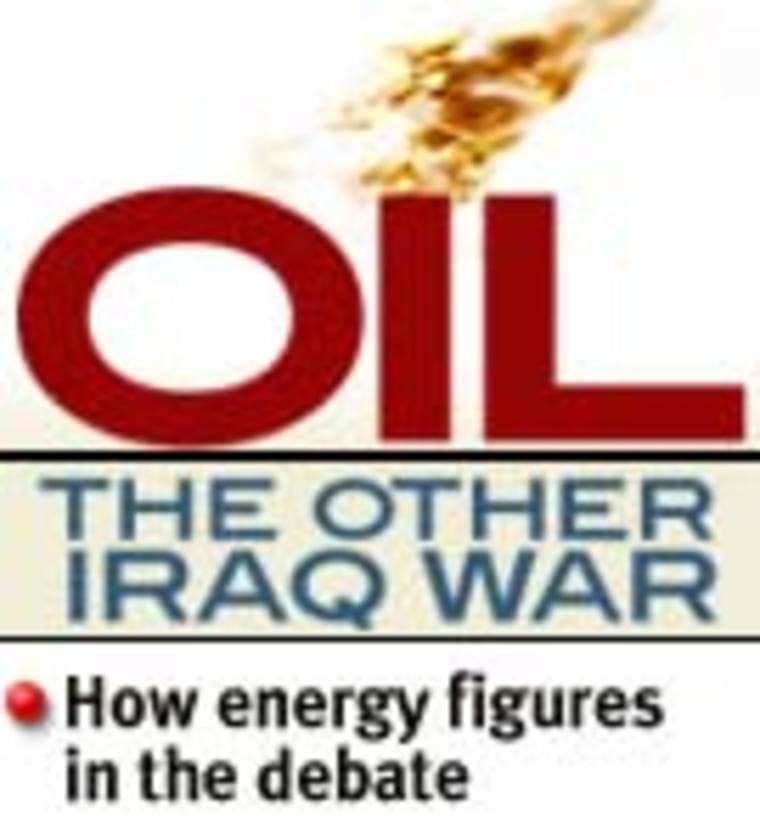 "OPEC is testing the water. At these prices and given a normal winter there doesn't seem a pressing need for accommodation with non-OPEC," said David Stedman, analyst with Daiwa Securities.
"Next year could be a different story depending on how high Iraqi production goes," Stedman added.
Norway, the world's number three oil exporter after Saudi Arabia and Russia, reiterated on Thursday it had no plans to trim its oil production of about three million barrels per day.
Norway says prices would need to be below $20 per barrel for it to consider cuts.
Russian President Vladimir Putin said last week that Russia could join curb exports if crude prices come under pressure, but analysts doubt Moscow's willingness to cut actual supply, saying Russian fuel exports fall during the domestic winter anyway.
Mexico has said it will keep a crude oil export base of 1.88 million barrels per day next year, close to its capacity.
Last week's OPEC cut underlined its resolve to defend strong prices despite warnings that high energy costs are undermining shaky economic growth in the West.
If Venezuelan President Hugo Chavez gets his way, oil prices could be an even bigger drag on the economy.
Chavez said on Wednesday OPEC should raise its preferred price range by $3-$4 a barrel from the existing $22-$28.
"I think it is time to revise the band...set it a little higher. It could be between $25 and $32 a barrel — there have been discussions on that," Venezuelan President Hugo Chavez told foreign reporters at a press conference.
Energy Minister Rafael Ramirez told reporters Venezuela had made the proposal to an OPEC technical committee and the group would consider the decision at its December 4 meeting.
OPEC officials said ministers had not discussed Venezuela's proposal at last week's meeting and gave it a lukewarm reaction. "I don't think there is any support for this among other member countries," said an official from OPEC headquarters in Vienna.
Venezuela might be pushing to increase crude revenues through higher prices because it cannot boost its oil production any more to raise income, analysts said.
They said Venezuela's oil output has not recovered from a crippling December-January opposition strike and that the South American nation is struggling to produce its OPEC quota.
© 2003 Reuters Limited. All rights reserved. Republication or redistribution of Reuters content is expressly prohibited without the prior written consent of Reuters.